Interest in sourcing seating products at Aircraft Interiors Expo this year grew by 16% among visitors and airline buyers, versus the previous edition.
And with airlines, lessors and Bizjet operators looking to either retrofit existing fleets or kit out new designs, suppliers didn't disappoint.
Some of the most innovative seating solutions at AIX included:
1. Expliseat unveiling their New TiSeat
Expliseat became the manufacturer of the world's lightest aircraft seat at AIX, unveiling their:
TiSeat E2 for ATR
and Dash 8 and TiSeat E2 for A320 and B737
The innovation will allow passengers to "fly green in comfort" whilst offering airlines saving and sustainable seating solutions. The TiSeat is contributing to lightweighting by enabling airlines to save up to 1.2 metric tonnes on every aircraft.
Plus, the TiSeat ultralight frame technology is made of composite and titanium, making it the "world's lightest aircraft seat for single aisle" planes according to Amaury Barberot, CEO of Expliseat.
In partnership with Jazeera airlines, the seat will be used on A320 and A321 aircraft in the Middle East.
2. Caynova's seat heating and cooling system
Caynova enables airlines and seat manufacturers to offer a customisable on-board experience to passengers by providing the compelling well-being seat solutions.
Their Seat Heating and Cooling System (HCS) offers individually adjustable microclimates to aircraft passengers.
And, with the introduction to 787-900 on Lufthansa flights SWISS Senses starting in 2024, the company is setting the standard for personalising the passenger experience.
Collins Aerospace, Adient Aerospace, Airbus Atlantic (ex: Stelia Aerospace), and Thompson Aeroseating, among others, are currently integrating Caynova's Seat Heating and Cooling on their business and first-class seats.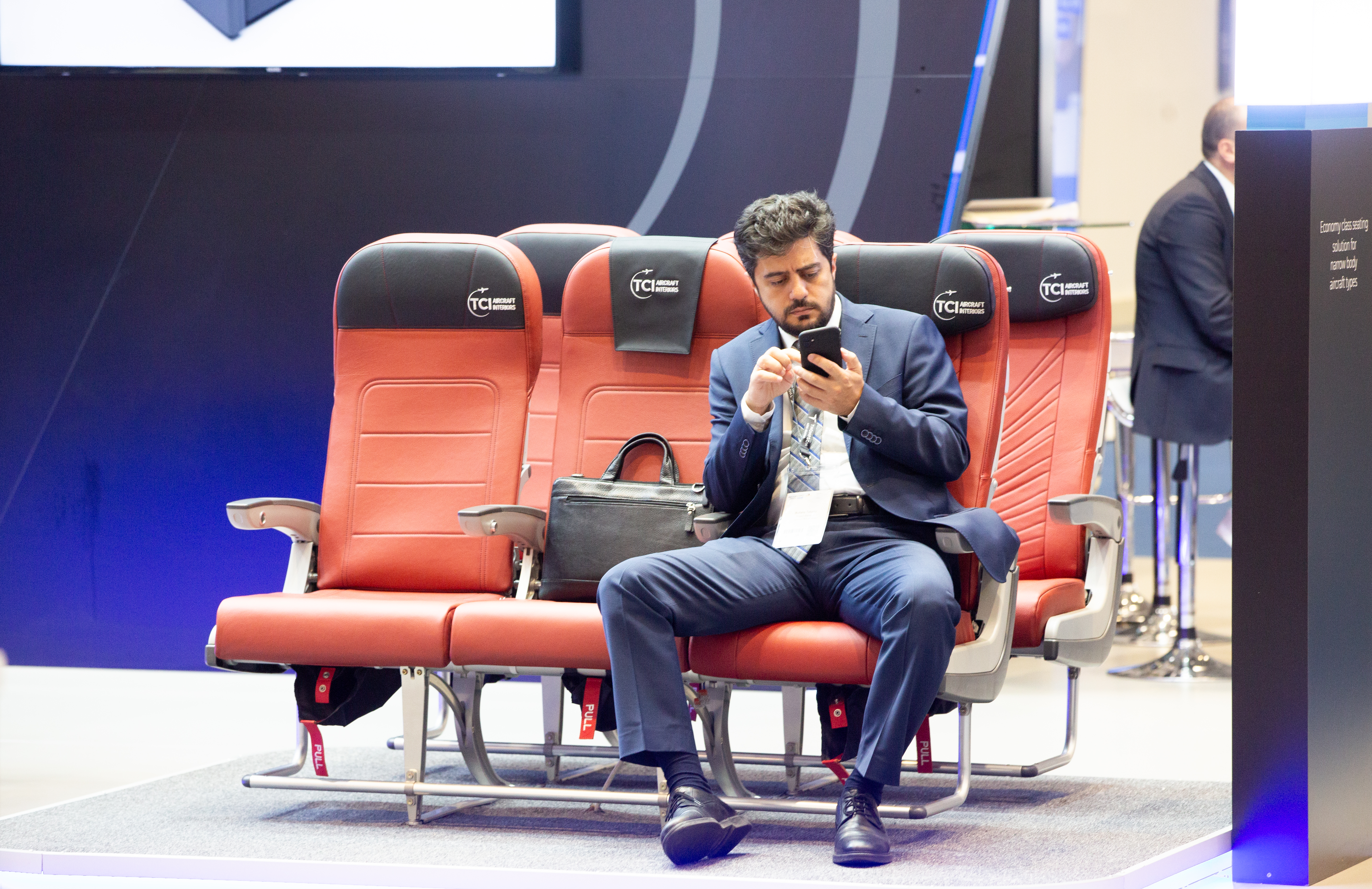 3. TCI's seating range
TCI develops and markets products including in-flight entertainment systems, connectivity systems, galleys and lavatories.
But it was their business and economy class seats for wide-body and narrow-body aircraft types that drew eyes at AIX.
The company showcased their:
ELESA S – a lightweight and modular economy class seating for narrow-body aircraft that can be converted into a double business class seat with a large cocktail table in the center.
ELESA N – a weight-optimised economy class seating solution for narrow-bodies aircraft with USB port and PED holder.
EPIANKA – economy class seating for narrow and wide body aircraft with an articulation mechanism for maximum comfort
4. STELIA announced their newly designed seat for Air France
STELIA Aerospace have been designing and manufacturing some of the most advanced business and first-class seats on the market for over 20 years.
The company ranks in the top three for premium passenger seats thanks to the trust of over 50 airlines, one of whom is Air France.
And, after two years in development, the partnership unveiled their business class seat for A350 aircraft at AIX.
By bringing an existing product to the next level to match customers' needs, the carrier is offering the "highest level of comfort and design" says Fabien Pelous, Senior Vice Preseident, Customer Experince at Air France.
5. Delta Flight Products flexible seat for power wheelchairs
A subsidiary of Delta Airline, Delta Flight Products (DFP) was established to re-think aircraft interiors through, partly, modern engineering and design.
Add to Plan
And it's safe to say that their flexible domestic first class seat has done just that. Created in partnership with Air4All, the seat can be folded away to create space for a powered wheelchair.
Minimising the need for changing seats without requiring any change in cabin layout is a strong step towards breaking down potential barriers to flying.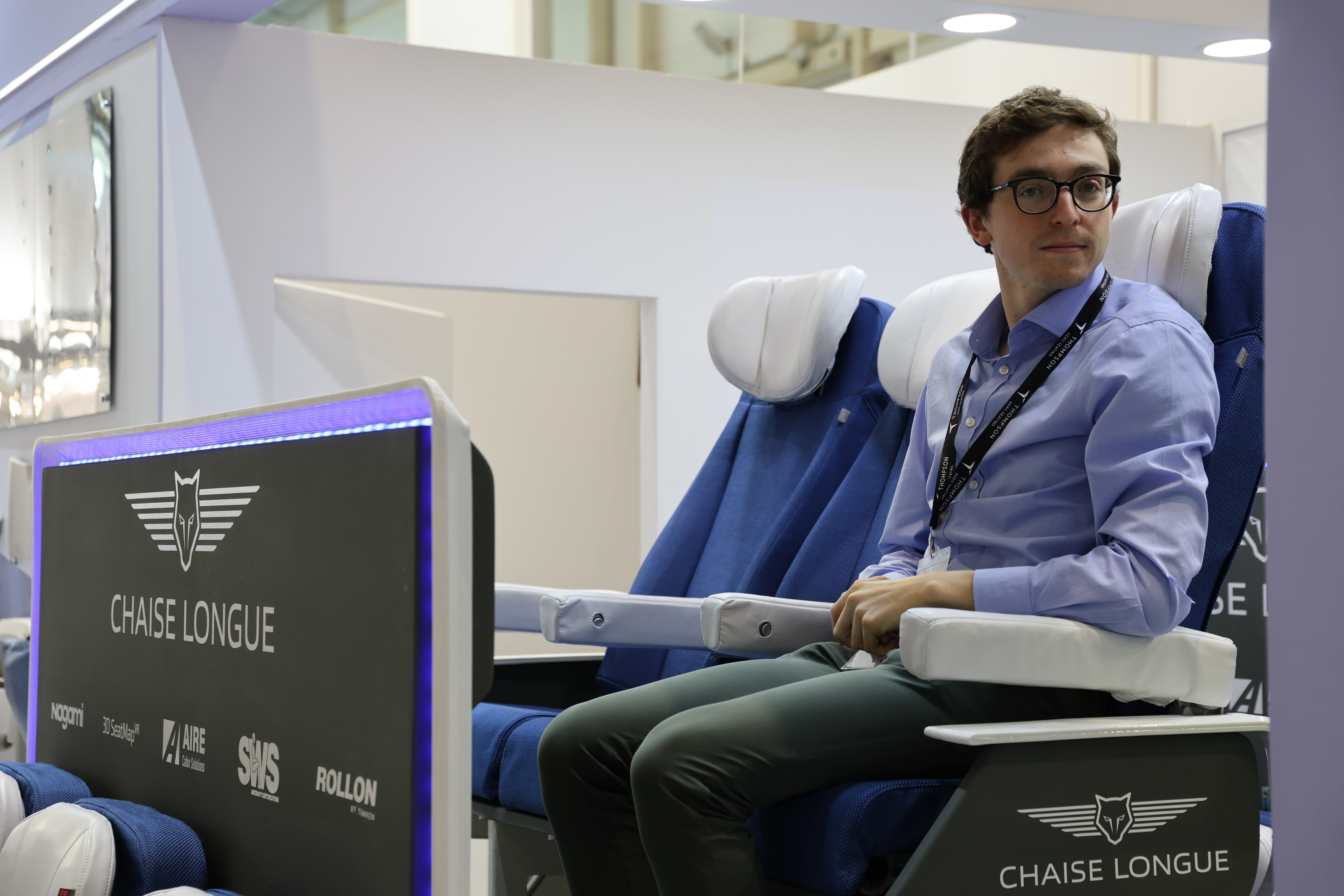 Honorable mention: chaise longue airplane seats
Arguably, one of the most viral moments of AIX 2023 was airplane seat designer Alejandro Núñez Vicente's Chaise Lounge economy seat design.
For better (or worse), the double-decker prototype certainly sparked debate. With two layers of seating on top of one another, the designer sought to display the potential future of economy travel.
From his 2021 Crystal Cabin Awards nomination to displaying the prototype, which would sit in the center, flanked by two aisles, Núñez Vicente shows no sign of slowing down.
And, with the appeal of increased passenger numbers onboard, the Chaise Lounge could have carriers considering its efficacy.