All industries are making efforts to minimise their environmental impact, and aviation is no exception. The aviation sector is working hand-in-hand with governments and regulatory bodies to improve efficiency measures, fuel consumption, and carbon capture technologies, among other initiatives. But one particular area being focused on is sustainable cabins and their vital role in a zero-carbon future.
What are the current initiatives?
The goal of net-zero carbon emissions in the aviation industry is a complex and long-term one that requires coordinated efforts from multiple stakeholders. Collaboration among airlines, manufacturers, governments, research institutions, and organisations is essential to accelerate the development and deployment of sustainable aviation technologies and practices.
Between 2005 and 2019, airline carriers reduced their fuel consumption per passenger kilometre by approximately 39%, according to a McKinsey analysis. The study reveals that the underlying factors behind fuel efficiency gains came from fleet upgrades and fuel-efficiency programmes, such as continuous descent approaches, reduced engine taxis, and optimised routes.
Carbon offsetting is another strategy that the aviation sector is using to take immediate action to combat climate change. Some of the airlines that offer carbon offset programmes include Emirates, Qantas, Virgin Australia, Delta Airlines, and British Airways.
Airports are also adopting different sustainable practices, from using renewable energy sources to implementing energy-efficient infrastructure. Additionally, the industry has been switching to biometrics for screening and check-in at airports. For instance, Alaska Airlines will start to remove its check-in kiosks in airports in 2024 to go digital and "paperless".
So what actions is the sector taking when it comes to the cabin?
Sustainable Aviation Fuels (SAFs) vs. cabin interiors design
One of the primary strategies in the industry is the use of Sustainable Aviation Fuels (SAFs) to significantly minimise carbon emissions. With SAFs crucial part in the aviation industry's efforts to reduce carbon emissions, the question arises: are SAFs the real key to meeting aviation's net-zero goals?
The International Energy Agency (IATA) estimates that SAFs can contribute up to 65% to the reduction of emissions in the industry. However, it's not the sole solution. One problem is that the technology to produce SAFs themselves is not yet economically sustainable.
Production currently costs costs four times as much as conventional jet fuel. Plus, it makes up less than 1% of fuel available in the market. According to Rhodium Group's research, US production of SAF is around 4.5 million gallons per year. This is still not enough to fully decarbonize aviation by 2050, and carriers and suppliers want to act now.
"Most countries in Europe are waiting for the big countries to produce [SAFs]… No European country will be in a condition to produce enough to export anything, because this is transformation to a level we've never seen before. So, it is important that every country takes action."

Rafael Schvartzman, IATA regional VP for Europe
Consequently, in recent years, the demand for updating aeroplane interiors sustainably has also significantly increased. That is just one driving factor meaning that the aircraft refurbishing market is expected to reach a market value of US$5.4 billion by 2033 with a compound annual growth rate (CAGR) of 5.7% (2023–2023).
A vital element in the aviation industry's drive towards a zero-carbon future is cabin interior manufacturing. Maintenance, repair and overhaul (MRO) plays a crucial role in the aviation industry and can also ensure that older aircraft are more environmentally friendly by aligning cabin components with current standards and regulations.
The primary purpose of SAFs is to replace conventional fossil jet fuels with more environmentally friendly alternatives. SAFs can significantly lower emissions compared to conventional jet fuels.
Meanwhile, the focus of cabin interior design is largely on the passenger experience. But many manufacturers are implementing greener practices, such as recycling and repurposing materials, to drive sustainability.
Cabin interior design can indirectly affect emissions by improving the aircraft's efficiency and passenger experience. For instance, sustainable cabins with light materials can reduce fuel consumption by decreasing the aircraft's weight. Cabins may not have a direct impact on the environment, but the way they are manufactured and operated does.
The BDLI Cabin/Cargo Working Group believes that aircraft cabins are vital in reducing the aviation industry's ecological footprint. The cabin and its operations represent 10–20% of the overall environmental impact during the entire lifecycle of an aircraft. Therefore, sustainable cabins offer plenty of opportunities for fostering decarbonisation, recycling, and circularity.
To achieve sustainability while maintaining superior levels of passenger comfort, Airbus launched its Airspace Cabin Vision 2035+, mainly focusing on three pillars:
Transparency
Decarbonisation
Circularity
Airbus will provide full transparency about the environmental impact of its cabin parts and operations and increase the use of full lifecycle analysis.
The company will also introduce new cabin interior solutions and materials with low carbon dioxide impacts. Airbus estimates that using bionic design and biomimicry on their cabins can reduce the weight of all structural and lining elements by up to 40%. Finally, Airbus will integrate the next-generation cabin using hydrogen-powered aircraft, which will reduce emissions intensity.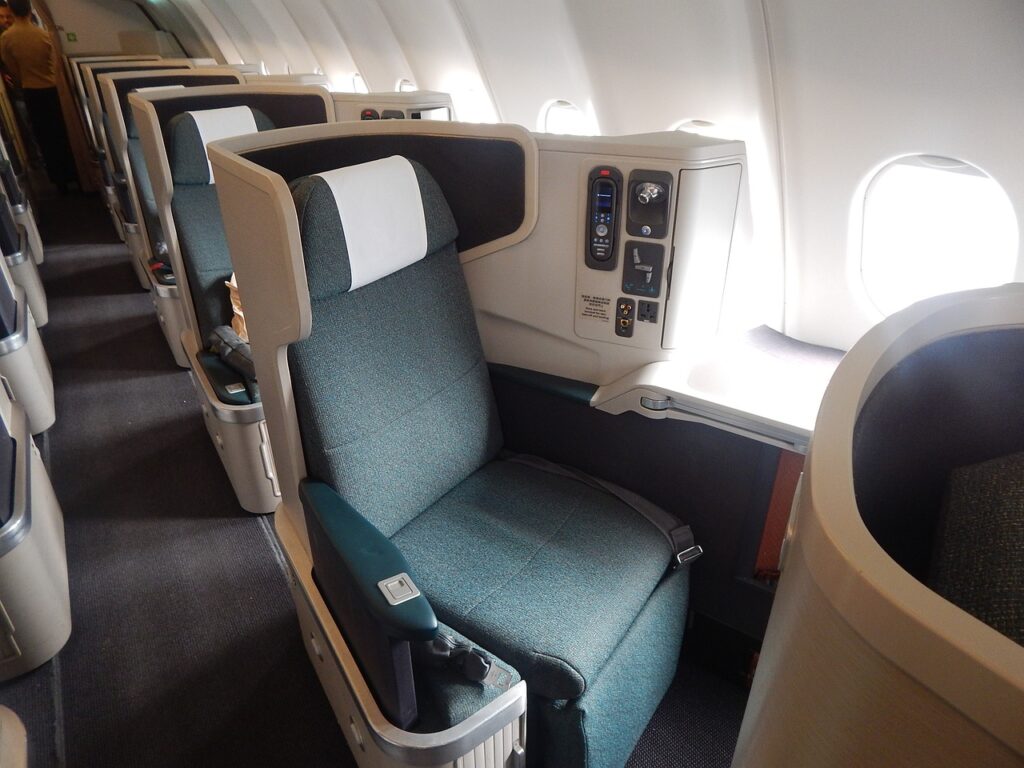 Credit: Pixabay
Lightweighting
Sustainable cabins can contribute to net-zero goals through lightweighting. Airlines can generate fuel savings between 0.65% and 0.85% by simply choosing lighter seats and other weight-reduction practices. And at a fraction of the overall cost, opting for lightweight interior options can produce a high return on investment.
Well-designed aircraft interiors, such as cabins, In-Flight Entertainment (IFE), lavatory, or security systems, that use lightweight materials also help operational savings. Anything that requires less cleaning, fewer repairs and replacements of spare parts equals less supply chain involvement and therefore greater carbon savings.
Original equipment manufacturers (OEMs) carefully select materials used for cabin interiors not only to improve passenger comfort and safety but also to enhance product design and operators' green credentials.
Designers at Boeing, for instance, have been working with several seat manufacturers to use lighter-weight components like titanium and carbon fibre frames.
Carbon composites are also a great material for sustainable cabins, known to provide weight savings and durability without sacrificing strength. Replacing traditional aluminium in manufacturing aircraft components has helped reduce the overall weight of aircraft like the Airbus A350 and Boeing 787 by 20%.
Traditional aluminium can be found on various parts of aircraft like, the trims, rivets, fuselage, doors, wings, cabin pillars, and more. However, fibre-reinforced matrix systems are largely stronger. The huge benefits of composite materials include providing a smooth surface as they don't corrode easily and holding up well in structural flexing environments. As such, using composite materials for airline cabins can also mean lower maintenance and repair costs.
The French designer Expliseat uses advanced materials like carbon fibre and titanium, which make their aviation seats approximately 35% lighter. Note that an individual aviation seat typically weighs from 11 kg (short range) up to 17 kg (long range). This means that aircraft with between 100-700 seats may have a total seat weight of between 1.4-12 tonnes (approx.).
Expliseat's line of aviation seats produces lower seat mass, which in turn contributes to sustainable aviation. The company will deliver its new TiSeat E2 model to Kuwaiti's Jazeera Airways by 2024. This is projected to deliver a substantial weight savings of 1.2 metric tonnes per aircraft.
Retrofitting
An aircraft may be built to be structurally sound for years, but it will eventually show signs of wear and tear, which can be more apparent in aircraft cabins. This is where retrofitting becomes part of an aircraft's lifecycle.
Airline cabin retrofitting may include modifying seats to be thinner so more can be added, which can reduce the fuel required to transport each passenger. In addition, one study showed that aircraft cabins with elevated ozone levels may impact people with respiratory health impairments. Also, volatile organic compounds (VOCs) come with short- and long-term adverse health effects.
As such, retrofitting cabins can mitigate ozone and volatile organic compounds in cabin-air environments. Other types of airline cabin retrofitting that can reduce energy consumption involve the installation of energy-efficient systems, better waste management, the incorporation of noise-reducing materials and engineering solutions, and upgrades to avionics systems.
United Airlines, for instance, has been working on a retrofitting project since 2021. Its fleet of Boeing 737-800s underwent cabin retrofitting and now comes with new, larger overhead bins. The seats are equipped with LED lighting, USB and charging ports, Bluetooth connectivity, and refreshed lavatories.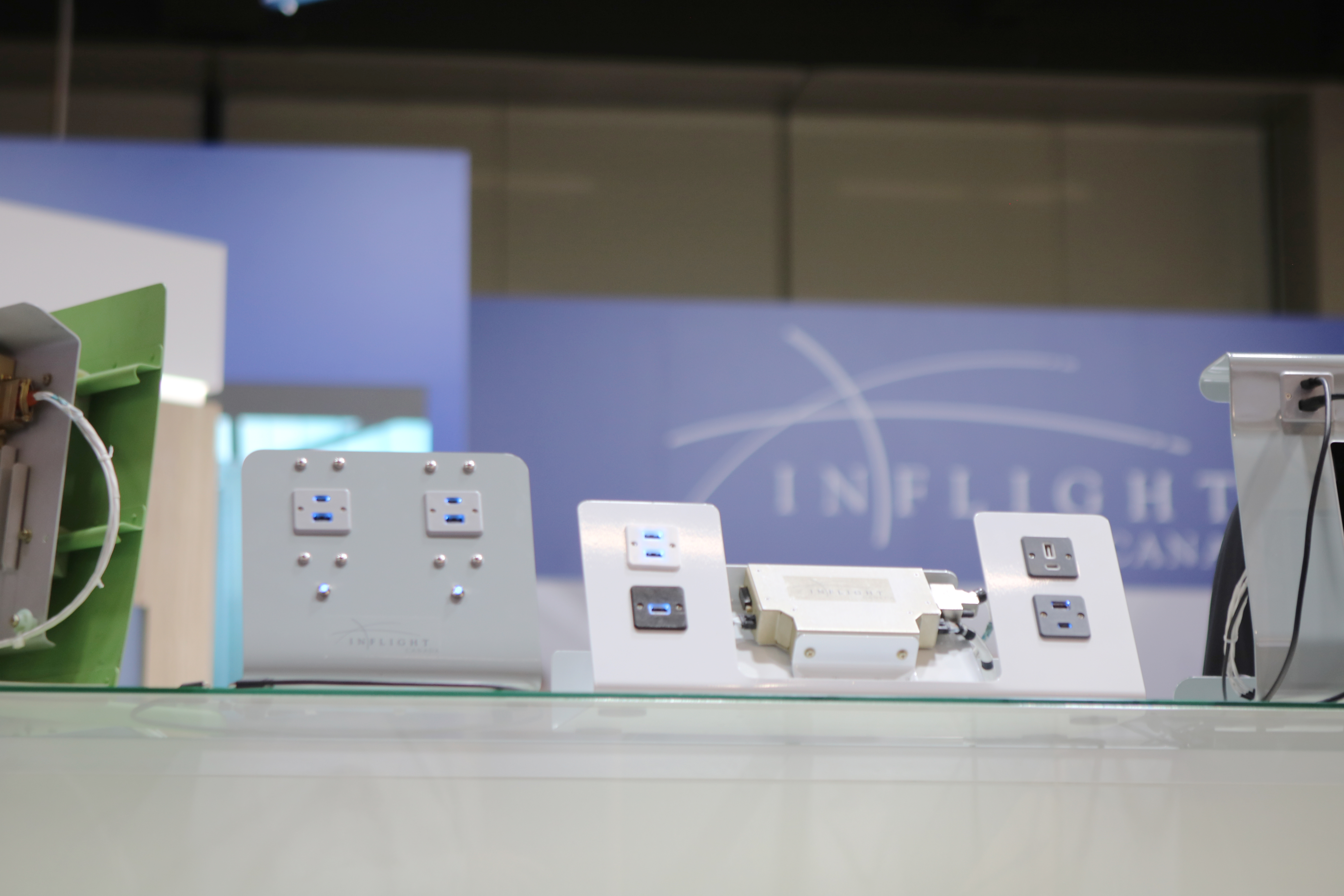 Digitising sustainability?
Carriers and manufacturers are rapidly producing technological advancements that are allowing the aviation sector needs to adapt to a digital future. Although, the concept of digitisation should also aim to solve environmental challenges without creating unreasonable expenses airline adopters.
For instance, Inmarsat offers digitalised air traffic management (ATM) infrastructure to airlines. ATM can reduce delays and enable a more efficient service by safely bringing a number of aircraft closer together in the same airspace. By their estimations, with current ATM infrastructures, airlines may be sacrificing 23% fuel efficiency.
Another example is IATA's digital toolkit. With this suite of digital tools, airports can estimate carbon dioxide emissions associated with construction projects. So, whenever airports have development projects for terminal buildings, runways, and multi-story car parks, the digital toolkit can analyse the project's carbon footprint. Then, authorities can discuss the results with airport operators and find a way to mitigate them.
Applying digitisation in airline cabins boosts passenger engagement through in-flight entertainment systems, mobile apps, and interactive displays. AERQ's Personal Electronic Device (PED)-friendly inseat system, for instance, allows passengers to customise and deploy applications directly to the seatback display.
Passengers can easily connect to Wi-Fi or pair their devices with Bluetooth for an upscale entertainment experience. And these can also be used to inform people on narratives regarding carbon offset programmes, sustainable travel practices, and ways to minimise their environmental footprint.
Airlines can also customise the content of the seatback system to display food, beverages, or products that can be bought on board. This eliminates the need to print out menus or brochures, as passengers can easily navigate through their options digitally.
Digitisation can also ensure cabins are maintained efficiently without compromising on sustainability. This is evident in the case study led by Air France KLM Group IT and AirInt Services. Their solution was to go digital to simplify process of inspection and defect reporting. In turn, with the delivery of accurate and reliable data, they will reduce the likelihood of mechanical issues that can result in fuel inefficiency.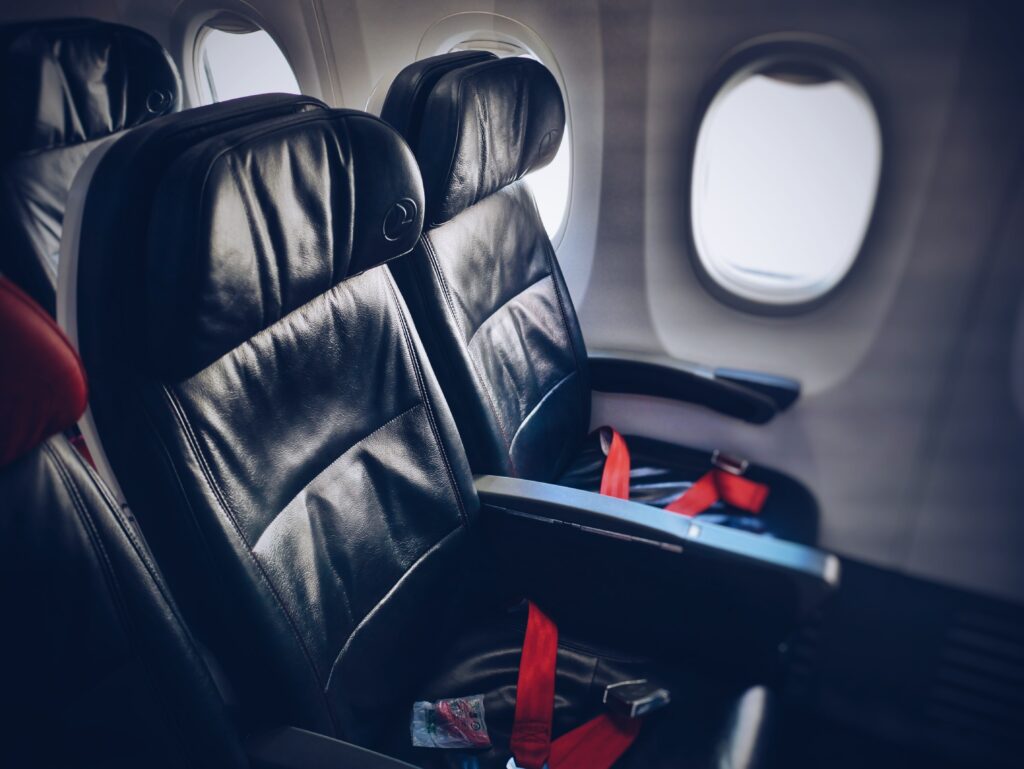 Credit: Unsplash
Sustainable cabins are vital
As part of overall efforts to reduce the environmental impact of air travel, airline cabins undoubtedly play a significant role. Cabin interior manufacturing and supply chain management can buoy sustainability goals whilst the lightweighting of components can contribute throughout their lifecycle.
Incorporating lightweight materials, including composite materials, into cabin construction can reduce the weight of the aircraft, which can minimise the amount of fuel needed to operate. Airline cabin retrofitting can also improve cabin-air environments to keep passengers and crew members safe and healthy.
Subsequently, digitalisation in airline cabins is not just for the connectivity needs of travellers or crew. Digital-forward cabins can also be utilised to promote various sustainable practices, allowing passengers to be informed on the work done by airlines and how to minimise their environmental footprint further.
Overall, sustainable cabin innovations are vital to a holistic consideration when formulating strategies on achieving net-zero carbon targets.
---
---
Frequently asked questions
What are the 4 pillars of aviation sustainability?
ATA developed a 4-pillar strategy as a guide for the entire aviation industry, covering aircraft R&D and economic and social measures to reduce emissions. The four pillars include:
Technology
Operations
Infrastructure
Socio-Economic Initiatives
Technology covers propulsion systems and recommends adding the latest fuel-efficient aircraft to the global aviation fleet. Operations throughout the entire aviation industry should be overseen. Infrastructure should work on both the needs of air and ground. Socio-economic initiatives like taxation, emissions trading, and carbon offset programmes should be promoted.
How can the aerospace industry contribute to sustainability?
The aerospace industry can implement decarbonisation measures to contribute to sustainability. For one, manufacturers can enhance engine designs or explore the use of lightweight fabrication material for improved fuel efficiency. The aerospace industry can also rely on urban air mobility to further shape sustainability.
Electric vertical takeoff and landing (eVTOL) and drone deliveries have zero emissions since they are electrically powered. Moreover, the aerospace sector can take advantage of advanced propulsion systems like solar, hybrid, electric, or fuel cell technologies to achieve better fuel efficiency, which can significantly cut greenhouse gas emissions.
Why is sustainability important in aviation?
Aerorplanes emit around 100 times more carbon dioxide than buses or trains. The aviation industry also emits an estimated 2.4% of global carbon dioxide annually. Sustainability in aviation is an important concern as carbon dioxide emissions pose a serious threat to the planet through climate change. The industry needs to reduce its environmental impact and contribute its share in mitigating this whilst improving efficiency and reducing costs for a sustainable future.