Air travel has become an essential part of modern life, connecting people across the world in ways that were once unimaginable.
However, for many people with restricted mobility or disabilities, air travel can be a daunting and challenging experience. In this article, the Aircraft Interiors Expo (AIX) team speak to the campaigners advocating for change, and assess the progress made to make air travel more accessible to all.
One of the biggest challenges continuing to face disabled passengers is physical accessibility – from boarding and disembarking to the ability to use onboard facilities once in the cabin. Airlines are required to provide accessible facilities and services, but the reality is often not fit for purpose. In fact, the overall lack of access and lack of safety for the passenger with a physical disability is among the biggest concerns raised by those campaigning for change.
Take wheelchair users, for example. Unlike most modes of transport on the ground, air travel is one of the only methods of transport that does not allow passengers to travel in their own wheelchairs.
"Enough is enough. Disabled people need to be able to have the confidence to trust air travel."

Sophie Morgan, British TV presenter
Treatment of equipment onboard
Speaking about his own experience, WheelChairTravel.org founder John Morris revealed that one of the primary concerns, particularly of wheelchair users, as well as any passengers travelling with some form of mobility device or aid, is the treatment of that device as it is loaded into cargo or transported in some capacity.
In fact, in 2019, following the introduction of new federal requirements in the United States, commercial airlines were, for the first time, required to report how often they gate-checked wheelchairs and scooters, as well as how often passengers reported those devices as damaged, lost, delayed or stolen.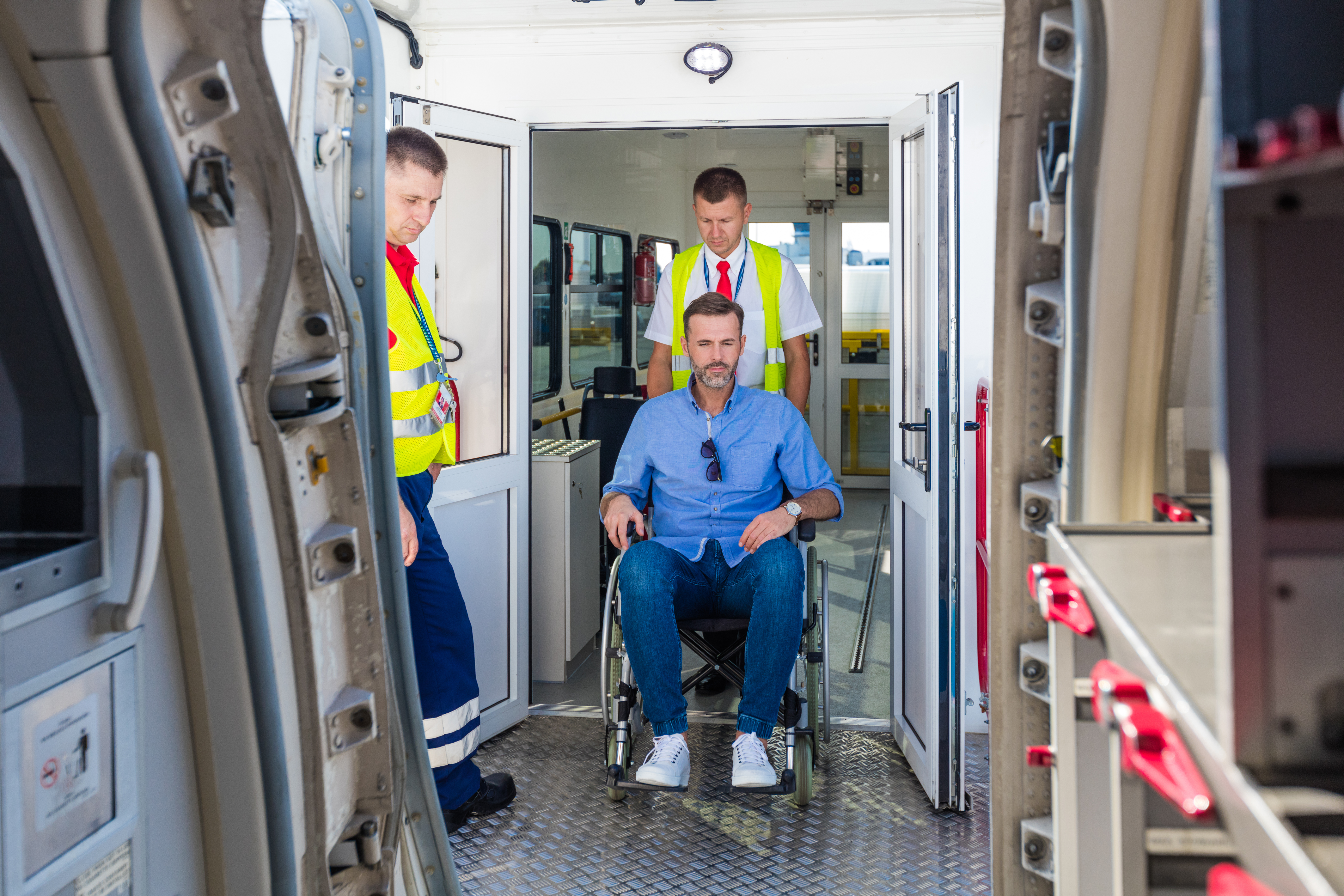 While accessibility onboard had long been recognised as a pain point for passengers, and a potential area for development for airlines, the hard realisation of the quantity and value of the damage incurred was finally available in black and white – although still not a full picture of the problem globally.
The reporting revealed that airlines had mishandled more than 800 wheelchairs, the equivalent of 1.5 damaged chairs for every 100 flown over the course of one month. The consequence of such damage is far-reaching with many affected passengers opting not to fly to avoid such physical, emotional, and financial damage.
"From my own research, I know that disabled people are purchasing premium cabin seating at a higher frequency."

John Morris, Founder – WheelChairTravel.org
Speaking about the challenges and how the industry is responding, John Morris said:
"I think that for a lot of the challenges that passengers face, there are easy solutions. I've noticed there has recently been an investment in loading devices that allow a wheelchair to be placed on the belt loader and into the hold without ramp personnel ever having to lift the wheelchair.
"Physically, lifting a 200kg wheelchair is a really bad idea, and should never be done. For years, I have said there is equipment out there that would eliminate the necessity if airlines would just invest in it. I think it would reduce the frequency of wheelchairs being damaged, and certainly the number of wheelchairs severely damaged or destroyed."
The cost of damages
However, John recognises that solving damage to wheelchairs is an interim solution and moving to allow passengers with their wheelchairs in the cabin was a key priority – not only to respect the disabled traveller, but also for the airline's bottom line.
He explained: "I travel a lot, so I am subject to a higher number of damage incidents than most travellers. Last year, I had two wheelchairs completely destroyed, costing the airlines more than $100,000. That's a big impact on the bottom line.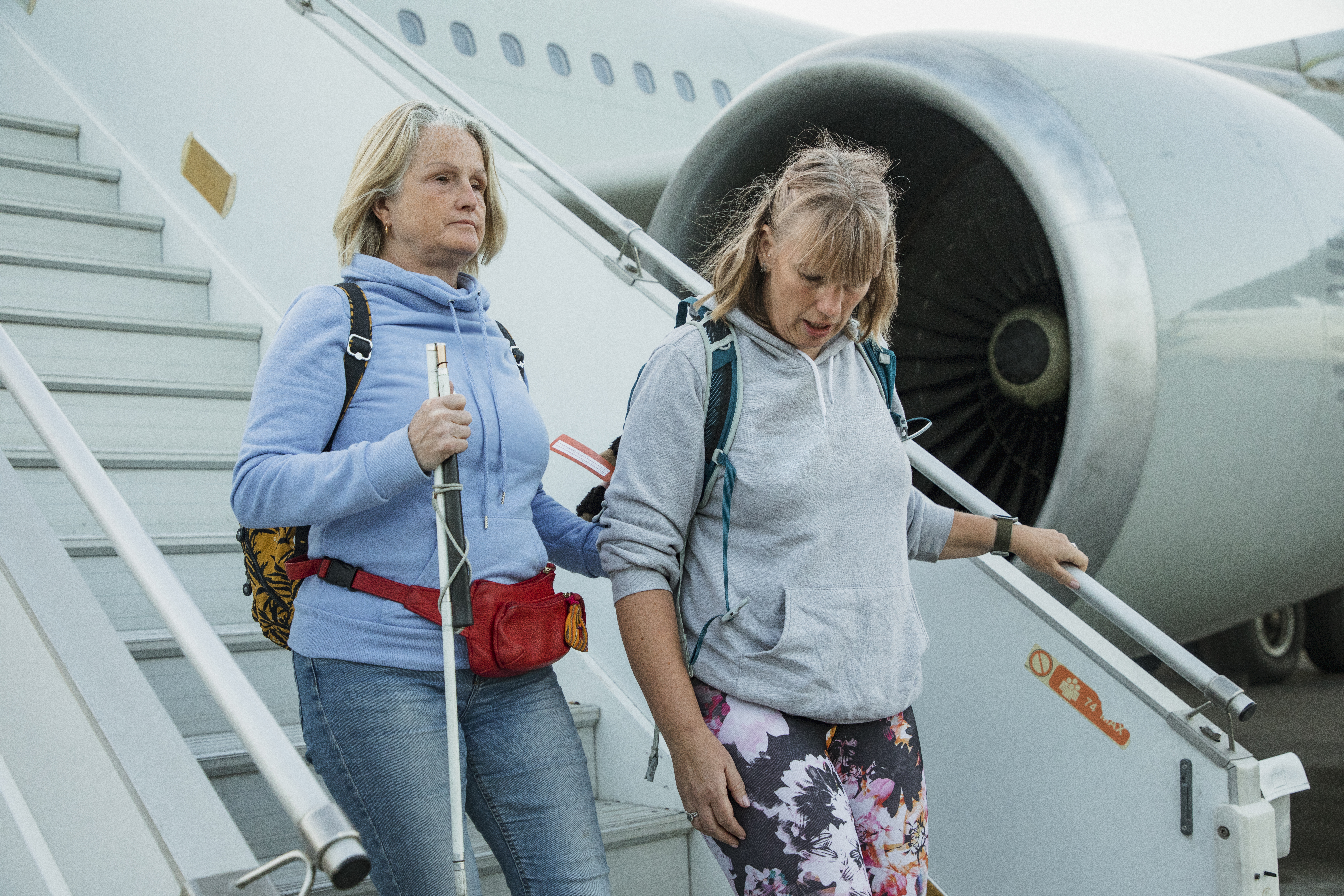 So, while there is certainly a business case for an interim solution, the long-term solution will not only focus on the damage issue, but on delivering and maintaining the dignity of disabled flyers with a wheelchair space in the cabin. It exists on all other modes of transportation and there have been studies here in the US that say it's technically feasible. If we can get past some of the red tape, it will not take as long as we think."
Time for change in the industry
Progress in getting wheelchairs in the cabin has taken a leap with tangible change being recognised across the industry. Speaking about the progress made, Michele Erwin, Founder of All Wheels Up, said:
"The aviation industry is a very conservative, slow-moving industry. However, the biggest change I have witnessed over the past 12-24 months is a commitment to access, and the future of accessible travel. Specifically, the recognition for, and real interest in, a wheelchair spot on planes."

She continued: "Wheelchairs and wheelchair securement systems already meet the standards that are outlined for airplane seats. In fact, these devices exceed the standards of an airplane seat and are testing at 20G vs. 16Gs. We know that a wheelchair spot is possible.
"Airlines are not shying away from the table or the opportunity to be part of the conversation on inclusive travel. "

Michele Erwin, Founder – All Wheels Up
Wheelchair-accessible lavatories have already been developed. The biggest hurdle is the economic impact on the airlines.
It is a commercial question of:
will the airlines lose money by making these accommodations?
will they or won't they lose valuable space onboard?
what is the financial impact on the airline?"
Chris Wood MBE, Founder/Director of Flying Disabled, agreed, stating: "An airline's first priority will be how do I fit that in operationally, how would that fit within our current focus, what's the cost? But there are no more excuses. The conversation is developing but to have those conversations, we need to have a solution, and now we do."
Air4All
The solution Chris refers to has been created by Air4All – a consortium of industry leaders – headed up by Nigel Smith, Director of SWS; Daniel MacInnes, Director at PriestmanGoode, and Chris Wood Founder/Director at Flying Disabled.
In partnership with Sunrise Medical, the consortium has established a system aiming to revolutionise air travel for passengers with reduced mobility (PRM). The proposal enables users to remain in their wheelchairs for the entire journey without reducing the seat count for airlines.
Launched in 2021, it offers practical improvements to the aircraft cabin and overall aviation transport experience for severely disabled people — resulting in greater independence, dignity, and freedom of travel. And it's not the only project which demonstrates the possibilities for a wheelchair space in the cabin.
A team from Wichita State University's National Institute for Aviation Research has received international recognition for a design that would allow WC19-certified manual and power wheelchairs to be used as a seat on board commercial airlines.
The Fly Your Wheels Suite — designed by NIAR researchers and students in the Advanced Virtual Engineering and Test Labs (AVET), in collaboration with Collins Aerospace and Q'Straint — can be implemented near the first-class cabin of a single-aisle aircraft, such as a Boeing 737.
It creates a free space where passengers with their own wheelchairs can choose their seating orientation, both forward and rear-facing.
And the good news is that airlines are already attending these conversations, looking for ways to collaborate with airframers and OEMs to find a truly practical application. Speaking about the appetite for change, Michele Erwin, added:
"Airlines are not shying away from the table or the opportunity to be part of the conversation on inclusive travel. We applaud them for the efforts they are currently taking – such as the Air4All commitment to improve accessible air travel."
Airlines want to be involved
Chris Wood agrees and explains that there is a level of optimism given the parties now coming to the table to discuss this. "We now have everybody that needs to be involved. There is nobody left out to stop it from finally happening. Working with Sunrise Medical gives us a great advantage, but we're in contact with the Federal Aviation Administration (FAA) and Canadian Transportation Agency (CTA) in Canada.
The next step is to ensure that there is a joined-up approach, meaning that every leg of the journey applies the same thinking and approach to passenger inclusivity."
He continued, "it's important to note that the impact in the US is far greater because of the frequency of air travel, over buses or trains. Our biggest hurdle remains the investment, and the willingness to adapt the cabin. Changing the cabin for greater accessibility is a broad spectrum, and I always feel that innovation could do more – this might be the trigger.
But we do know that the rules of engagement in aviation are different. This is a pressurised cabin, flying at 500 miles per hour, 30,000 feet in the air. We have to consider everybody's safety, and that word – safety – is something we have not, and will not, deviate from."
Barriers to flying: a global issue
Far from being a US-only issue, British TV presenter and paraplegic Sophie Morgan is among the latest campaigners to draw attention to the damage caused following her experience travelling between Los Angeles and London.
She is a disability advocate and recognised campaigner for inclusive and accessible travel, who has partnered with Disability Rights UK to launch a new campaign to demand that the UK Government grants the Civil Aviation Authority (CAA) power to fine airlines and other actors if they fail to look after disabled passengers and their equipment.
Speaking about the campaign, Sophie said:
"Enough is enough. This is a short-term solution to an ongoing problem and the beginning of a long journey towards a whole system overhaul of the entire airline industry. Disabled people need to be able to have the confidence to trust air travel.
And this campaign is the first step for that. We are not asking for special treatment. We are asking for our experiences to match those of non-disabled people.
"There are no more excuses…we need to have a solution, and now we do."

Chris Wood MBE, Founder/Director – Flying Disabled
While strides are being made to change the experience for wheelchair users, there has also been significant progress in the cabin, as John Morris explains: "Often, when we're thinking about accessibility, the first thing that pops into people's minds is the wheelchair and the wheelchair user. There are certainly millions of us other there, but that isn't the full scope of the disability community and the spectrum of disability."
He elaborates: "I think United Airlines has been a great example of a carrier that's adding technical accessibility features into the inflight entertainment (IFE) solutions. There are a lot of carriers that don't have IFC, but for those that do, the majority of those systems are not accessible to those who have limited vision or are blind. United has included a new feature that makes its IFE solutions accessible to people who have a vision impairment."
The solution, referenced by John, "accommodates any level of vision, as well as provides support for customers with hearing and mobility issues'. It includes text-to-speech mode, captions and subtitles, audio descriptions and closed captions, as well as a variety of other visual settings and features from magnification, high-contrast text and paging arrows allow passengers to navigate the system with simple touch gestures or a mouth stylus.
While this is a small part of the challenges facing disabled passengers, it demonstrates one of many small steps airlines are taking to further improve the passenger experience for all."
Technology's role in accessibility
John adds: "It's really exciting to me, and I'm hoping that as this technology evolves, whether that's captioning IFE or other facilities that allow people to interact in an accessible manner with those devices, I'm hopeful that this will reverberate throughout the industry.
There are some areas that present key challenges. Take lavatory accessibility, for example. In the US, our Air Carrier Act requires accessible lavatories on wide-body aircraft. However, I would say that 75% of those, at most, put accessibility in quotation marks."
"Accessibility onboard had long been recognised as a pain point for passengers, and a potential area for development for airlines."

John Morris, Founder – WheelChairTravel.org
Michele points out the additional work underway to push developments in this area. She adds: "All Wheels Up is currently campaigning to add two stand-alone bills into the FAA Reauthorisation Act, including an economic impact study to implement a wheelchair spot on airlines and establishing a Center of Excellence for Accessible Air Travel (COE) to help research all accessible air travel issues. This would provide Universities with a 10-year sustainable source of funding to conduct the research needed."
Current solutions for onboard lavatories present unique challenges. Here, John references a mid-cabin solution that is typically housed in the centre row, combining two standard lavatories with a bi-fold wall in the centre. However, he stresses that it doesn't provide the accessibility that disabled people need.
He explained: "It's extremely challenging and often they are in the middle of the economy class cabin, so nowhere near a boarding door. Airlines don't just need to think about equipping the cabin with accessible features, but where accessible facilities should be located, as well as where disabled people should be seated on the aircraft.
For example, passengers using an aisle chair who have difficulty walking, who may be semi-ambulatory, should be near the boarding door not only for their comfort but also for their safety. That is currently being overlooked."
Passengers trends for those with disabilities
John continued: "From my own research, I know that disabled people are purchasing premium cabin seating at a higher frequency. However, there has been a notable regression in this area. Business seats are becoming less and less accessible.
What is declared as the 'best business class ever' is actually the least accessible. Privacy and the installation of doors and larger seating shells are being put above accessibility to some degree. It is an attack on the dignity of the passenger, but also their independence.
Take herringbone style seats, for example. Positioned partially and equally askew in one direction, they entirely prevent a lateral transfer, or even safe assisted transfer, so there is still a lot of work to do." Accessible travel for all
And while there is an optimism shared by John, Chris and Michele, all three agree that airlines have a responsibility to ensure that air travel is accessible to all passengers, including those with disabilities. As John explains:
"You can't fix a problem that you don't know exists. The first step is education, and it's not something to be ashamed of, but an opportunity to act upon."
Airlines are encouraged to take the steps not because it's just the right thing to do, but because there is a business case for it. Carriers are recognising the opportunity which will present the interior design community and OEMS, with a clear and present opportunity to deliver these products to their airline customers in the near future.
By providing safe and dignified cabin access to passengers, regardless of disability, airlines can make air travel a more comfortable and enjoyable experience for everyone. Furthermore, by creating an inclusive and welcoming environment, airlines can help remove the barriers that prevent people with disabilities from travelling and exploring the world.
Learn more about the carriers, suppliers and products that are breaking down barriers to accessibility onboard at Aircraft Interiors Expo this year.
---
---