The bizjet industry caters to individuals and businesses that value time, privacy and a bespoke experience. And one of the key areas where personalisation can be deployed by owners or lessors is the cabin interior. This, combined with the increasing demand for personalised travel, means that there are still areas of the private jet market that are continuously growing. In fact, the global business jet market is projected to grow to $38.34 billion in 2029, at a CAGR of 4.06%. 
Current Trends
Private aviation has always been synonymous with luxury and exclusivity. But demand is on the rise as more people choose to fly on business jets. As such, business jet flight operations were said to have increased by 35.8% in Q1 of 2022. Despite disruptions because of the pandemic, the business jet market has recovered well and is returning to its previously steady growth trajectory.
One particular trend in business jets is the industry's emphasis on cabins. The growing demand for customisation of passenger seats is just one contributor to the aircraft upholstery market being projected to reach $2.3 billion by 2027.  
Armrests, particularly, offer comfort, adaptability and support to passengers. Thus, the armrests segment of the aircraft seat upholstery market is expected to grow quickest. The overall growth of the aircraft upholstery market is driven by the needs of airlines to customise their cabin interiors and aircraft seating during the installation or repair of seats, which generally includes a replacement of upholstery.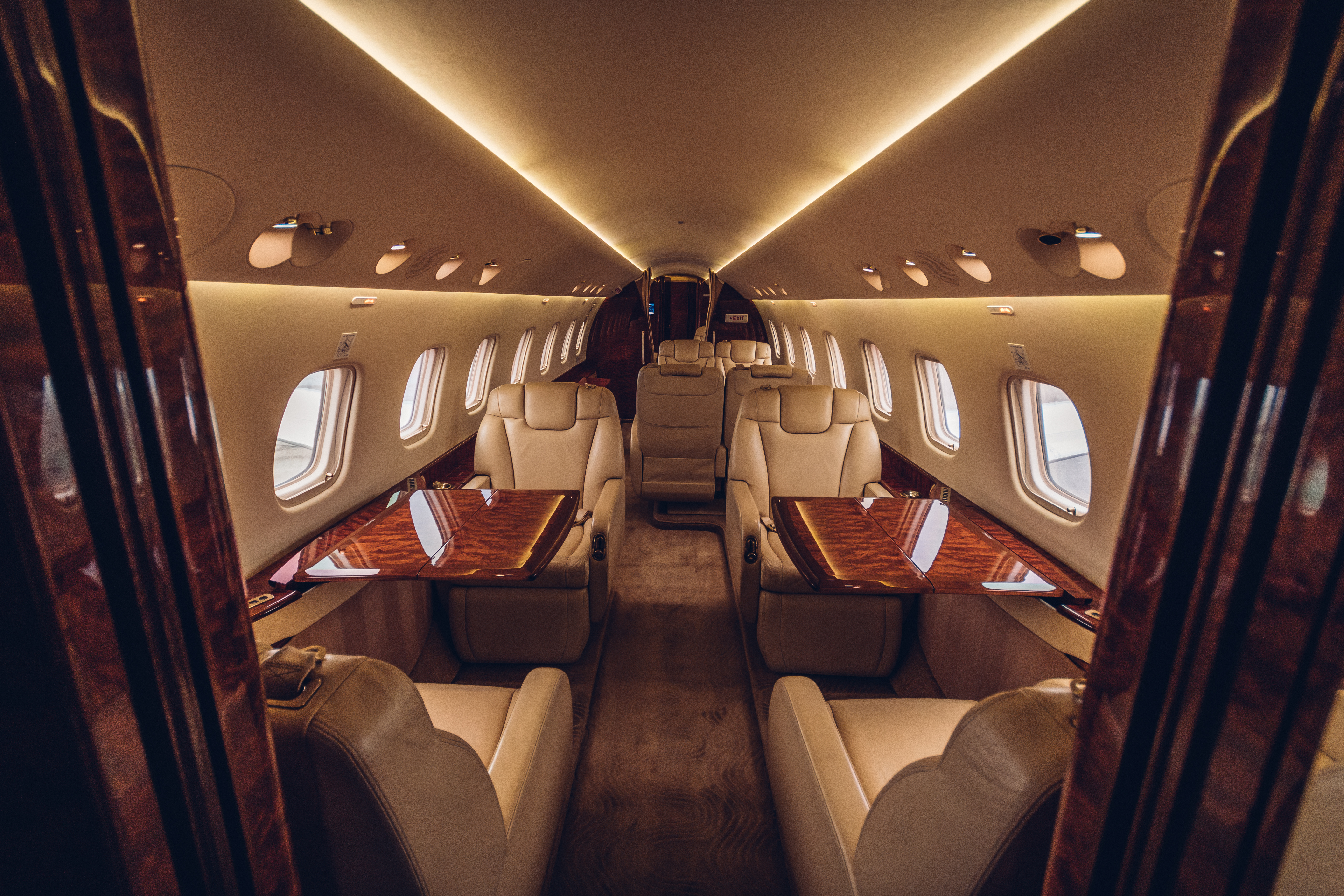 Celso, a foam seat manufacturer, believes that comfort in business jet interiors is equally, if not more, important than on commercial jets. By necessity, their cushions are custom-made. Another supplier, Boxmark, a high-quality upholstery leather manufacturer, also tailors bizjet interiors according to the customers' preferences to give them the essence of exclusivity. The company believes that modernising the cabins not only improves seating comfort but also attracts more passengers.
Sanitation has also always been a concern among passengers, spiked only by the pandemic, and companies across the private jet charter industry are also working towards improving procedures to meet customer satisfaction. Intensive cleaning practices utilising heavy-duty sanitisers are set to continue alongside the demand for smart coatings and "self-cleaning" materials.
Because of this desire for a safer flying experience, the market for business jets is also expanding its customer base. GlobeAir, a private jet operator in Europe, for instance, has recorded a total of 2,678 passengers as first-time private jet travellers. More people are becoming interested in switching to business jets because of the increased cleanliness and related safety they offer.
Features of BizJet Interiors
While business jets provide passengers with varying levels of luxury, not every private aircraft has the same features. Some business jet interiors, for example, don't feature bedroom as they are too small.
Light private jet interiors
Midsize private jet interiors
Long-haul private jet interiors
VIP airliner interiors
–Ultra-light and light business jets can accommodate up to 7 passengers 
–Compact but contain luxurious touches
–Usually come with an on-board lavatory, as well as spacious cabin and luggage area. 
–Midsize business jets can accommodate up to 12 passengers 
–Can be equipped with a bed or sofa 
–Can be fitted with a minibar or kitchenette 
–Usually have a toilet with a sink 
–More people can fly on long-haul business jets 
–Typically accommodate up to 19 passengers
–Interiors are spacious, there can be room for a sofa, a bed, furniture, and even a separate bathroom or bedroom 
–This type of business jet has a very large capacity and offers increased cabin and baggage space
–Often include executive seats, bedroom suites, bathrooms with walk-in showers, a full bar and dining areas, conference facilities, and numerous other luxury amenities.
Again, the bizjet cabin interior depends on the preferences of the airline or the owner. The Cirrus Vision Jet cabin, for example, is made with a carbon fibre fuselage that creates spaciousness. Using carbon fibre offers aircraft designers more flexibility to adapt traditional designs. One Airbus concept has been introduced with a carbon fibre curved fuselage that provides more cabin space. Meanwhile, Embraer Lineage 1000E's five bizjet cabin interior zones are outfitted with the finest leathers, wools, and silks.
The Embraer Phenom 300 has seats that can be converted to lie-flat beds, while the Dassault Falcon 900 has two seats that can be combined to make a full-length bed. One of the newest business jets, the Bombardier Global 7500, boasts a sky bedroom with a queen-sized bed.

Digitisation in the Cabin
Embracing digitisation has become imperative in aviation. The influx of competition and increase in digital sophistication among passengers calls for airlines to deliver a customer experience rooted in a strong digital foundation. As such, business jets have also been implementing more advanced digital technology onboard.
With digitisation, passengers can easily control their seats and lights. The Gulfstream G700, for example, has a lighting feature that imitates the sunlight of the next time zone using real circadian lighting, so passengers will not have jet lag.  
In-flight entertainment and connectivity (IFEC) is also vital among business jet passengers. According to a report by Valour Consultancy, up to 27,000 business jets will install IFEC-enabling equipment, including modems, antennas, and wireless access points, into their aircraft by 2031.
Craig Foster, the author of this Valour Consultancy report, expects that increased IFEC competition could result in business jet operators further adopting connectivity. Because there will be more business aircraft, more IFEC technologies, satellite, and cellular networks will also become available, particularly targeting business aviation. 
Sustainable Business Jet Interiors
In a survey by GlobalData, 43% of respondents said that their buying decisions are influenced by a service's or product's ethical, environmental, and social responsibility. In the aviation industry, aircraft running on sustainable aviation fuels (SAFs) can further pique the interest of passengers due to the increased demand for socially responsible practices.  
Private aviation is slowly implementing SAFs into their aircraft. The aviation company, Jetex, for example, partners with oil company Neste to offer SAFs at its Helsinki Airport terminal. Jetex also plans to launch the world's first "pure green" private terminal at Berlin's Neuhardenberg Airport and use electric vehicles to achieve zero-net carbon emissions.
Dassault, a French aerospace company that supplies the bizjet sector, applies eco-design concepts into their processes, from mining of raw materials and production to in-service operation, end-of-service, and recycling.
Similarly, the Gulfstream G700's Rolls-Royce Pearl 700 engines offer low emissions. It has a lightweight composite structure and advanced aerodynamics that make it eco-friendly. A versatile business jet, the Pilatus PC-12 NGX, has an average hourly fuel consumption of 55 gallons per hour (GPH), which also produces reduced emissions and a smaller carbon footprint.
Steps towards sustainability and carbon neutrality are also being taken in bizjet cabin interiors. Many now use natural materials in bizjet interiors, like woodwork or cabinets. One prime example is Gulfstream Aerospace, whose business jet interiors use sustainable materials.
Gulfstream's bizjet cabin interiors include aluminium honeycomb cabinets and silk or wool jute or rags. Meanwhile, Bombardier's Global and Challenger business jet cabins feature upcycled and engineered soft goods made from reclaimed or natural fibre.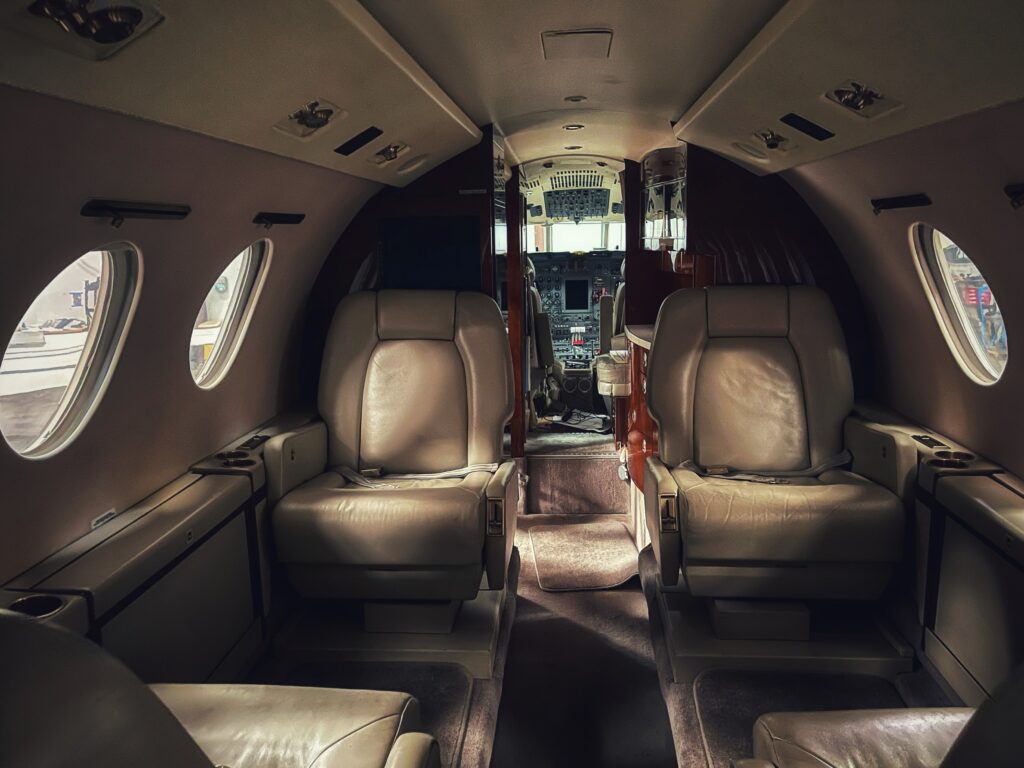 New Private Jet Concepts
Because of the increased demand for bizjet passengers, companies are experimenting with new concepts that will continue to meet customer satisfaction and attract more people to choose to fly privately.
A cutting-edge business jet interior technology that is now in the works is the Shapeshifter. This innovation by the design team at F/List is multifunctional furniture that morphs, bends, and stretches via electromechanical sleight of hand.
The prototype space includes a credenza that transforms into a workstation and seating and table configurations that can change. When fully implemented, passengers can easily push the button to transform the layout of the bizjet cabin. 
Gone are the days when bizjet interiors were plain. Business jet owners now often partner with a design firm to decorate their business jets with the latest finishes. In the business jet Bombardier Global 5000, the aviation art features a symmetrical pattern that runs through the entire interior creating a harmonious overall look.
Meanwhile, the Boeing B777X business jet refurbished its cabin design details with sleek lines and geometric designs "reminiscent of Islamic art". The interior of the Boeing 767 business jet went through hydro dipping, an innovative process to paint/veneer cabinetry and woodwork. 
Some private jet concepts to watch out for include Aston Martin's space age-style designed business jet that features a vertical take-off and landing capacity and the PAL-V Liberty business jet, where the propeller tucks into the rear of the vehicle and the rotors fold and store on top. Lufthansa Technik will also design a wide-body private jet with a folding veranda, a lounge, a gym room, and a medical centre.
Business jet interiors market will continue to flourish
The global business jet market is projected to grow because of the increasing demand for personalised travel. People are looking for safety, privacy, and customisation when it comes to travel. To deliver a more personalised travel experience, owners or lessors can invest more in cabin interiors. Aside from elegant bathrooms, fine dining kitchens and facilities, and high-quality leather seats, business jets are equipped with digital capabilities like seat and light controls and IFEC systems. 
The future of business jet flying will need to increase the use of technology to further enhance the passenger experience. And because of the growing demand for business jets, the number of private-only airports may well rise. The growing demand for luxury and efficiency in air travel will keep the business jet industry evolving and innovating, therefore leading to a bright future for the sector.