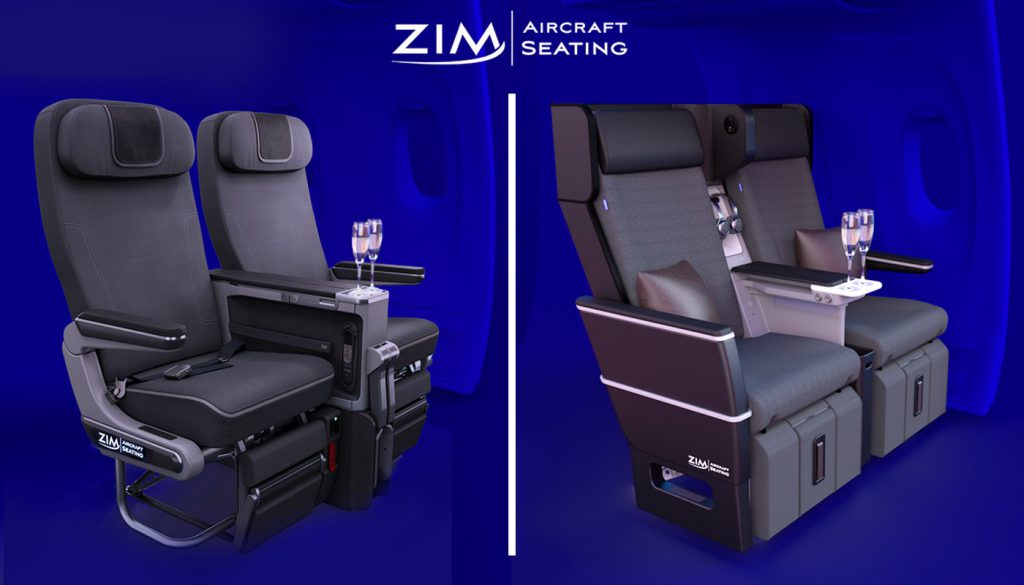 The ZIM Premium Economy Class has a place with every Airline, within every budget, we have the latest modern, comfortable living space in the skies.
Codenamed PC01 – ZIMmagic and PC-02 ZIMPrivacy. The ergonomic structures offers passengers spacious living areas whilst providing excellent cabin density for the airline.
Passenger needs are well taken care of with a wide variety of selectable features on both platforms.
For example, highlights like, the centre console equipped with cocktail tray, a one piece meal table and in-seat power outlets, ergonomically contoured seat back and bottom, seat articulation, legrest including footbar and 6-way moveable headrest.
Additionally, the new seat can be customized with all common IFE systems and enhanced compatibility with personal electric devices.
Designed with your passengers in mind, ZIM offers a lowerable aisle side armrest as well as integrated in-arm touch-screen monitor.
This unique seat brings even more style, comfort and technology to the modern Premium Economy class cabin. Its enhanced cradle-style recline, featuring patented seat kinematics, accommodates passengers both working and relaxing during flight.
The fixed backrest shell design enables a passenger experience at a seat pitch that doesn't take up valuable cabin space. This efficient design feature allows the luxury to manage the passenger's journey with enhanced privacy and personal ownership of space without compromise or intrusions.
Wireless charging, Bluetooth connection, USB integration and personal reading lights are also available.
Our newest seat design the ZIMprivacy, will be delivered to our customers already in 2021.
Several 5 star airlines have chosen our flagship product for their Premium cabins on various aircraft platforms.
Summary
Leading in the Premium Economy Class market and offered on all major single aisle and widebody platforms, the high customisability of the product is easy to realise as we collaborate together to create your brand
With the seats being the main interface between you the airline and your flying passengers, work with ZIM Aircraft Seating to realise the unique space you can create in your cabin.
We are pleased to welcome you to our virtual booth at the AIX Aircraft Interiors Expo 2021
Please register to book a slot, for your personal meeting with us to discuss your requirements.
---
Product Showcase listings are a paid-for opportunity for cabin interior manufacturers to share their products, services and solutions. If you'd like to showcase your product, get in touch with the AIX Sales team.