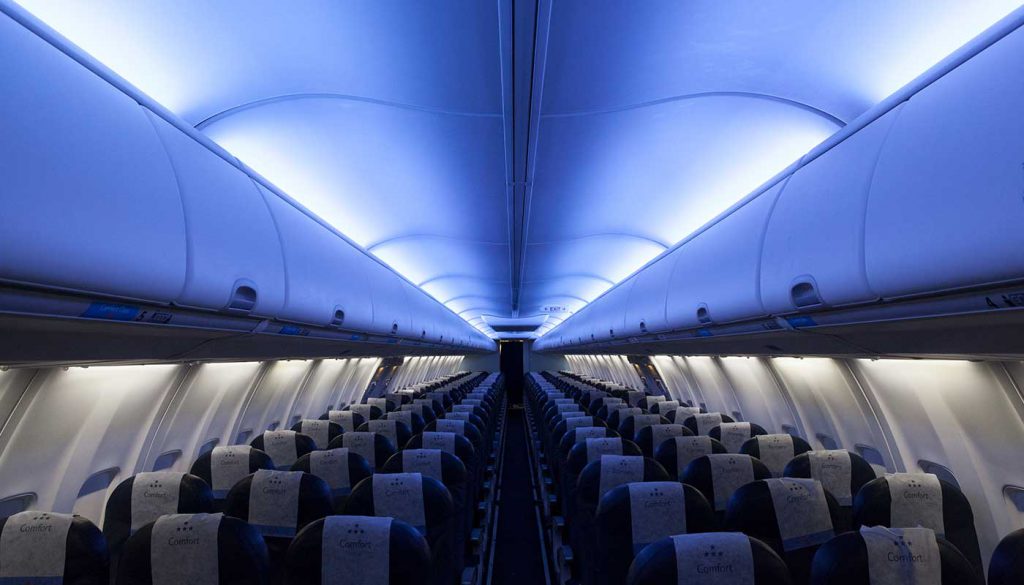 Whatever your lighting requirements we have the right solution for you – from emergency exit to a range of cabin lighting solutions that compliment the cabin interior and enhance your passengers experience. STG Aerospace has worked with OEMs, airlines and MROs for over 25 years. See how we can help you…
Bright ideas. Brilliant solutions
Photoluminescent and electrical lighting technologies provide our two system offerings. In combination, this enables STG to offer unique, optimised solutions as a single source provider for your total lighting requirements.
With full through life in-house capability (including design and certification), customer support is provided throughout the full life cycle of all our lighting products and systems. We are innovative thinkers and problem solvers, always up for a lighting challenge. Which STG Aerospace lighting solution will work for you?
Let it glow
STG Aerospace designed, developed and certified the first patented photoluminescent floor path marking system in 1995 (saf-Tglo®) to address the regulatory requirements for emergency evacuation of passenger cabins.
Why choose photolum exit marking?
100% reliable. With no electrical power source needed, saf-Tglo® is self-powered. If it's there, it works! Eliminating instances of AOG which can cause delays, cancellations and cost penalties.
Unlimited life. The patented sealed assembly prevents fluid ingress damage and staining. The protective coating is highly durable and designed to withstand the most harsh cabin environments. Replacement is needed on a condition only basis.
Easy to install, charge and maintain. Installation is a simple 'cut, seal, stick' process. Charging is via the cabin lighting during aircraft preparation, prior to the first flight of the day. No test coupons or ongoing maintenance is required for the continued airworthiness of STG's saf-Tglo®.
Since our first generation of saf-Tglo®, we have developed our product offering, market knowledge and understanding of customer changing requirements with continued research and design. Our patented blue glow option, with a soothing blue tone compliments the aesthetics of contemporary cabin designs.
The latest generation of saf-Tglo®, SSUL-X – is the most durable, lightest, narrowest and aesthetically appealing product in the market.
What's new about saf-Tglo® SSUL-X?
Single multi-model STC – Regardless of aircraft type or width variant, it is all included under one STC pack
Edge to edge – colour that eliminates floor board visibility and reduces view of dirt over lifetime
Widest CMF palette available – including the industry first red daylight colour!
All standard industry widths (18,23,36mm wide)
Matt finish – another market first is our subtle matt finish to blend with the cabin. This is proving a very popular option with our customers. Gloss finish is also available.
Simplified installation – Cut guides and an online installation guide enable a one hour install for typical single aisle aircraft.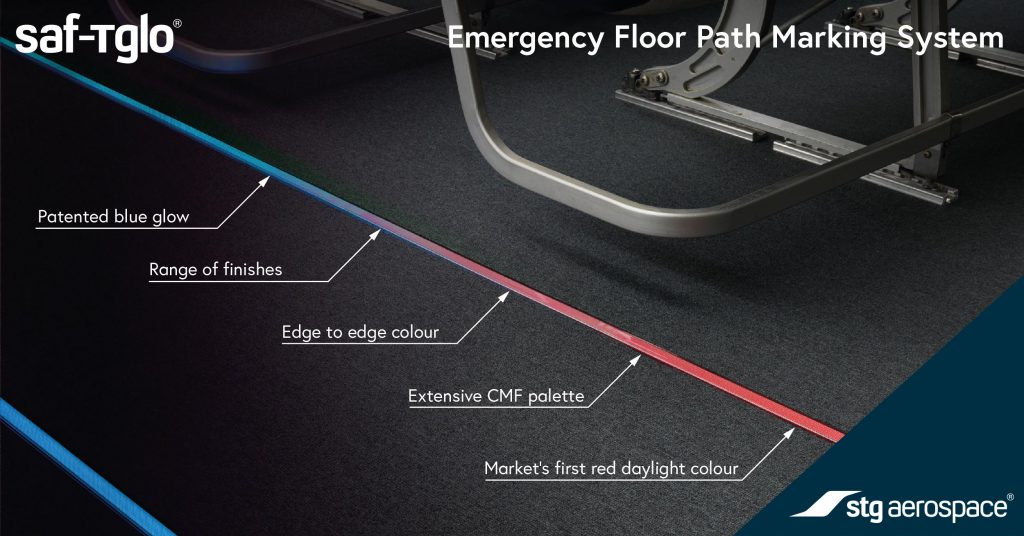 Customise your design
saf-Tglo® SSUL-X is fully certified to the latest requirements defined by EASA and the FAA. It is available with a range of custom options to meet specific cabin design requirements including PatternMatch™ to match surrounding carpet's colour and pattern or BrandMatch™ to incorporate airline branding and colour schemes.
Complete your emergency exit system
STG Aerospace offers a wide portfolio of signage products which utilise the same leading photoluminescence technology as saf-Tglo®. This signage can be installed throughout the cabin to either complete the emergency exit marking system when used as progression signs or to aid passenger guidance.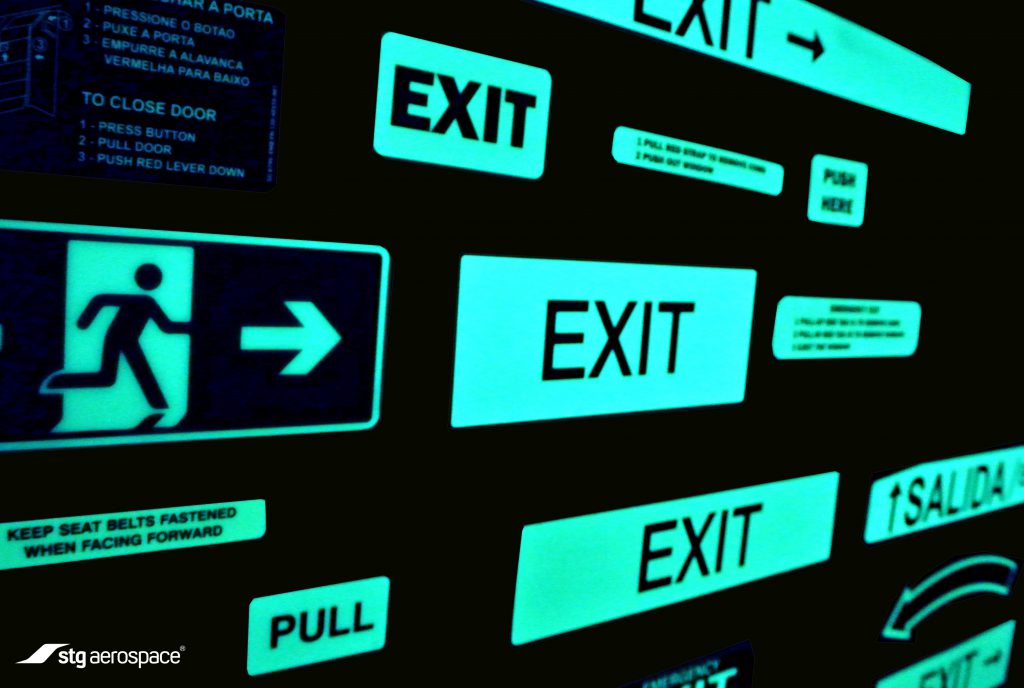 Speak to our team at AIX virtual to understand how our latest saf-Tglo® floorpath marking systems and signage solutions, together, can provide your emergency exit system.
The Instagramable experience
We understand that retaining passengers in a difficult market is about delighting them with great in-flight experiences. Modern hotels and restaurants have been at the forefront of innovative lighting driving today's passengers to expect a more sophisticated and customised experience with cabin lighting.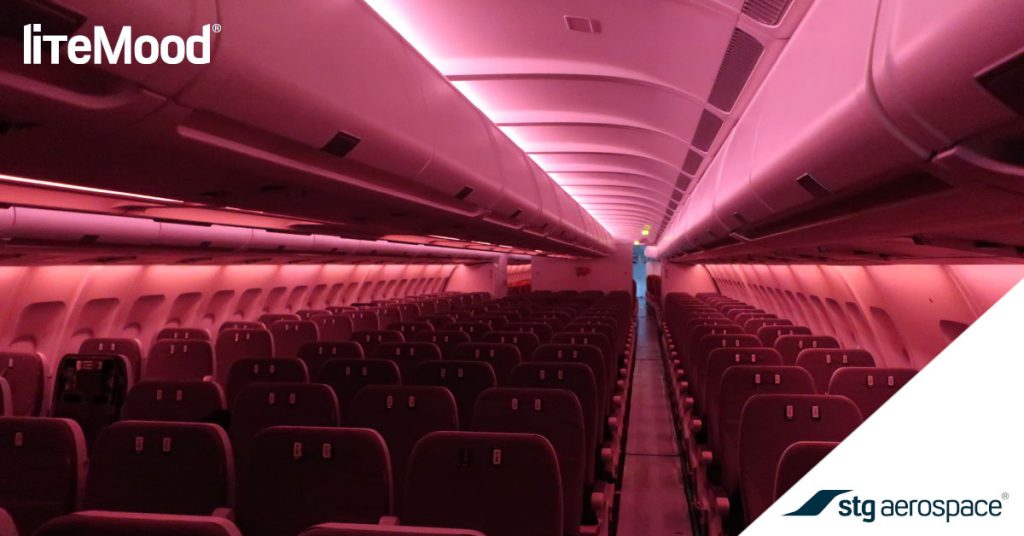 An aircraft cabin is much more than a seating area. It is a:
restaurant
bedroom
Instagram studio
workplace
cinema
STG Aerospace's range of cabin lighting systems (liTeMood®) are designed, developed and certified, to meet the demanding requirements of airlines, crew and passengers for Airbus and Boeing aircraft.
liTeMood® enables airlines to transform a cabin interior with the latest full colour, dynamic and configurable LED lighting solution. It is fully customisable to any scene or scenario. With 16.7 million colours to choose from, there is an option to meet every requirement. Our team will guide and support you to select the lighting scenes that work best for your brand & your passengers.
Fleet harmony
Working with airlines across the globe we understand that, maintaining a consistent quality lighting experience fleet wide and throughout the flight, is the best way for passengers to connect with the airline brand, while on-board.
How can that be achieved no matter the age/type of aircraft within the fleet? With liTeMood®. It provides a simple and cost effective way of enhancing the cabin ambience to the same or better quality standard as brand-new aircraft.
We have seen increased demand for liTeMood® as airlines seek to either extend the life of their current fleet or integrate new aircraft, yet still require the light quality, functionality and customisation options liTeMood® provides.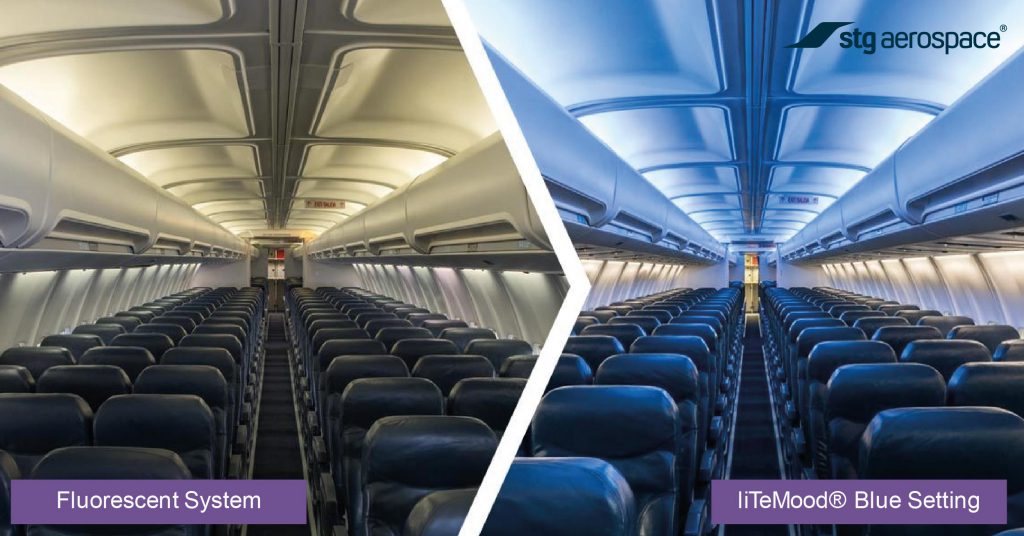 Plug, play, fly
liTeMood® is easy to install and operate. It is a plug-and-play programmable lighting system, designed to retrofit commercial aircraft cabins. Fully interchangeable with incumbent lighting systems, requires no changes to aircraft wiring or control systems. liTeMood® is compatible with both Classic and Enhanced CIDS. It can be installed in just six hours (typical single aisle aircraft). Then easily controlled by the existing flight attendant panel. No need for extensive flight crew training.
With MTBF in excess of 800,000 operating hours, liTeMood® is a reliable solution for your ambient lighting requirements. Find out more about liTeMood® and our custom design solutions at AIX Virtual.
View our products in the ADS immersive 3D aircraft interiors showroom www.digitalcabin.aero
To learn how we can help with your emergency exit or cabin lighting requirements, talk to one of our team at AIX Virtual. Let's talk lighting!
---
Product Showcase listings are a paid-for opportunity for cabin interior manufacturers to share their products, services and solutions. If you'd like to showcase your product, get in touch with the AIX Sales team.