The past one and a half years have changed aviation, as we knew it. But even in challenging times changes can turn into opportunities. To achieve this, airlines must be in control of their cabin environment. AERQ is here to offer exactly that – making airlines the playmaker of their digital cabin.
The future of digitalisation
AERQ was founded in 2019 as a joint venture between LG Electronics and Lufthansa Technik. With roots in consumer electronics and aviation, we utilize the joined skillsets of our parent companies to enable airlines to go through the digital transformation of the cabin successfully. On the one hand, we have decades of aerospace expertise and on the other, access to state-of-the-art technology innovations.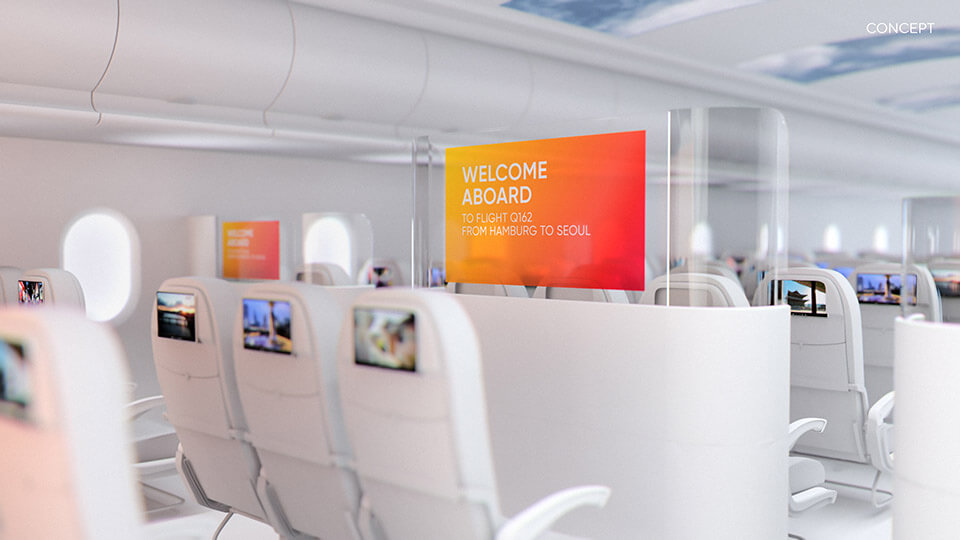 We use our experience and background to make digitalisation accessible for airlines and remove the barriers, which today are hindering them to excel in digitalising the cabin. With our ecosystem, we want to drive the digital transformation by turning the cabin into a playing field for new ideas and business opportunities. To do this successfully, it is essential to bring on-ground behaviour and trends onboard the aircraft enabled by the right digital solutions and technologies. Since in the end, the moments that matter are complex and connected. We are here to enable airlines to create such moments and shape marvellous, digital experiences with their passengers.
To us, this means that airlines have freedom and flexibility to choose solutions that best fit their needs while growing their business supported by a true business partner.
An open IT platform to make a difference
With the flexible architecture and the holistic approach of our open IT platform, we will empower airlines to bring innovative, digital technologies into their cabins. The backbone of the AERQ platform consists of a flexible, modular software infrastructure, high-speed deployment and data intelligence which will empower airlines with transparency and ownership of all processes.
Throughout our ecosystem, we collaborate with various partners, so that capabilities are complemented to truly transform the cabin. With the sole purpose to empower airlines to stand out, be in control of their choices and make it possible for airlines to react fast and proactively to challenges and opportunities lying ahead, while growing a sustainable future for their business.
Technology for an enhanced passenger experience
It is essential to understand how our cabin touchpoints will elevate the passenger experience, while establishing new business opportunities with enhanced passenger engagement and digital technologies coming together, to truly see the change that our open IT platform provides.
Our open IT platform is enabled by beautifully designed touchpoints. Driven by a user-centric approach, our cabin touchpoints are intuitive and enable ease-of-use for the passenger. This interaction is ultimately the key for the passengers onboard to engage and become part of the platform and the new cabin experience.
Premium 4K LCD displays set the stage for an extraordinary viewing experience on our in-seat system. Our platform will fuel the engagement in the in-seat system with recommendations and offers tailored precisely to meet the demands and expectations of each passenger individually.
A cornerstone of the in-seat system is its easy and seamless PED integration. We believe that to truly digitalise the cabin, it should be possible for the passengers to use their PEDs as on ground – here the passenger PED is the key. The passenger's PED turns into a touchpoint in the cabin and active part of the engagement with the in-seat system.
Based on OLED display technology from our parent company LG Electronics, our Cabin Digital Signage solutions will offer a cabin experience beyond compare. Its lightness, flexibility and extraordinary picture quality allow for endless creative applications within the cabin. Our Welcome Board will greet and guide passengers, while our Ceiling Panels and Transparent Class Divider concepts create a unique cabin environment and ambience. With Cabin Digital Signage, airlines can shape the cabin exactly as they want, while easy and fast content management will make it even more adaptable and convenient for airlines to shape their cabin and stand out with their experience.
Meet AERQ at AIX Virtual
AERQ will participate at this year's Aircraft Interiors Expo Virtual with exciting news and experiences. We are looking forward to having the entire industry coming together to discuss innovations, technologies and offerings. Let's meet and have a talk!
---
Product Showcase listings are a paid-for opportunity for cabin interior manufacturers to share their products, services and solutions. If you'd like to showcase your product, get in touch with the AIX Sales team.