SEKISUI KYDEX is excited to share new innovative solutions that allow designers to expand the possibilities for cabin design. To elevate the passenger experience, KYDEX® Thermoplastics has expanded its aviation product portfolio with an array of bespoke textures including new Decorative Textures and Translucents, and KYDEX® surfaceGrip™.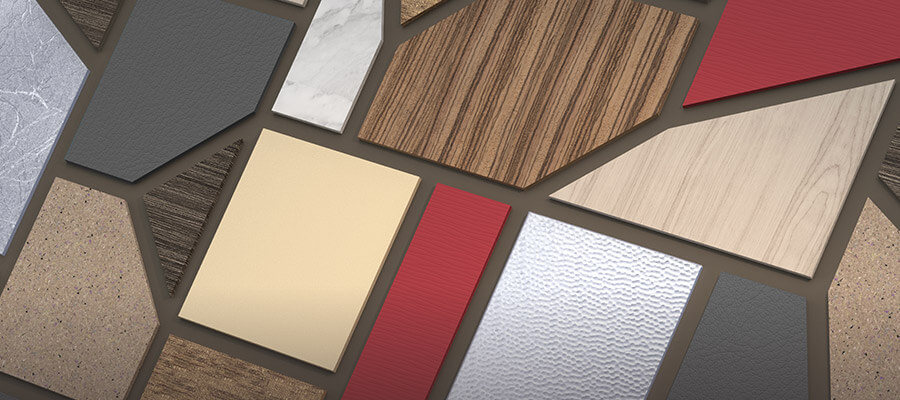 A variety of decorative textures
To elevate the passenger experience, SEKISUI KYDEX has expanded its aviation product portfolio with an array of bespoke textures including new Decorative Textures and Translucents, and KYDEX® surfaceGrip™.
The opportunities for texture placement are endless, and KYDEX® Thermoplastics provides all variations of texture to promote innovative tactile design. KYDEX® Thermoplastics pressed with decorative textures will provide highly aesthetic branding in high visibility cabin areas such as monuments, bulkheads, or suite doors, as well as in high touch decorative premium class areas like seatbacks, doors, divider panels, stowage pockets, and consoles.
KYDEX® FST-CLR is the only fully compliant transparent thermoplastic sheet available for aviation interiors and is now available with bespoke textures, coloured films, and custom patterns or imagery. KYDEX® Thermoplastics Decorative Translucents offer passenger privacy with custom finished components using KYDEX® FST CLR.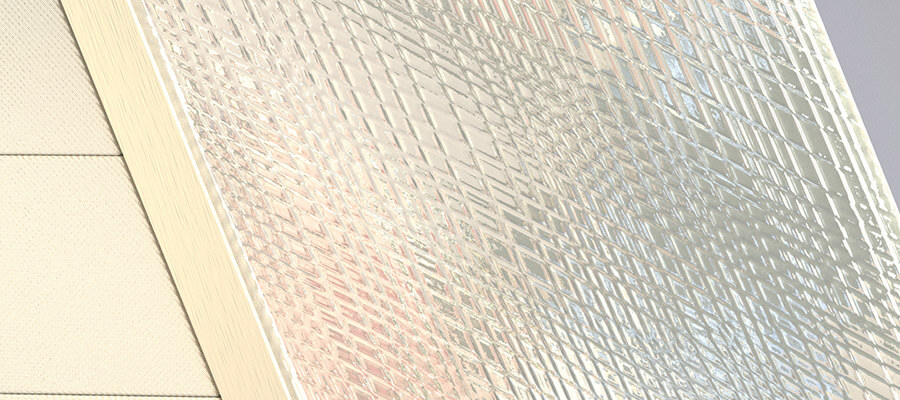 These durable, decorative translucents were developed to provide high-end architectural design and finishes while maintaining chemical resistance and cleanability. By incorporating decorative translucents, designers can create greater privacy while ensuring brighter, more spacious-feeling environments, in a variety of creative ways. Whether large or small, these bespoke panels are guaranteed to enhance passenger mood while heightening awareness of the airline brand.
Visual texture can be achieved by using Infused Imaging™ Technology to play with the mind's eye. Passengers will touch a tray table expecting it to be textured and be surprised by its smooth surface or the tactile nature of the gripping technology of new KYDEX® surfaceGrip™. The KYDEX® surfaceGrip™ product line, developed inside the appLab™, combines proprietary high-performance KYDEX® thermoplastic sheet with an anti-slip, low gloss surface.
Available with custom colour and Infused Imaging™ technology, KYDEX® surfaceGrip™ opens the door to new design possibilities, with a tactile experience with soft touch texture, integral colour, and custom imagery. It exceeds flammability and smoke requirements, making it ideal for tray table inlays, and stands up to harsh disinfectants and resists staining.
A hub of innovation
To bring engineering and design together, SEKISUI KYDEX houses the appLab™ and designLab® Innovation Centers. Expressly available to designers, engineers, and thermoformers, teams inside the appLab™ and designLab™ are reinventing the design process by providing a unique combination of 3D visualization, rapid prototyping, and an extensive materials portfolio. In the competitive world of design, time-to-market is a critical success factor, and SEKISUI KYDEX's rapid prototyping speeds the progression of concept, design, and delivery. A process that usually takes weeks or months, is now done in days and hours.
The tools and technology needed to create a new part and customized colours, as well as the expertise of the in-house design team, are all available under one roof. By leveraging design with the right people, tools, technology, and equipment, both digital and physical designs are brought to life earlier in the design phase. At SEKISUI KYDEX, we are more than a material supplier; we are solution provider. Our goal is to challenge traditional methods by disrupting the norm, and inviting collaboration between unlikely partners, and as your partner we put innovation at the forefront by collaborating from concept to completion.
Download the Product Catalogue to see all the available options.
---
Meet Sekisui Kydex at AIX Virtual
You can discover more solutions by SEKISUI KYDEX at AIX Virtual from 14 – 16 September 2021. Sign up for the online event to meet them.
---
Product Showcase listings are a paid-for opportunity for cabin interior manufacturers to share their products, services and solutions. If you'd like to showcase your product, get in touch with the AIX Sales team.