With thousands of attendees hailing from more than 70 countries across the globe, this year's Aircraft Interiors Expo (AIX) once again demonstrated why it is the place for the aircraft interiors community to do business, with airline buyer attendance growing by 59% compared to 2022.
Industry leaders come together to debate the future of flight
Preceding the three days of unrivalled opportunities to hear from the industry's most inspirational thought leaders and grow business connections, Passenger Experience Conference (PEC) returned on Monday, 5 June to the CCH – Congress Center Hamburg.
Opening the day's packed programme, Seth Miller, Editor of PaxEx.Aero, welcomed Eric Bogner, Executive Creative Director at Teague, to the stage to 'debunk the seamless journey'. Setting the scene for the landscape in which airlines and interior suppliers are working, Eric highlighted how passenger expectations are diversifying, underlining the importance of considering the full continuum of the travel experience holistically.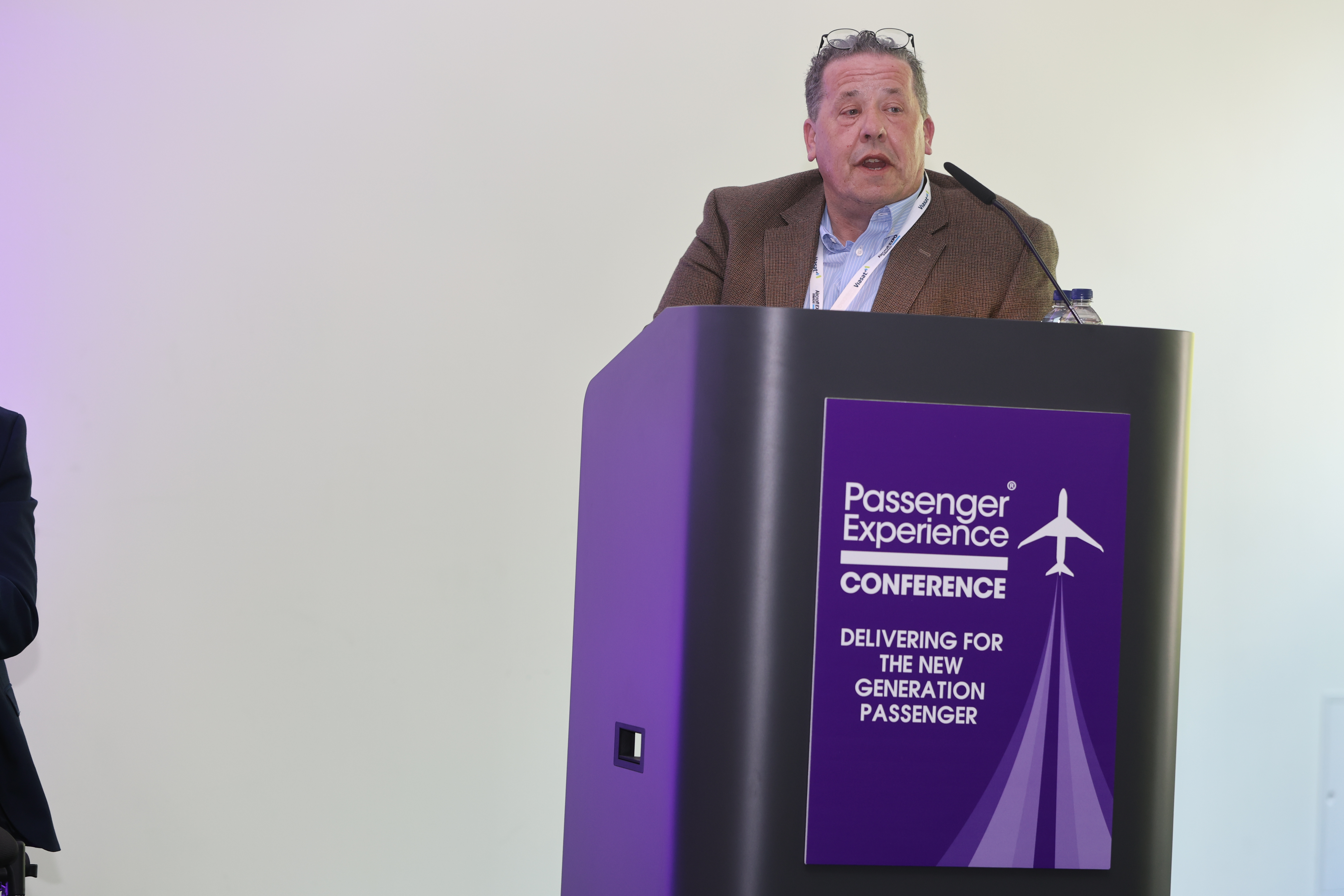 He explained that recognising the multitude of passenger needs creates all-new opportunities for brands and that technology would not only increase but improve passenger interaction. He suggested that rather than creating a seamless journey, the industry could look to co-create better seams that reach across the divide.
By embracing the 'pinch points' in the passenger journey, the industry can create opportunities for innovation and collaboration, moving to a position where airlines, suppliers, and brands build experiences together and think in ecosystems.
Eric was then joined by fellow industry leaders Adam Wells, Design & Experience Lead at Joby Aviation; Kerry Reeves, Head of Aircraft Programmes at Air New Zealand; and George Land, Executive Director Sales at Hybrid Air Vehicles to unpack how the aviation industry can successfully meet the needs of the future passenger.
Two conference streams followed and continued throughout the rest of the day, with representatives from Air Canada, Avensis Aviation, PriestmanGoode, Safran, Expliseat, Green Cabin Alliance, Tapis Corporation, the Airline Passenger Experience Association and more joining sessions to share their perspectives on the most prominent issues facing the industry today.
This included sessions on how to 'define new passenger experience benchmarks', the opportunities to 'differentiate and introduce sophisticated onboard digital services', and 'how technology and in-flight entertainment and connectivity can help airlines meet the expectations of the next generation of passengers'.
Cabin sustainability was also a prominent topic during the conference, with speakers helping delegates understand how to transform cabin waste, and exclusive insights from the world's major large passenger aircraft manufacturers, Airbus and Boeing, on their visions for a sustainable future. Presentations from this year's speakers are now available on the Passenger Experience Conference website here.
Aircraft Interiors Expo: The place to do business
Following a packed day of educational insights and networking opportunities, Aircraft Interiors Expo (AIX) opened its doors on Tuesday, 6 June, setting the scene for an exciting array of new product launches and partnership announcements.
Among the new products on display, Collins Aerospace unveiled two new premium airline seating products, including its "Signature Dream" first-class suites and "Aurora" – the company's first fully lie-flat Business Class suite designed exclusively for narrow-body aircraft. It also revealed its cost-effective wireless connectivity solution giving airlines new insights into system health with connected galley inserts.
72% of visitors to AIX 2023 had purchasing power
In the popular IFEC Zone, Panasonic Avionics unveiled an extension of its Astrova IFE portfolio with new 4K OLED monitors for First and Business Class cabins. The larger screens are available to airlines in five sizes: 19, 22, 27, 32, and 42 inches, boosting the appeal of Astrova for the widebody aircraft market.
Product interest in IFEC Hardware increased 64% at AIX, year on year
Elsewhere on the show floor, during presentations to a packed audience, Airbus revealed cabin enhancements to its Airspace Cabin Family, with the Airspace XL Bin, developed by Diehl Aviation, delivering 60% extra luggage capacity on the A320 family, and 66% for the A330neo.
On the A220 Family, the bins – which will become available from 2025 and will be retrofittable – offer an increased capacity of around 19 more passenger bags (on the A220-300). It also announced its redesigned and improved passenger service unit (PSU) – provided by Astronics.
Keeping passenger comfort high on the agenda, Safran Seats and Air New Zealand launched its innovative business class seat. The "Visa" concept is due to enter into service in 2024 with a retrofit of the airline's current 787-9 fleet. Elsewhere on the show floor, RECARO Aircraft Seating unveiled its new PL3810 premium class seat. 10% lighter than its predecessor, the PL3810 is designed to give airlines more cabin flexibility and reduce fuel costs, contributing to more sustainable fleet operations.
79% of visitors and 88% of exhibitors said they were likely to return to AIX next year
Unum Aircraft Seating was also among the exhibitors unveiling new product launches, debuting the Unum Two forward-facing, lie-flat, direct aisle access business class seat. Muirhead launched three new high-performance sustainable leather innovations, including its lightweight LightCore product, CareGuard anti-soil product, and self-disinfecting ActiveHygiene leather.
Product interest in composites increased 78% at AIX, year on year
ZIM Aircraft Seating presented its new ZIMLITE product family covering the entire spectrum of configurations in all aircraft types and short, medium and long-haul flights. While STELIA Aerospace and Air France unveiled the airline's latest long-haul business seat. The OPERA seat's widebody version has been exclusively designed for Air France and features a sliding door that allows passengers to create a private space.
Expanding the focus from commercial tobusiness jet operatives, ATR, the leading regional aircraft manufacturer, introduced its ATR HighLine Collection. This new collection features high-end cabins designed for both commercial and business operators, aiming to provide a premium flying experience to all passengers. Embracing urban air mobility, Aviointeriors demonstrated its "Seaty Flyer" concept, a seat specifically designed for eVTOL aircraft installations.
Representing a huge step forward for accessibility onboard, Delta Flight Products debuted its full prototype of a first-of-its-kind airplane seat that allows customers who use a powered wheelchair to remain in their own wheelchairs for the entire journey. The company partnered with UK-based consortium Air4All on the seat, which converts a standard passenger seat to an accommodation for wheelchair restraint.
Partnerships put passenger experience first
Airlines partnerships were also the focus for many exhibitors at this year's event. Airbus announced that Emirates would become the first airline to operate Airbus' HBCplus agnostic satcom connectivity solution following its line-fit selection to equip its 50 new A350-900 aircraft with the service. Panasonic Avionics revealed two major contract announcements with Saudi Arabian Airlines (SAUDIA) and United Airlines.
The first will see the national flag carrier of Saudi Arabia install the Astrova seat-end solution on up to 30 of its aircraft. Meanwhile, United Airlines would be the first customer in the Americas for its new Astrova in-flight engagement (IFE) solution, this represents the largest-ever investment in Panasonic Avionics' IFE by any airline.
Etihad Airways and Viasat announced the installation of its high-speed in-flight connectivity (IFC) and Live TV streaming solutions for the airline's new Boeing 787 Dreamliner fleet. Meanwhile, Burrana confirmed that Jazeera Airways has selected its lightweight in-seat power solution for its cabin retrofit program. Jazeera Airways was also the topic of conversation at the Expliseat booth where it was announced it was the launch customer for its second-generation TiSeat model. The French designer and manufacturer confirmed it would deliver 2,000+ seats for Jazeera's nine A320s, including an A320 Neo and two A321s.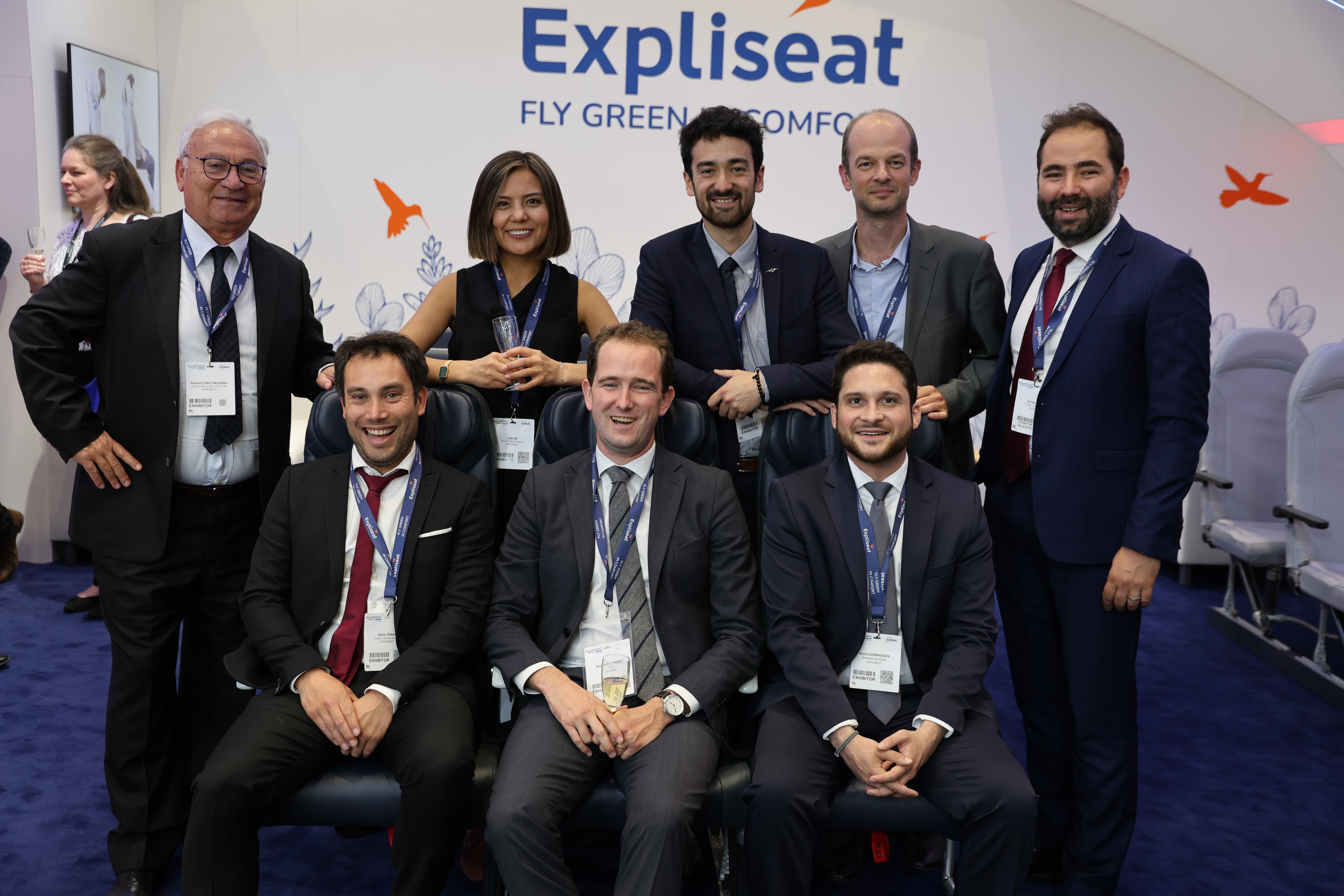 Supplier partnerships were also a big draw at this year's event, with several exhibitors announcing their collaborative efforts to define new solutions for the cabin environment. West Entertainment announced a collaboration with CineSend, setting the stage for the company to redefine its IFE Lab Services with a powerful technological shift through the adoption of CineSend's groundbreaking technology to automate the encoding and delivery of IFE video and audio assets.
Fokker Services Group confirmed it has selected Aviation Glass as its partner of choice to replace standard inner polycarbonate window lenses with 'RealGlass' technology on the Airbus ACJ330 aircraft. While low-Earth orbit (LEO) satellite communications company OneWeb announced a distribution partnership agreement with Hughes Network Systems to provide LEO connectivity services to the global airline market.
CabinSpace Live sessions discuss connectivity, accessibility and aircraft seating
Among the topics to be explored in the CabinSpace Live theatre, connectivity was high on the agenda. In a session exploring 'The Technology Behind the Journey', speakers from Inmarsat, ThinKom, SES, OneWeb, and SmartSky Networks highlighted the increasing trend of collaboration to enhance capacity and functionality onboard. Speaking on behalf of OneWeb, Ben Griffin, Vice President of Mobility Services, suggested that disruption through new technology was critical but that airlines first have to decide what it is they want to deliver to their passengers, not how.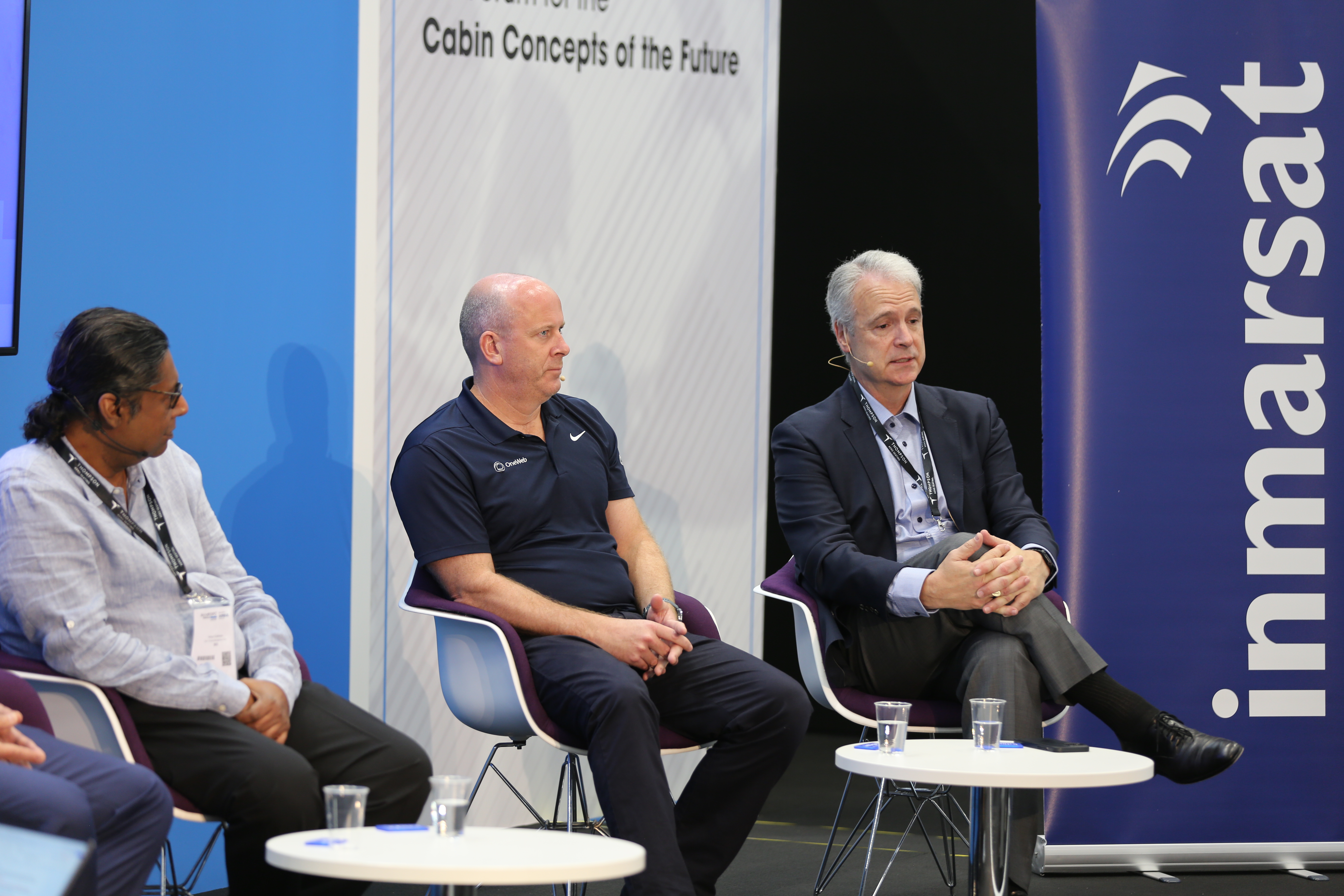 The panel revealed just how much the technology has accelerated over the past decade, and that today specialists in this area are collectively working towards providing the services passengers want. Neale Faulkner, Regional Vice President Europe, Middle East and Africa at Inmarsat, added that ultimately, passengers want 'fast and free' connectivity, and it was up to airlines to work collaboratively with suppliers in the sector to deliver this.
Addressing the importance of frictionless connectivity, a panel of experts from Air Canada, Alaska Airlines, OneWeb, and Intelsat discussed the new era of inflight connectivity, and the impact of state-of-the-art Low Earth Orbit (LEO) technologies. The continued focus on replicating the experience from on the ground to in the air was a point agreed on by all panellists, suggesting that with new trends in working culture, and social media use, technologies that can keep up with such changing behaviours are vital.
Experts also came together to discuss accessibility and 'Meeting the Existing and Emerging Passenger Needs'. With the buzz on the show floor growing in response to Delta Flight Products and Air4All's first-of-its-kind prototype, the pace of change and innovation was under the spotlight. Panellists from Flying Disabled, All Wheels Up, Diehl Aviation and Wings For All explored the critical steps the industry can take to make the inflight experience accessible for all passengers, from training and regulations to effective marketing and cabin design.
The CabinSpace Live Theatre also welcomed this year's Crystal Cabin Award (CCA) winners, giving them a chance to share insights into their winning concepts and innovations. Among the winners, Air New Zealand, AirFi, Collins Aerospace, Lantal Textiles, Teledyne Controls, Thales Avionics, and TU Delft demonstrated an all-new standard and vision for air travel in the future.More information on this year's winners can be found on the CCA website here.
Polly Magraw, Event Director, Aircraft Interiors Expo, commented:
"This year's AIX has demonstrated just how much the post-pandemic recovery is in full swing, and we've been blown away by the optimism and enthusiasm demonstrated by our exhibitors and visitors as they look to the future. With airline buyer attendance up by 59% on last year, we're delighted to bring a high-level audience to the event and continue providing a platform for the aircraft interiors industry to do business.
"The sheer quantity of new products and contract announcements is an example of the innovation and commitment to transforming the passenger experience, further demonstrating that AIX is the central place for the aircraft interiors industry to coalesce. We can't wait to see many of these new products onboard over the coming months and years."
Aircraft Interiors Expo (AIX) will return to the Hamburg Messe, from 28-30 May 2024, with the Passenger Experience Conference taking place on Monday, 27 May 2024. For more information and to register your interest, visit:
---
---