Thermal comfort is individual and greatly influences the well-being of a passenger. Caynova's Seat Heating and Cooling System (HCS) offers individually adjustable microclimates to aircraft passengers.
Understanding the human body and developing comfort features that meet airworthiness requirements is our focus. The new system provides a unique comfort for the passenger by giving them individual temperature control over their own seat.
Caynova is the first in the industry offering aviation-grade HCS for aircraft seats. Caynova's HCS has been qualified and certified in accordance with the EASA/FAA airworthiness regulations and Caynova's HCS fills a comfort gap for the commercial aviation sector, introducing what has been standard in the automotive industry for years. The system is based on GenthermÒ technology and is modular, so its components can be easily combined and integrated in any seat concept.
Lufthansa Group: World premier for Caynova's HCS
In Feb 2023, Lufthansa unveiled its next-generation "Allegris" cabin concept, which includes an impressive innovation and a genuine competitive advantage for both First and business class passengers: Caynova's HCS is a key component of Lufthansa Allegris' passenger comfort for their first and business class seats.
More than 100 new Lufthansa Group aircrafts, such as Boeing 787-9s, Airbus A350s and Boeing 777-9s, will offer Caynova's HCS worldwide. The introduction starts in 2023 on 787-900 on Lufthansa flights and Swiss will offer the wellbeing experience on SWISS Senses starting in 2024.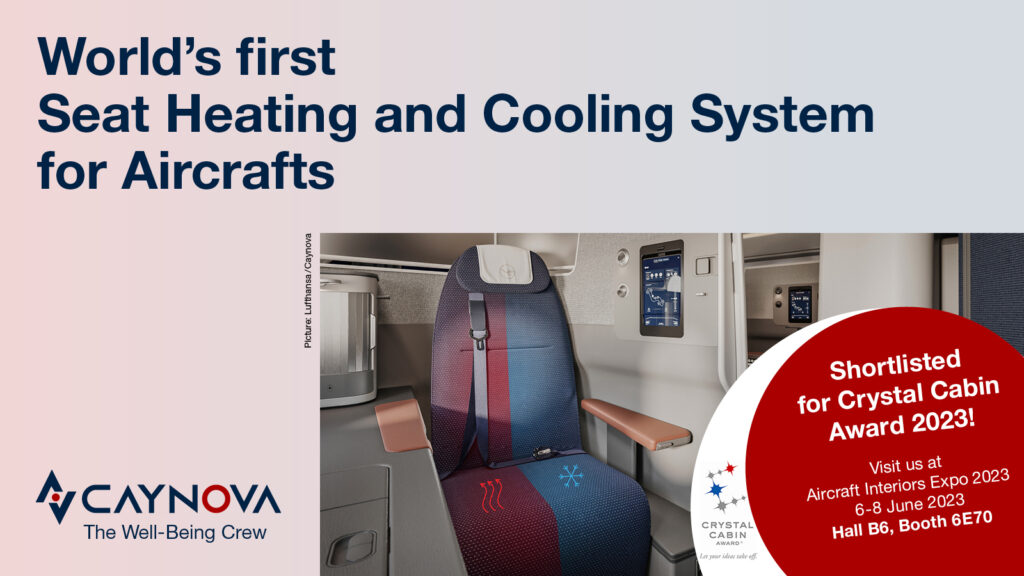 Carsten Spohr, Chairman of the Executive Board and CEO of Deutsche Lufthansa AG, said: "We want to set new, unprecedented standards for our guests. The largest investment in premium products in our company's history underlines our claim to continue to be the leading western premium airline of the future."
Cesar Uparela, Chief Commercial Officer of Caynova, commented: "With our vision of turning flying into personalized well-being, we help our customers to differentiate and win in a competitive market. Open and ongoing dialogues with our customers drive the direction of our products."
Enhancing the passenger experience
Heated and cooled seats will for sure change the passenger experience because temperature sensation is very personal and individual. While one person can be cold, the person adjacent can feel hot and sweaty. Having complete control over one's microclimate is a massive improvement for the well-being of a person.
Having personalisation options in your seat area shows passengers how much the airline cares about you as an individual and about your personal needs. Seat heating and cooling will make the flight more enjoyable for everybody, whether you work, eat or sleep. It will help you to arrive at your destination more rested and energized, ready to take on the world.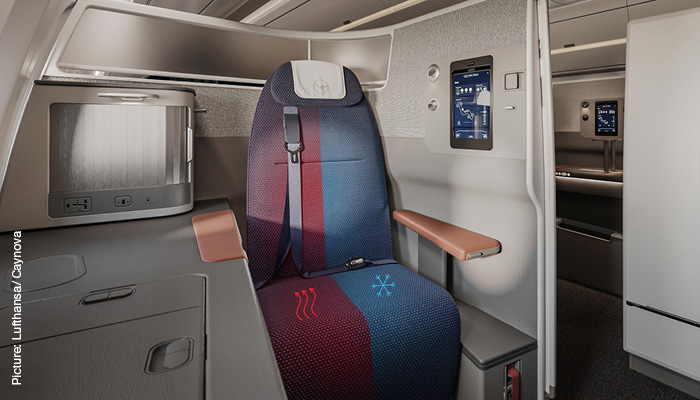 Win-win for airlines and seat manufacturers
Caynova enables airlines and seat manufacturers to offer a customizable on-board experience to passengers by providing the most compelling well-being seat solutions. Not only do we, at Caynova strongly believe that seat heating and cooling is the next big thing, and will become standard across premium cabins, but also major seat vendors, such as Collins Aerospace, Adient Aerospace, Airbus Atlantic (ex: Stelia Aerospace), and Thompson Aeroseating, among others, are currently integrating Caynova's Seat Heating and Cooling on their business and first-class seats.
It is a huge upgrade for your personal well-being. In a few years down the road, you won't be premium if you don't offer seat heating and cooling to your passengers. Automotive has led the way, aviation for sure will follow.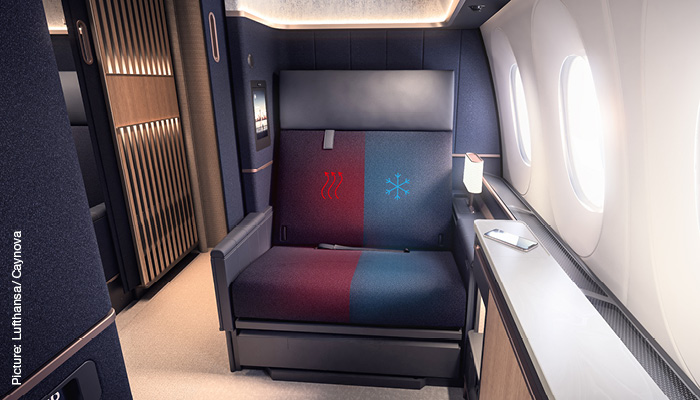 Working principle for Caynova's HCS
One the one hand, seat heating can be controlled by the passenger with a temperature slider. Depending on the slider position, a smart control circuit and temperature sensors convert electrical energy to heat by running current through a resistive wire that is stitched to the fire blocker material of the seat foam.
The controller circuit makes sure that a selected temperature point is reached quickly, and that the system then stays at that temperature accurately. The anatomically optimized stitching pattern of the resistive wire ensures ideal passenger perceived heat distribution in the seat. The system includes fail safe measures to prevent harm to a passenger or the seat in case of system malfunction.
On the other hand, seat cooling is implemented via a pull system. Warm air is pulled away from the seat surface (around and from underneath a passenger's body) with a low noise blower (fan) and an airflow bag. The proprietary and patented technology allows for optimize airflow on the seat surface. Warm air pulled away from the passenger, creating a cooling sensation to the body.
In addition, moisture/sweat is removed from seat covers and passenger clothing creating a dry and crisp seating experience. Like seat heating, cooling offers a control slider which regulates airflow to achieve the optimal cooling temperature.
Visit us at Aircraft Interiors Expo 2023 6 – 8 June 2023, Hall B6, Booth 6E70
Stay updated and follow us on LinkedIn
Further information can be found at https://www.caynova.com and/or press@caynova.com
From Cesar Uparela – Chief Commercial Officer – Caynova AG
#Caynova #seatheating #seatcooling #heatingcooling #thewellbeingcrew
This is a sponsored post from Canyova AG.