Not too long ago, conversations around in-flight entertainment and connectivity (IFEC) centred around films on flights or providing a stable-enough connection for business class passengers to check their emails. Jump to 2023 however, and the situation could hardly be more different, with estimates that the global in-flight entertainment and connectivity market size could reach USD 11.79 billion by 2030, registering a CAGR of 8.4% from 2023 to 2030.
The levels of innovation and sophistication of IFC strategies and solutions are being driven by the increasing digital dependency, accelerated by the pandemic, of consumers who are demanding the same connectivity experience they have on the ground, 35,000 feet in the air.
To paint a picture of how the future of this rapidly evolving sector might look in the coming years, the AIX team spoke to representatives from some of the industry's leading airline IFEC suppliers who offered their thoughts on the key trends.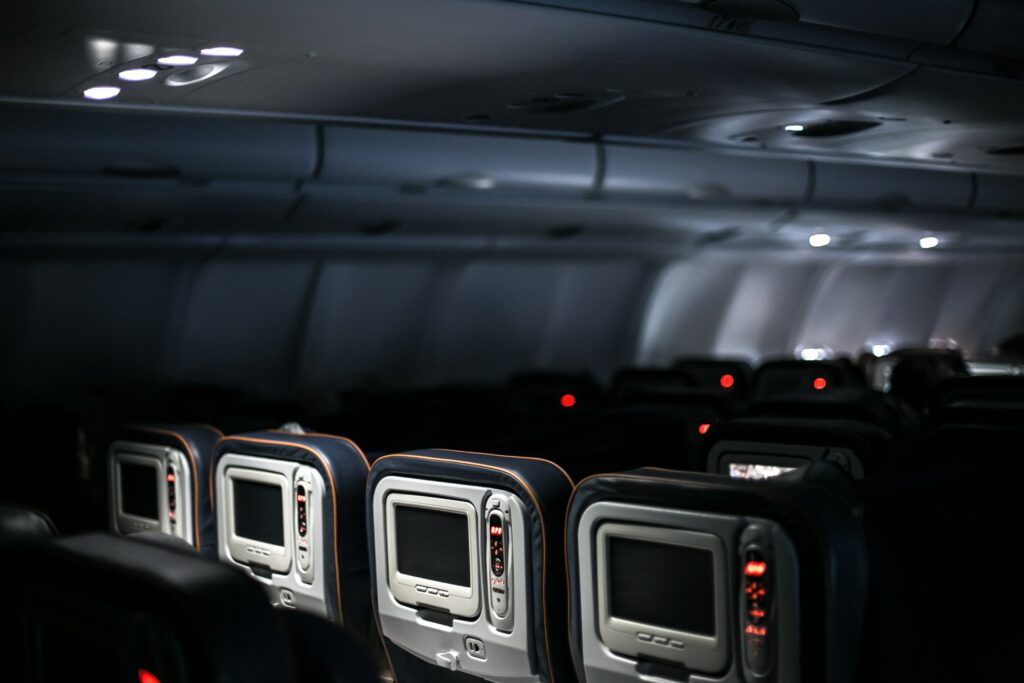 Hybrid solutions set to revolutionise onboard connectivity
According to a recent report by Valour Consultancy, the introduction of new low earth orbit (LEO) satellite in-flight connectivity (IFC) solutions will increase the number of connected business aircraft to just over 27,000 by 2031 – up from 16,400 at the end of 2021.
The advent of LEO satellites, or rather airlines' ability to leverage them alongside geostationary orbit (GEO) satellites to deliver multi-orbit models, has been widely tipped to usher in a new era of cabin connectivity.
Dave Bijur, Senior Vice President, Intelsat Commercial Aviation, whose GEO+LEO ESA solution is bolstered by hundreds of satellites, believes the increased bandwidth offered by hybrid solutions "provides airlines and their passengers with more IFC capacity and speed in more places, including polar regions".
He adds that it will allow passengers the connection strength to stream movies, TV shows and music in higher quality, as well as play games, thanks to the new streaming-fast speeds.
Matt Landel, Director of Applied Technology, Astronics, agrees, noting that advances in modulation and satellite capabilities "have dramatically increased the bandwidth that can be passed through an individual satellite, with modern satellites now supporting tens, hundreds, and even thousands of individual beams down to the earth."
The result, he contends, is that the beams can distribute bandwidth into "much smaller geographic areas", increasing the number of routes receptive to this form of connectivity.
Nancy Walker, Senior Vice President, Aviation Connectivity, Anuvu, believes aviation will follow the path of the maritime industry, which is starting to pivot to LEO networks. She argues that the increasing connectivity potential of multi-orbit models will lead airlines to "increasingly press for flexible solutions that offer the best of both satellites to provide a compelling mix of performance and economics for their IFC customer experience."
Increased demand means increased availability
There is little doubt that the exponential rise in consumer demand has increased expectations in the cabin. Inmarsat's Passenger Experience Survey found that over three quarters (77%) of passengers surveyed now view inflight Wi-Fi as critical to their inflight experience – an increase of 40% since 2018.
While 82% of passengers said that they would be more likely to rebook with an airline that provided quality Wi-Fi.
This unequivocal demand for connectivity is likely to have far-reaching implications for airlines, and many are predicting we are about to see a mindset switch that starts to view reliable onboard connectivity transition from a perk to a necessity.
According to William Huot-Marchand, SVP Inflight Connectivity, Inmarsat Aviation, such data means reliable connectivity is now "a must-have, not a nice-to-have", a view shared by Reza Rasoulian, Vice President, Hughes, who believes that Wi-Fi will become a "must-have commodity that passengers expect to be available at all times and everywhere – whether over the Atlantic or in a busy airport hub".
Fortunately, thanks to the emergence of new technologies and IFC solutions such as multi-orbit models, it is likely that airlines can start to better meet these expectations. In the US, several major airlines such as JetBlue are already offering permanent Wi-Fi on every plane, something Andrea Fuchs, KID Systeme, believes "will surely become the norm across the entire world".
This is echoed by Jean-Marc Thomas, Spafax Managing Director, APAC, who attests that connectivity will be a must-have for all airlines, "even low-cost carriers, sooner rather than later. Today's passengers are increasingly vocal about their need for constant connectivity, and the rapidly maturing sector with numerous network options is making this possible".
As part of the evolving role of connectivity in the cabin the AIX team interview 14 aerospace IFEC industry leaders.
---
---
A clearer path towards a free model
Some estimations have put the "take-rate" for on-board Wi-Fi at just 6%, with the cost to connect serving as a major obstacle between passengers' reluctance to fully embrace the on-board connectivity experience.
Furthermore, with more than 4 in 5 passengers globally saying that they expect Wi-Fi to be free on long-haul flights, while almost half agreed for short-haul flights, airlines are under pressure to develop a robust business case for affordable, better value IFC or risk falling behind.
Fortunately, the proliferation of LEO satellites could provide a watershed moment. Rasoulian believes that airlines will need to make inflight Wi-Fi resilient and free to passengers and that hybrid solutions will be pivotal.
"The LEO capacity will meet the need for connectivity over oceans and polar regions while supporting low-latency applications (like VPNs) while the GEO capacity will ensure resilience as well as the capacity density to meet the demand for bandwidth-hungry video streaming, even during busy air traffic times."
Greg Mashlan, Head of Commercial Aviation, OneWeb agrees, arguing that newer high-capacity satellite bandwidth will help drive the airlines toward a Free or charge, or Freemium model – offering basic features of a product or service to users at no cost and charging a premium for supplemental or advanced features – which will have "considerable flow on effects for all airlines over the next five years".
The transition towards this free model is also predicted by Juraj Siska, CEO, IdeaNova Technologies, who believes that larger airlines will provide in-flight connectivity free of charge "either through bundled pricing or as an airline sponsored product".
Don Buchman, VP and GM, Commercial Aviation, Viasat, believes that airlines will continue to look closely at free Wi-Fi options as part of the passenger experience, and predicts that this free Wi-Fi could take multiple forms "from full, fast, free Wi-Fi, to sponsored Wi-Fi, to inflight trial offers or sessions".
In addition to cost, ease of use is widely cited as a barrier to connectivity adoption onboard. Dirk Lindemeier, Chief Commercial Officer, SkyFive AG, argues the current model is "simply broken" leading to "connectivity fatigue" among airlines. For Lindemeier, only "a radical simplification" of how to access the service so passengers can connect "with a single click and without the need to make a manual payment", will fix it.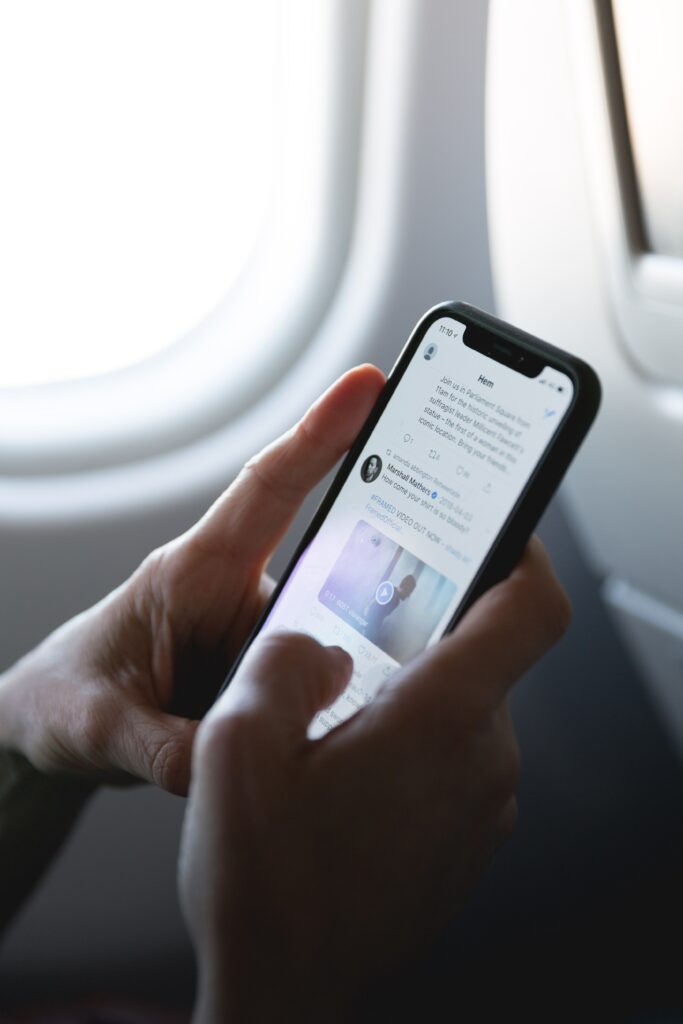 David Fox, VP Inflight & Connectivity Services, Deutsche Telekom, believes the current multi-step process of getting online once aboard is still "cumbersome and connectivity can be spotty". For the role of Wi-Fi to change, airlines need to create "a unique harmonised passenger experience for all of their connected aircraft", evidenced in the German company's partnerships with Lufthansa and Cathay Pacific, which is providing passengers with a single-click log-on functionality, "smart-pricing" models, voucher systems and APIs.
Personalising the journey
The enhancement in aircraft connectivity has been widely tipped to precipitate a new age of personalisation. As Huot-Marchand argues "the next few years is going to be about a shift to personalisation.
A huge 97% of passengers say they use their personal devices while flying, which presents an unmissable opportunity for airlines to use inflight connectivity to cater to exactly what their passengers want and need."
For Martin Orzechowski, Business Development Manager, AERQ, this will manifest itself in the automatic synchronisation of entertainment content and personal preferences across various travel providers enabling passengers to enjoy personalised and seamless connectivity before they have even boarded the plane.
He notes that Wi-Fi will play an integral role in delivering this personalised experience, which will include "syncing personal entertainment preferences, accessing customised services, and staying up to date with flight information."
According to Phil Hall, CEO, Apios, hyper-personalised journeys are going to be "key to the future travel experience on-board" adding that the "new generation of in-flight connectivity and digital interface will facilitate that to a much greater degree than previously seen."
Another key opportunity for airlines, thanks to the growth of in-cabin connectivity, is the integration of more sophisticated ancillary revenue streams that can harness passengers' desire to be online. According to Thomas, airlines will be forced to "rethink their IFE strategies and take a much closer look at how to best utilise their resources across those offerings. Consider the concept of e-commerce platforms, where a passenger gets an extra financial incentive for purchasing through the airline's platform.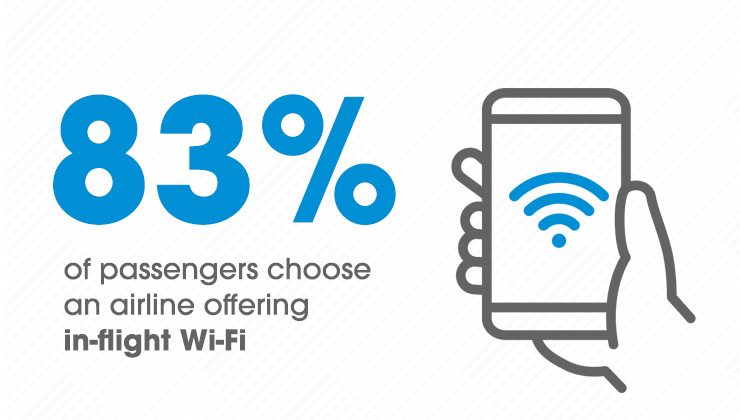 "I think we'll see more partnerships being built like this, that will entice the passengers to use those airline channels versus just going straight to the internet for their retail purchases."
This was the thinking behind solutions such as Inmarsat's OneFi, a holistic digital passenger engagement platform that brings inflight services together to increase passenger engagement and create ancillary revenue opportunities.
Crucially, this holistic approach to connectivity offers airlines the chance to increase passenger engagement and create ancillary revenue opportunities, by covering everything from entertainment and media to loyalty and advertising.
5G onboard – not without its challenges
In November 2022, the European Commission ruled that airlines will be able to provide 5G connectivity on planes, making widespread 5G deployment possible in the air, and potentially consigning airplane mode function to the history books. So, how impactful might this ruling be?
While acknowledging that the EU's decision is "a great move forward for the EU and their citizens", Mashlan believes that due to the incompleteness of Europe's 5G network, questions remain over its effectiveness over water, which, amongst other factors, mean it is unlikely to be a truly game-changing solution.
For others, the implementation of 5G is complicated and offers a less sound business case for airlines which could hinder widespread adoption. According to Orzechowski, its implementation demands "substantial investments in infrastructure" and requires "strong collaboration among airlines, connectivity providers, and regulatory bodies, which might pose a considerable challenge".
Thomas shares Orzechowski's concerns over cost. "Deploying 5G networks is a highly complex process, involving both technical and financial challenges. The required investments in new infrastructure will be substantial and may prove cost-prohibitive for many airlines, even with the EU's approval of the technology".
Interestingly, he adds that the low adoption rate of inflight Wi-Fi by passengers may make airlines "hesitant to make further investments in this area until there is a significant shift in customer behaviour."
Landel paints a more positive outlook. Although he concedes that various cultures' different approaches to public telephony may limit acceptance and deployment of some elements of 5G technologies within aircraft, he argues that "standardisation available with 5G technologies provides an additional framework for establishing a frictionless connection through automated authentication authorisation, and accounting and can facilitate teaming between the airlines and connectivity sponsors."
Register below for AIX to get the latest analyses and insights from industry thought-leaders along with the ability to source products and solutions to create the cabins of the future.
---
---