Whether it concerns lightweighting aircraft interior components, deploying smart technology to improve efficiency and reduce waste onboard, or looking to biocomposites, sustainability is at the forefront of the aviation industry's conscience.
In this series of articles, The AIX Team look at sustainability in the aircraft cabin interiors industry, and exhibitors at this year's show with innovative solutions.

1) Efficient operating systems by Airbus
Airbus pioneers sustainable aerospace for a safe and united world. The company constantly innovates to provide the most efficient and technologically-advanced solutions in aerospace, defence, and connected services.
Airbus offers cabin innovations for commercial aircraft whilst maintaining a sustainability charter that includes:
a transparent approach to sustainability performance reporting
The Airbus foundation – supporting humanitarian efforts, the next generation and the environment
a journey towards zero-emissions
decarbonisation
use of Sustainable aviation fuel (SAF)
climate monitoring
the development of NextGen electric flight
And their cabin technologies have been applied by various airlines to help operational efficiency and reduce environmental and carbon impact.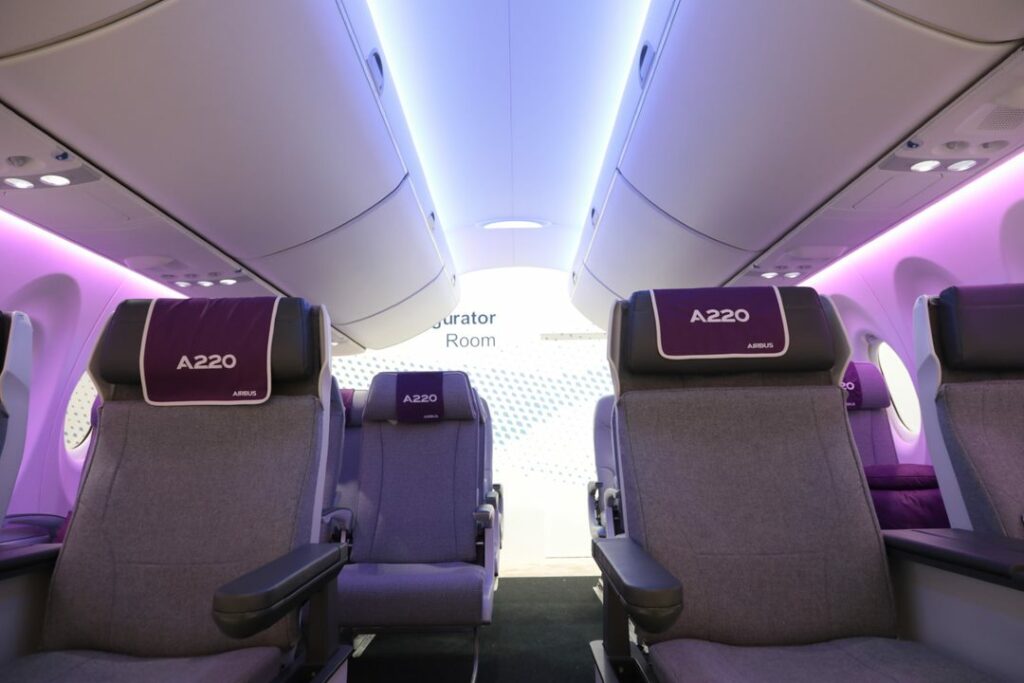 DPO and CDA for easyJet
Airline easyJet equipped its Airbus A320-family-fleet with both:
Descent Profile Optimisation" (DPO) – a fuel-saving enhancement to the aircraft's on-board Flight Management System (FMS) performance database
"Continuous Descent Approach" (CDA) to reduce noise impact on the ground
The resultant optimisation of the aircraft's flight trajectory thanks to DPO helps to improve efficiency in cooperation with Air Traffic Control. Combined, the two technologies will reportedly help the airline save more than 98,000 kg of fuel per year per aircraft across its network in Europe.
Furthermore, this will reduce CO2 emissions by over 311 tons per year per aircraft, or 88,600 tons of CO2 each year for their entire A320 Family fleet.
"The situation becomes more critical with the prediction that overall airline cabin waste is expected to double by 2030."
IATA survey issued (2021)
Reduced waste with food scanner
Food Scanner is an artificial intelligence-enabled device that analyses the composition of food via a point-and-shoot process.

Airbus' digital solution to the challenge of food waste works by automatically capturing data for passengers' onboard meal consumption, along with tracking the amount of unused food and drinks that remain to combat both food waste itself and waste management costs.

2) Spatial usage and weight reduction by Bertrandt
Bertrandt is one of the leading engineering and validation service providers in Europe. They focus on first-class technology-oriented solutions for the mobility of today and tomorrow.
With almost 50 years of expertise, they are developing innovations for aerospace megatrends including:
digitalization
automation
connectivity
sustainable mobility
The company's scope of services includes software/electronics, product engineering, validation/testing and production & after sales. The company ranks as "the best cabin development partner" among Airbus Group Engineering suppliers.

Spatial usage possibilities
Alongside design, Betrandt's focuses a lot of their efforts on passenger comfort and optimising spatial usage and reducing weight in aircraft cabin interiors.
The Bertrandt Cabin Team can offer sustained support in the areas of innovation and design, architecture and integration, specification and 3D development all the way to configuration, supplier management and production support.
"Our goal: to accelerate technological progress and make a relevant contribution to a sustainable future."
As such, Bertrandt aims to operate in a CO2-neutral manner from 2039 across the entire supply chain including:
sustainable engineering services for customers
inclusion of suppliers in a holistic environmental management system
reduction of energy consumption in the company's own facilities
See Bertrandt's exhibitor profile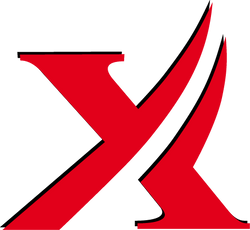 3) Sustainable upholstery by BOXMARK leather
BOXMARK delivers Seamless Design-to-Manufacture (SD2M) services – from design and material development to the series product – of high-quality upholstery leather products for upmarket interiors.
And it's BOXMARK's commitment to sustainability that makes their products both interesting and applicable to the aircraft cabin interiors industry.
Environment-friendly production processes and active environment and climate protection are at the heart of their corporate strategy.
"100% of the hides processed are a by-product of the meat industry!"
Boxmark Leather
Meat industry side issue
According to the Food and Agriculture Organization of the United Nations (FAO), around:
300 million cattle are slaughtered each year to meet world beef demand
60—70% of cattle hides are processed by tanneries into high-quality, durable leather
resulting in massive wastage. As the hides are a byproduct of the industry serving meat consumption (despite offering additional revenue generation), BOXMARK claim that the hides used would otherwise be disposed of as waste.
They state this would result in CO2 emissions of around 9 million tons, worldwide.
Sustainable leather innovations
BOXMARK also creates sustainable and consequence-conscious innovations including XGREEN and XLOOP. The former utilises vegetable tanning agents such as leaves or herbs from trees and plants used to the extent that they grow back naturally.
The latter is a compostable leather whereby any production waste is also biodegradable, opting for organically-based, synthetic tanning agents.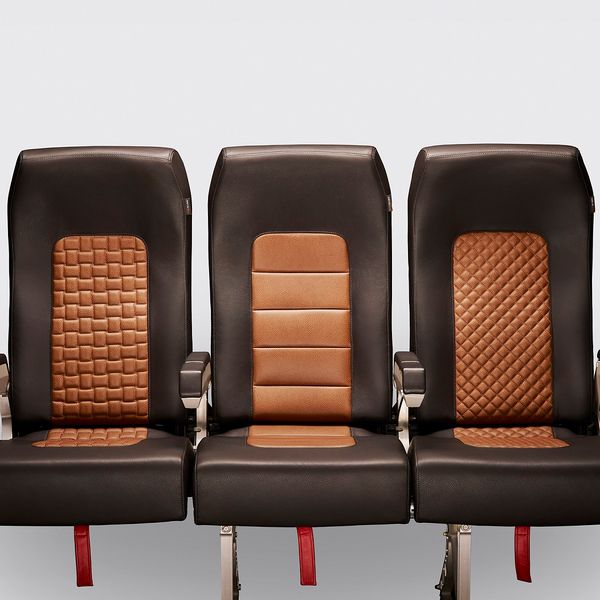 Transparent supply chain
To reflect consumer and legislator demands for transparency and reliable information about the origin and quality of products, BOXMARK complies via:
cattle ear tags
breeding and transport standards
animal safety and welfare standards
Resource-saving production
As part of perhaps one of the oldest examples of a circular economy, using cattle hides to make leather prevents wasting a renewable resource. However, BOXMARK also produces products in a way that conserves resources.
Their Feldbach site has been supplied with solar energy since 2015, saving around 17,000 m³ of gas. And, by renewing their aeration equipment and optimising their blower stations for generating the process air in wastewater treatment plants, their energy consumption was reduced by around 36 %.
Environmental responsibility
BOXMARK obtains the water needed for their production from the river Raab, before being cleaned in the company's own sewage treatment plants and returned to the river in better quality.
The exhaust air from the wastewater treatment plants (sludge dewatering, sludge storage, pretreatment, wastewater collection shafts, etc.) and residual waste recycling is also selectively extracted and cleaned using fully automated biofilter systems.
See BOXMARK's exhibitor profile

4) Galley equipment by Bucher
Bucher is constantly working on innovative, user-friendly and sustainable solutions for the aerospace industry.
In aircraft construction, they focus on lightness as a key idea and driving force through product conceptualisation, planning and implementation.
passengers should experience a sense of well-being in the cabin
lockers should be easy to open
the cabin environment should promise comfort and entertainment
elements like trays should offer generous amounts of space
seat arm designs should be intelligent and simple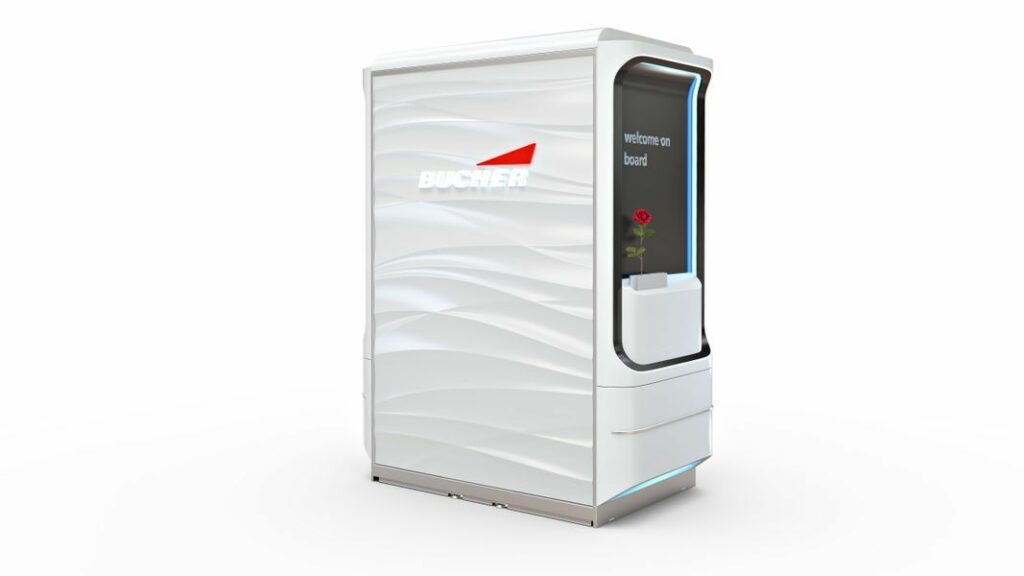 ARCTICart by Bucher
The ARCTICart by Bucher may be able to enhance sustainability and optimise cabin functions with its unique design. By reducing weight, this galley trolley could also reduce operational costs in the cabin.
With a trolley that can keep the temperature low for an extended period (at least 20 hours), airlines can save not only the weight of the chiller but also the ductwork and harnesses required for them.
See Bucher's exhibitor profile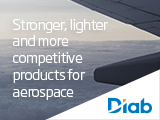 5) Core materials by Diab
Diab produces core materials that keep products stronger, lighter and smarter to reach a higher level of competitiveness and sustainability. Their innovations are driven by the aerospace sector's demand for life cycle cost and weight reduction as well as call for sustainable applications and production methods to decrease global footprint.
Diab offers a complete range of core sandwich materials as well as finishing options and kit solutions. Their solutions are designed to optimise lifecycle cost and weight reduction in cabin interiors.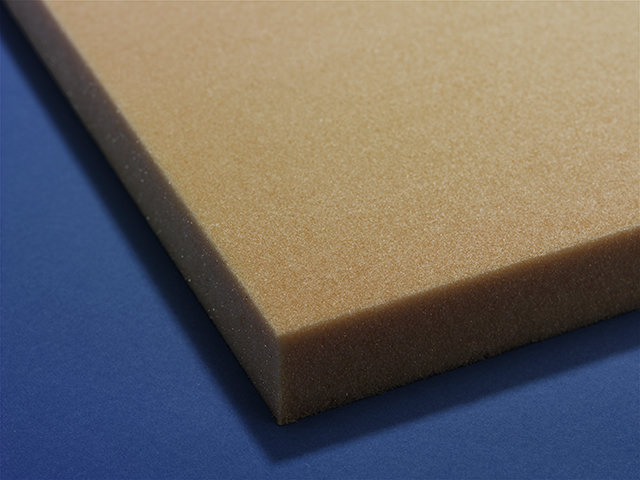 Panels and sandwich core composites
Their panels for cabin interiors, seats, lining panels, galleys and monuments made from lightweight core materials can lower total costs due to weight savings (which promote better fuel consumption).
And their sandwich core composite materials may well benefit the environment thanks to:
low-density properties requiring only a small amount of raw material
sandwich solutions enable lightweight, flexible and aerodynamic designs
such designs can reduce the fuel consumption of aircraft
long life usage cycle
As the first company within the field of composite materials in the world, Diab has an approved CO₂-reduction plan in accordance with the Science Based Targets Initiative requirements. They offer transparent sustainability reporting and are making a "long-term statement to continuously focus on our sustainable development."
---
---