ThinKom is a leading designer and manufacturer of innovative IFC antenna systems. Based on patented VICTS technology, its aero phased arrays are interoperable among LEO, MEO, GEO and HEO satellite constellations.
With >1,500 aircraft installations and >27 million flight hours to date, ThinKom's antenna systems are thoroughly proven and are the lowest profile, commercially available phased arrays in the world. They uniquely enable near-term deployment of global, high-speed, inflight connectivity for all aviation sectors.
AIX sat down with Chairman and CTO, Bill Milroy to discuss how ThinKom are helping airlines to provided personalised experiences and generate ancillary revenue onboard with their full range of antenna solutions for commercial aviation.

About Bill Milroy
"My name is William (Bill) Milroy and I'm Chairman and Chief Technology Officer at ThinKom Solutions. My co-founder(s) and I started ThinKom Solutions in 2000 with the goal of developing a new breed of antenna access solutions for the broadband wireless communication market.
Before that, I spent most of my professional career working on RF antenna design and development, producing a number of antenna array implementations for radar and communication applications in both the commercial and military marketplaces.
"[AIX is] also a wonderful place to find partners that can help progress your research and development."

Bill Milroy, Chairman and CTO – ThinKom
These efforts have included the creation of innovative EM modelling and RF design improvements, including the invention of the Variable Inclination Continuous Transverse Stub (VICTS) Array and its variants."
Can you introduce your company and your products to us?
"Today, ThinKom is a leading provider of innovative, ultra-low-profile broadband antenna solutions for commercial and business aviation applications, delivering fast, resilient, and reliable connectivity "from every orbit to every seat".
The ThinAir® product line (based on the Variable Inclination Continuous Transverse Stub technology that we created) delivers compact, affordable Ku- and Ka-band options suitable for installation on planes ranging from business jets to super-jumbos.
ThinAir antennas consume less power while delivering high spectral efficiency, reducing recurring satellite costs. Packaged in a low-drag design to save fuel and reduce emissions, ThinAir's proven, proprietary, patented solutions are trusted by leading inflight connectivity providers and airline customers around the globe.
Products for commercial aviation include:
For regional fleets and smaller aircraft: the ThinAir Ka1717 integrates years of fielded technology in an ARINC 792 package for a compact, resilient and highly efficient connectivity system.

For high beam agility and all-orbit operation (Ku-Band): the ThinAir Ku3030 antenna delivers exceptional network flexibility and consistently high performance for global inflight broadband as a proven solution with more than 33 million operational hours across commercial aircraft.
For high beam agility and all-orbit operation (Ka-Band): the ThinAir Ka2517 antenna delivers long-term reliability with patented design and minimal active components, plus ultra-low profile, reducing drag and associated fuel costs."

What will you be showcasing at AIX 2023?
"At AIX 2023 we will be showcasing our full range of antenna solutions for commercial aviation. We will also be talking about a new technology partnership that we believe will help dramatically improve performance, delivering on our mission to enable connectivity from every orbit to every seat."
What innovations or trends are you anticipating in the aviation and interiors industry this year?
"At AIX this year I believe IFC (as usual) will be a strong topic of discussion. Much of the debate will centre around the benefits that Low Earth Orbit connectivity has to bring to the inflight environment. Multi-orbit and multi-band solutions are likely to emerge as hot topics, as the industry looks for innovative ways to harness the benefits of both LEO and MEO satellite networks for faster speeds and reliable global coverage to airlines."
What are looking forward to seeing/experiencing again at AIX and why?
"We love the show floor energy at AIX, but equally our team enjoys the opportunity to catch up with clients and colleagues over dinner at the end of the day."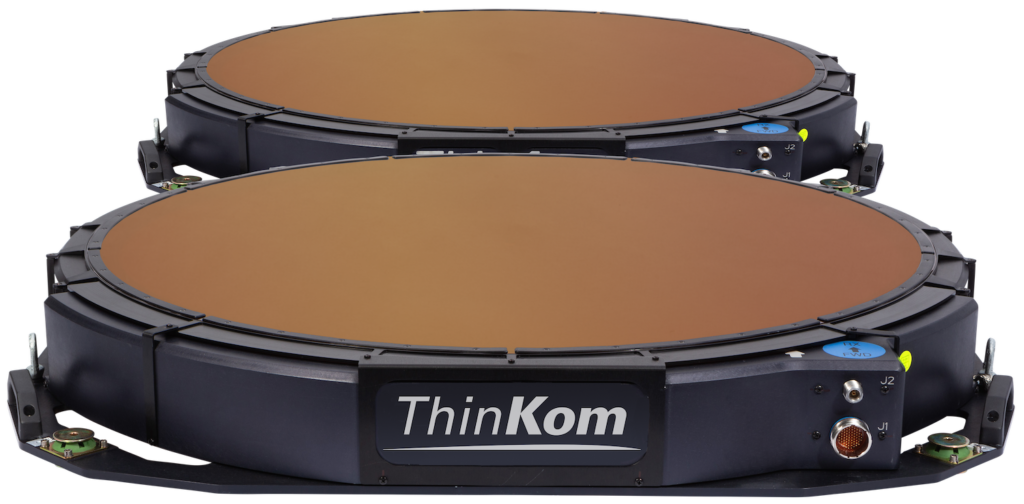 Why are you coming back to AIX? Can you share any notable experiences or customers that you've gained during the show?
"Last year at the show we announced plans to bring to market a new fully-integrated phased-array Ka-band satellite antenna solution to meet the increasing demand for high-speed in-flight connectivity on regional jet fleets, together with our partner Carlisle Interconnect Technologies.
The ThinAir® Ka1717 uses the proven VICTS (Variable Inclination Continuous Transverse Stub) technology that is currently in use on thousands of narrow- and wide-body aircraft.
The complete antenna subsystem, including the antennas, solid-state power block (SSPB) amplifier, adapter plate, fairing, and radome, is six inches high and weighs under 160 pounds (73 kgs).
Before this development, it was impractical for regional jet operators to offer their passengers the same level of in-flight connectivity experience as larger passenger jets, mostly because of the size, weight and drag of existing aero antenna systems."
Would you recommend AIX to other companies? Please share why.
"I'd recommend AIX as the top show of the year for any group seriously looking to grow its footprint as a supplier to the commercial aviation world. It's also a wonderful place to find partners that can help progress your research and development."
---
---