Catherine Barter, Assistant Manager – Customer Experience Design – Business Class Cabin, joins the Aircraft Interiors Expo (AIX) team for the latest in a series of interviews shining a spotlight on notable women in the aviation industry and the diverse career opportunities on offer.
ABOUT CATHERINE BARTER
As Assistant Manager of Customer Experience Design – Business Class Cabin at Cathay Pacific, Catherine is responsible for managing the inflight cabin products across Business Class with a focus on the passengers' experience throughout their journey. Catherine, an Industrial Designer, draws on her design background to create a strong customer-centric mindset instilling a customer-focused offering.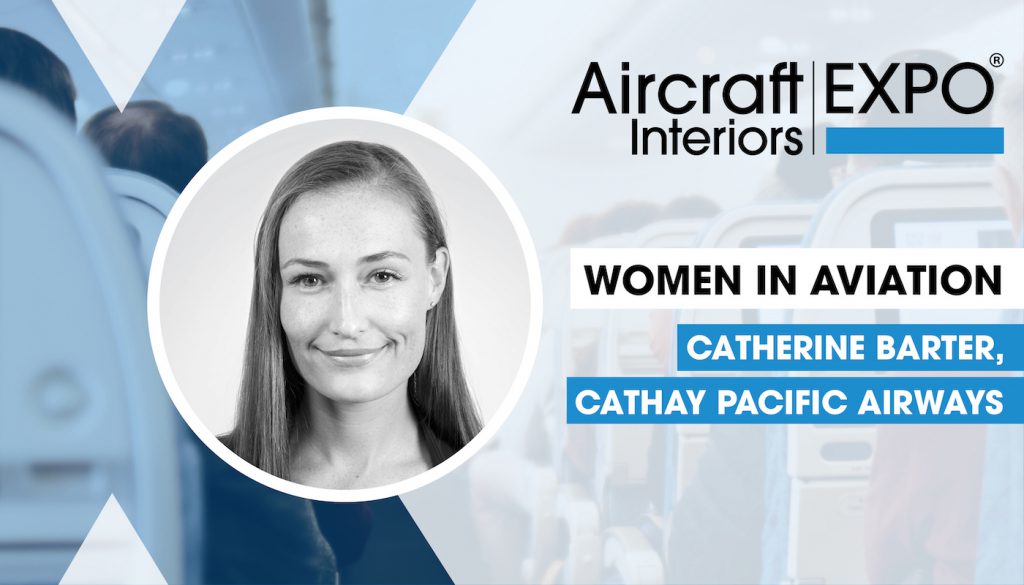 Interview with: Catherine Barter, Cathay Pacific Airways
How long have you worked in the aviation industry?
I have worked in the aviation industry for a total of seven years. I started my career at Buzz Products in 2015, and before obtaining my role with Cathay, I worked with two airline amenity suppliers.
How did you get into the industry?
I am an Industrial designer and studied in Melbourne, Australia where Buzz Products is based. At that time, I wanted to be a colour and trim designer in the automotive industry. During my third year at university, my cohort had a tour of Buzz Products, having just finished a project on the Qantas RFI Bag tag. I remember being extremely interested in the new product. They explained the process of how it would be made and the design, which was inspired by Marc Newson. I particularly remember my excitement, and how this product was going to be a game-changer for their customers, by improving the experience at domestic terminals around Australia.
What is it about working in the aviation industry that appeals to you?
Growing up, my father was an engineer, working in the defence sector and researching fatigue crack growth in alloy composites at DST. He was forever talking about the F1-11, F-16 and F-18. As a family, we would attend the Australian air show, which is where my interest in aviation first began.
As a woman, how do you find working in such a male-dominated industry?
I enjoy the diversity in the airline industry. Yes, there are a high number of males across the industry, however, I don't ever feel like I am not heard. At Cathay Pacific, females comprise 44.4% of ground staff, and they are ambitious about increasing women's representation and diversity at all levels. Recently Cathay ran several workshops in line with the International Women's Day theme. The workshops were an open forum for all staff without gender bias.
Have you encountered any gender discrimination in your career?
Fortunately, I work with a wonderful team at Cathay. But yes, at the beginning of my career designing in the automotive industry – another traditionally male-dominated industry – I did face gender discrimination and bias.
As a female, why do you think it's important for companies to address the gender gap?
At Cathay, we currently are very lucky to have Rebecca Sharpe, the CFO, sponsor the Cathay Women's Network. She is a great advocate for women across the company and is a champion for the better representation of women. The company has also joined the International Air Transport Association (IATA) pledge to increase female representation at senior levels by 25% by the year 2025. That means we support the target to have at least 30% of our GM and Director positions taken up by women.
Furthermore, with women making up, on average, 50% of our customers, it is important that our staff represent this to ensure we reflect their needs and develop strong working relationships with them to enhance the quality of our decision-making.
What do you believe has been the key to your success?
The customer experience and the customer journey excite me the most. I love to think about people returning home to their loved ones or travelling overseas to new places for the first time. I reflect on the excitement of what our customers experience and what I experience too. I love to think about their journey from the moment they check in to the moment they leave the airport. I love how whenever I tell people what I do, they get so excited. People jump to tell me about their own experiences from the plane seats to the amenity kits they received. The fact that I can help make their experience even more memorable is what makes me excited to continue to work in aviation.
What characteristics do you believe women need to survive in the aviation industry?
I don't believe characteristics are gendered, rather, it is a united love of travel and taste to explore new experiences and places that make people join the aviation industry. Everyone has missed travel over the past two years and I think for people in aviation it is even more so. There's still something so nostalgic about flying and it drives us to create a better product for our customers.
---
Read more about notable women in the aviation industry
---
In your opinion, what is the biggest obstacle to women succeeding in the workplace?
I think across most industries it is the gender pay gap and the perceived view that women will take time out to start a family and then won't be 100 % present once they return to the workforce. I fear that women are missed for promotions and other opportunities due to this perceived bias that they may not have the ambition to grow and take on more in their careers.
What would you say has been your career highlight to date?
I don't believe I have one highlight but rather several moments. Throughout my career, I have always found great joy in thinking about how a product will be viewed by a customer. Starting my career in amenity and winning a tender as the design lead was the greatest feeling. Knowing that my design was going to fly around the world for the next 3 years was elating. The best part of any new product launch is the first few months post-launch, where the designs are reviewed. Knowing that once launched, the customers will be excited reassures me that all the hard work and late nights make my job worth it.
What's the best piece of advice you've ever been given?
This is less a piece of advice and more a fact, but it was what inspired me to study industrial design. It came from the head of design at Ford in the early 2000s during a talk he delivered for high school students. He said that at Ford, they found that in the majority of their verticals on the market, the final decision of buying the car was made by the female in the relationship. As such, more women are needed in the industry! Women have a place in their brand and at the forefront of their design team. It was at this point that I considered becoming an Industrial Designer. It allowed me to think that as a woman I could help make a difference in improving the product for the customer.
What advice would you give to female professionals interested in an aviation career?
Honestly… Go for it! Speaking from my own experience, I love working at Cathay Pacific and it's honestly the best job I've had in my career. Of course, airlines have faced some tough times over the past few years, but I feel there is united energy to keep improving our product and strive to be better as a company.
What do you believe is the biggest challenge facing the aviation industry?
Currently, it would be "the restart" – whether it is the easing of restrictions or getting staff up to speed. The past two years have meant that we have had to change directions and be agile to deal with different situations globally. Traditionally airlines have been slow-moving, but a positive of the past two years has been the ability to face what is thrown their way. It won't go back to 2019 overnight, even if we have seen some regions get close, but there are ever-changing rules and requirements added to the flying experience. Ensuring we continue to offer the best experience for our customers is what's most important.
What do you believe has been the biggest development in air travel over the past 25 years?
Airlines are no longer a way of getting from A to B. Many now offer their customers a lifestyle brand. From discounts and pay systems in restaurants to buying your dad a gift for Father's Day using the miles store. I think we will continue to see the frequent flyer programs grow, taking the airline from the air to a true lifestyle brand that weaves its way through everyday life. There is now more and more opportunity to grow an airline's brand and build the customer experience beyond the cabin.
If you could change one thing in the aviation industry, what would it be?
The uncertainty. I wish we could speed it up. I'd love to travel around the world again with ease. I miss travel and hope that the uncertainty fades and borders open once again to quarantine free travel.
---
Guarantee you place at AIX 2022
---