From cabin lighting to new seating solutions: find the solutions you need at AIX
Aircraft Interiors Expo (AIX) will be a hotbed of product innovation when it returns to Hamburg from 14-16 June 2022. After a three-year hiatus, anticipation is building as every corner of the aircraft interiors industry gets set to converge on the second-largest city in Germany. Attendees will have boundless opportunities to see and try the latest innovations in person, with exhibitors also being afforded the invaluable opportunity of in-person feedback on their products and solutions.
The pandemic, despite its catastrophic impact on the aviation industry, has acted as a catalyst for the industry to focus on developing new products and solutions that respond to emerging challenges and changes in passenger expectations. The result is the emergence of a pipeline of new products waiting to be announced, with exhibitors keen to demonstrate the breadth of innovation that is helping the industry to recover. This imbues Aircraft Interiors Expo 2022 with extra significance, offering attendees the clearest possible picture of the industry's post-covid recovery.
Passenger Experience Innovations
Aircraft Interiors Expo has long cemented its position as the leading global marketplace for the world's cabin interiors and inflight entertainment industry, where engineers, buyers, suppliers, specifiers, designers and other industry professionals, gather to source the latest products and build vital industry connections. The aviation industry has long been recognised for its innovation, and nowhere is this more apparent than at Aircraft Interiors Expo, where over 600 exhibitors will fill eight halls of the Hamburg Messe to showcase the latest product innovations and announce new product launches across every section of the aircraft interiors sector.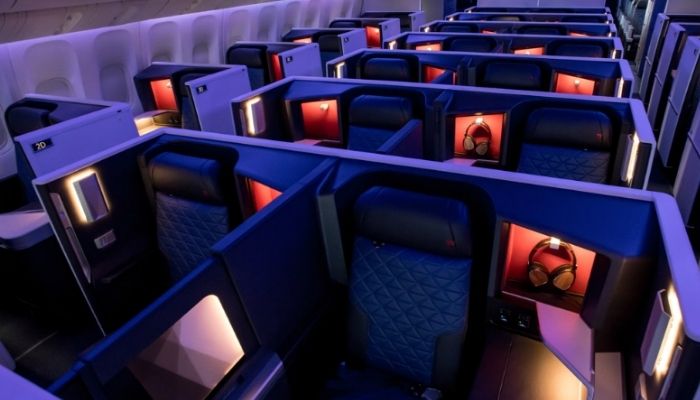 Lighting and LED set to shine
Over the years, lighting has become a crucial feature to help create a more relaxing and comfortable atmosphere inside the cabin. Increased demand for quality and varied cabin lighting, and its perceived
importance in improving the passenger experience, have given rise to impressive levels of innovation. One exhibitor who will be demonstrating this is Bruce Aerospace. The company's SpektraLite™ Full Color Mood Lighting offers the widest spectral range on the market, creating mesmerising lighting presentations that last from second to hours. It is also up to 40% lighter, and uses 60% less power, than traditional OEM systems, while lasting up to 60,000 hours.
STG Aerospace will also be exhibiting its emergency floor path marking system saf-Tglo®. Installed on over 12,000 aircraft worldwide, it simultaneously stores and emits light, providing passengers with a highly visible emergency exit path. It is the lightest system available, with weight savings of 8.5kg (737-800) and 36kg (777-300), whilst also having the added benefit of eliminating floorboard visibility and reducing view of dirt over time. Airlines also have a choice of over 60 approved colours.
Seating solutions for every cabin
Demonstrating the breadth of innovation in aircraft seating, TSI Seats, a designer and manufacturer of aircraft seating solutions for narrowbody and widebody applications, is one of many exhibitors revealing new products to the public for the first time. The Turkish company, established in 2011 by Turkish Airlines and Turkish Technic, will unveil its new economy class seat Milligram, along with its award-winning business class seat, Royalux. Offering highly comfortable seats with a slick design and ultra-low weight, the Milligram delivers significant weight savings for airlines, while the Royalux – International Yacht & Aviation Award winner – offers a higher level of privacy with wing style shell design and softer quilted side cushions.
Meanwhile, attendees will be able to try out Recaro's CL3810 economy class seat. The seat, chosen by Qatar Airways for its A321neo fleet, is characterised by its premium lightweight comfort cushions with layered foam. Furthermore, reflecting the growing importance of sustainability, it has been created from long-lasting and durable materials, helping to extend its life cycle.
Additionally, seat cover manufacturer Muirhead will be exhibiting the world's first full substance lightweight, ViralOff leather, which saves weight without compromising on durability and hygiene. The Scottish company, established in 1840, is a prime example of how the industry is responding to the market changes of the pandemic. Its Active Hygiene Leather, as well as being ethically and sustainably sourced, has built-in antiviral properties, improving the passenger experience by providing the hygienic seating solutions for aircraft interiors.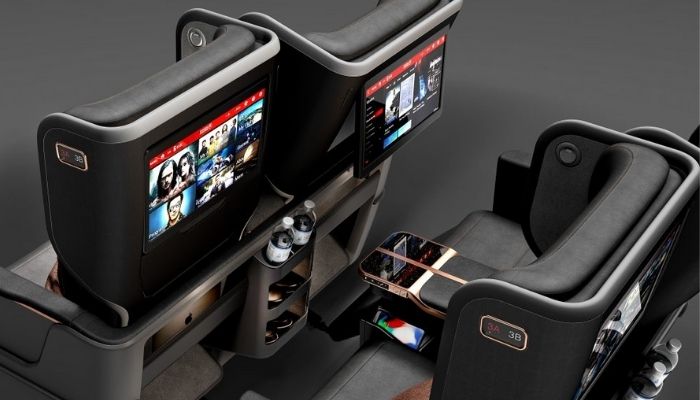 ---
Exhibitors 2022 : Browse Through AIX 2022 Exhibitor Directly
---
Transforming the passenger experience with IFEC
In-flight entertainment and connectivity (IFEC) is expected to be one of the key drivers of innovation at Aircraft Interiors Expo 2022. The pandemic accelerated the shift to digital, and airlines are innovating to support passenger-supplied devices, offering more IFE technology and streaming options. As a result, there is little doubt that the In-flight Entertainment and Connectivity (IFEC) Zone will be a hive of activity over the course of the three days.
Among the companies exhibiting in the IFEC Zone is Airmont. Recognising the heightened demand for streaming and the need to be fully connected throughout the flight, it has developed a cutting-edge, data compression solution which optimises the limited bandwidth in the cabin to enable passengers to enjoy seamless streaming experiences. It does this by minimising buffering and increasing picture resolution. It comes with an easy-to-use interface, 1000+ online streaming platforms and the option to watch live TV, all the while saving enough bandwidth for passengers to use other devices at the same time.
Streaming platforms will be the focus on the Bluebox Aviation Systems stand. Here, the company will demonstrate its Bluebox Wow, which was recently selected by Aeroflyer to provide its wireless streaming services across the charter airline's Boeing 737 fleet. The product provides wide-ranging digital services to passengers, including film, TV, audio, games, as well as a number of revenue generating services for airlines such as touch-free payments – a borderline necessity in the post-covid era. Crucially, too, about the size of a lunchbox, it is lightweight and highly portable, and can be stored in overheard lockers.
Meanwhile, Northern Avionics' WAvES (Wireless Avionics Entertainment System) is a wireless IFE platform designed for all types of aircraft, which supports passenger devices, full seat-back configurations and cabin monitors. It includes ten new seat-back ultra-HD monitor sizes. Attendees will also, for the first time, since its launch in 2019, be able to try first-hand the industry-first wireless PCU and PSS system for wide-body aircrafts. With a battery life lasting for several years, while being totally wireless, it helps reduce costs, weight, and ground time for installation.
Polly Magraw, Event Director, Aircraft Interiors Expo, said:
"After a turbulent three years, it is exciting to welcome everybody back to AIX. The event being of a comparable size to the 2019 edition indicates the growing momentum in the recovery of air travel, and eagerness for industry professionals to reconnect. It has been impossible not to marvel at the levels of innovations in our industry since our last in-person event, particularly in response to the dramatic shifts in the aviation landscape due to the pandemic. What's more, is that there is so much more to come, and we can't wait to see what unveiled when we return to the show floor this June. It really is an unmissable event for any passenger experience professional."
---
Take your place at AIX 2022
---