Interview with: Abigail Diocares, JetBlue
Abigail Diocares, Senior Analyst – Aircraft Interiors, JetBlue, joins the Aircraft Interiors Expo (AIX) team for its series of interviews shining a spotlight on notable women in the aviation industry and the diverse career opportunities on offer.
ABOUT ABIGAIL DIOCARES
For the past 10 years, Abigail has contributed towards advancements in the technical field across Boeing and JetBlue within engineering, supply chain management, and line maintenance planning roles — from successfully developing flight procedures on Boeing aircraft to optimising environmental efficiency; to effectively executing strategic engine maintenance solutions to manage the largest budget in JetBlue's Technical Operations department.
Now, starting the next decade of her career, Abigail has moved into Marketing, as a customer-centric product developer. She's extremely excited to explore her passion for enhancing the customer experience, leveraging her technical and stakeholder relationship-building background to lead dynamic teams towards the successful execution of innovations in aircraft Interiors that ultimately enable the sustainable growth and future of air travel.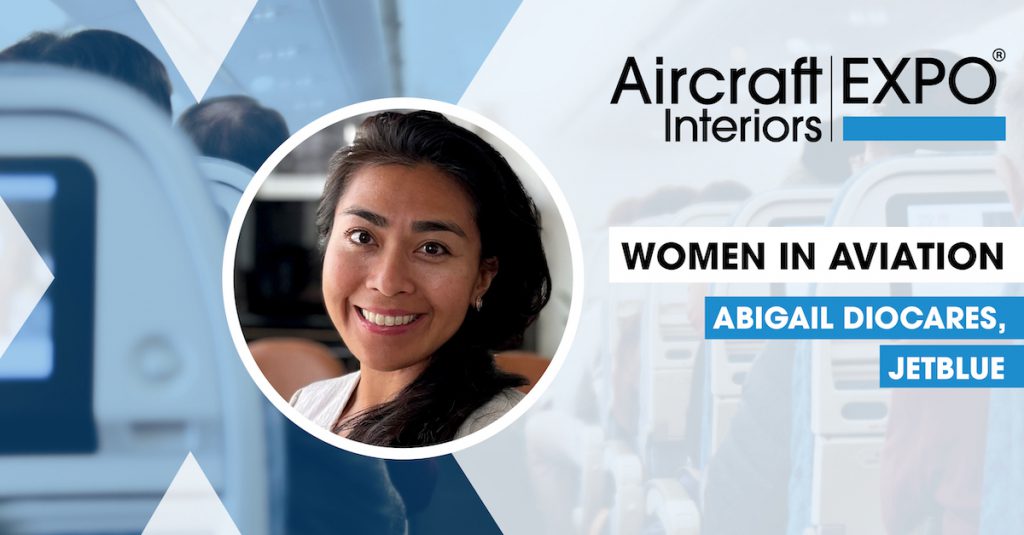 1. How long have you worked in the aviation industry?
I've worked in the aviation industry for 11 years, starting as an engineering intern at Boeing. I continued working for Boeing after I graduated college in 2011, for five years, and then decided to make a bold switch and move cross country to New York and be on the customer airline side with JetBlue in 2016.
2. How did you get into the industry?
I had a fascination with airplanes since I was a little girl. How a big piece of metal can defy gravity was magic to me. I studied Aerospace Engineering in college and worked as a research assistant at Georgia Tech's Air Transportation Lab led by John-Paul Clarke. That opened great doors for me early on, as I was able to meet and learn from great industry leaders and eventually earn a spot as a Boeing intern in Seattle, Washington.
3. What is it about working in the aviation industry that appeals to you?
Aviation connects and brings people from all over the world together. Our industry makes it possible for people to see new places and meet new people from other cultures and industries around the globe. The most appealing part about working in this industry is promoting that human connection and enriching human experiences through travel.
4. As a woman, how do you find working in such a male-dominated industry?
I've had a few male critics, but more male advocates supporting me throughout my career. I've always focused on executing and driving credibility through my work.
But I've learned that most importantly having a good attitude, an eagerness to learn, and a collaborative spirit helps to overcome biases and encourages inclusion.
5. Have you encountered any gender discrimination in your career?
I'm very fortunate that I haven't encountered gender discrimination in my career, but that's not to say I'm blinded by it. When I joined JetBlue, I became part of a Crewmember Resource Group called Women in Flight. It's a great organisation full of females supporting females within the company and meeting other women and hearing their stories. I know it's a topic that still merits attention. Through the CRG, I'm an ally, that is helping to bring topics like gender discrimination to the forefront for awareness and change.
6. As a female senior leader, why do you think it's important for companies to address the gender gap?
I believe having a diverse and inclusive workforce is a powerful bridge between our industry and the customers we serve. If we want to create products and services for everyone, our industry leaders need to represent the communities we serve.
7. What do you believe has been the key to your success?
Being present – executing today, delivering today – and not being too hasty to move forward. Taking on opportunities that came my way, even if I didn't know where to start, was what got noticed and advanced my career. The variety and stretching out of your comfort zone is where the fun and growth happens!
8. What characteristics do you believe women need to survive in the aviation industry?
Perseverance, gratitude, and humility.
9. In your opinion, what is the biggest obstacle to women succeeding in the workplace?
The pressure we put on ourselves to be perfect. The wasted time and stress are unnecessary. Don't be afraid to make mistakes! That's how we learn and grow.
10. What would you say has been your career highlight to date?
Joining the Product Development team at JetBlue and working with such creative and passionate people! It's a complete 180 switch from TechOps to Marketing, but it's the perfect blend of my love for interior design and travel. I'm excited to use the collective experience I gained – my technical and stakeholder relationship building background – to bring innovative products to market.
11. What's the best piece of advice you've ever been given?
When you're present, be present. Carve out time for family, friends, and hobbies, because if you don't, then we won't love our jobs anymore and we won't be as productive.
12. What advice would you give to female professionals interested in a career in aviation?
There will never be a dull moment. There are many career paths you can take. I went from engineering on the OEM side, to engineering on the customer airline side, to overseeing heavy maintenance business partners, to strategic maintenance planning, and now product development. By having an open mind and thirst to learn, you will never get bored!
13. What do you believe is the biggest challenge facing the aviation industry?
Climate change and ensuring a sustainable future.
14. What do you believe has been the biggest development in air travel over the past 25 years?
Making air travel more affordable to more people. It used to be seen as such a luxury that only the elite could afford. It's now easier and more accessible for us to connect with the world. The world is one stop away!
15. If you could change one thing in the aviation industry, what would it be?
Accessibility — make training and schooling more affordable and accessible to all wanting to pursue a career in aviation.
16. Who has been your biggest advocate/mentor in the workplace and why?
Dan McGregor. He was my first boss at Boeing as an intern and became my mentor and biggest advocate throughout my career. Very early in my career, Dan tasked me with responsibilities I didn't think I could accomplish but I did. He trusted me with the freedom to be creative, shadow him on work trips, present in front of customer executives, and develop a patent with him! I succeeded because of his support and encouragement. "We all need someone who inspires us to do better than we know how." Dan was my inspiration.
---