With the pandemic's impact on exhibitions, aerospace trade association, ADS, has come up with a solution. Introducing the new Digital Cabin, an immersive 3D aircraft interiors showroom accessible online, globally 24/7. OEMs and airline buyers move around a realistic aircraft interior, exploring the technologies and capabilities from the exhibiting companies from UK and Eire, rendered in 3D for a realistic perspective.
ADS Digital Cabin – a one stop global shop
The Digital Cabin is an interactive web-based showroom where leading airline interiors companies represent themselves with exciting 3D renders of their products, instead of flat text and images.
This is an innovative and unique B2B solution. Aviation buyers, engineers and designers can now look around the inside of an aircraft cabin 24/7 with just an internet connection and a laptop, tablet, or VR goggles. In one place, users can access a rich range of UK aircraft interiors innovation, from pioneering seat concepts to advanced electronics, lighting, and expert contract manufacturers. There are tech sheets, 3D visualisations and sales contact information.
"We wanted to create a realistic cabin experience; presenting buyers with everything from seat designs to lighting effects and subcomponents. This gives a unique look and feel for the product in a cabin geometry, which is tricky even at a physical trade show" – Omar Kadhim – ADS Head of Aerospace Business Development.
Aircraft Interiors Companies – who's on board?
There are currently eight customers in the initial launch at AIX 2021. They encompass pioneering seat designers and lighting specialist and others who make the highly engineered materials and subcomponents in the cabin such as arm rests, seat supports, fabrics and biomaterials.
ADS Marketing & Engagement Manager, Nicola Green, says "3D visualisation helps build customer confidence and is playing an increasingly important role in the B2B sales process. The UK is world-leading in its innovative aerospace products and I'm delighted that we are able to leverage 3D technology to help UK SMEs reach a global marketplace".
Airtek, is a government-funded consortium between Williams Advanced Engineering (WAE), JPA and SWS Aircraft Certification. They offer a pioneering all-composite seat which reduces weight dramatically and were the first to sign up.
Stuart Olden, WAE's Senior Commercial Manager, said: "When ADS told me about the Digital Cabin concept I thought it was a great idea. The Airtek seat is a pioneering premium-class totally lie-flat configuration and in the virtual cabin environment, people can interact with the seat and its functionality. Our individual web page incorporates 3D renders, fact sheets and video enabling us to get our key message across in a number of different ways."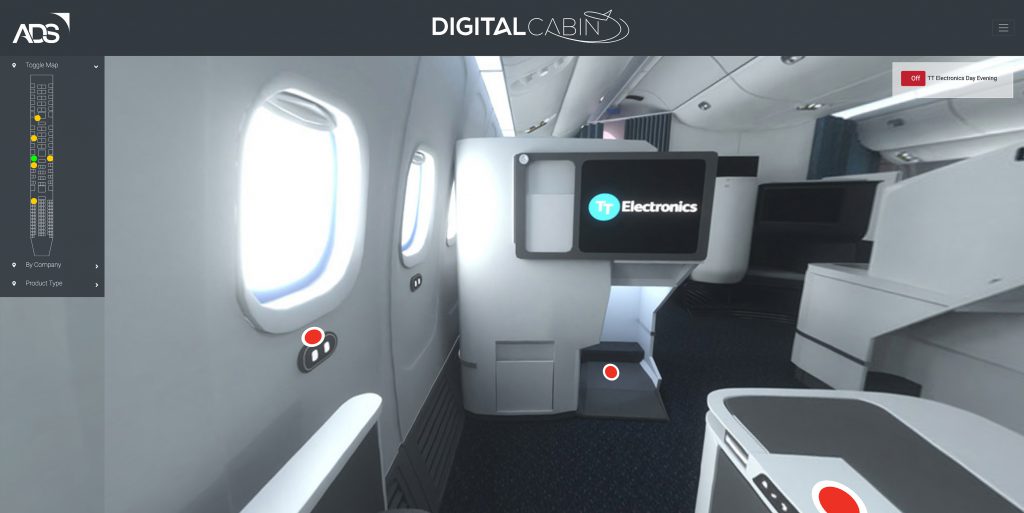 TT Electronics supplies a range of human management interface (HMI) solutions for the cabin including mood lighting, passenger control units, and illuminated signage.
Stacey Vinther, TT Electronics Marketing Manager, said "Our HMI technologies are visual by nature – the ability to touch and interact with our solutions is really important. The Digital Cabin will enable customers to really immerse themselves into the virtual aircraft cabin and see how our products enhance the passenger experience".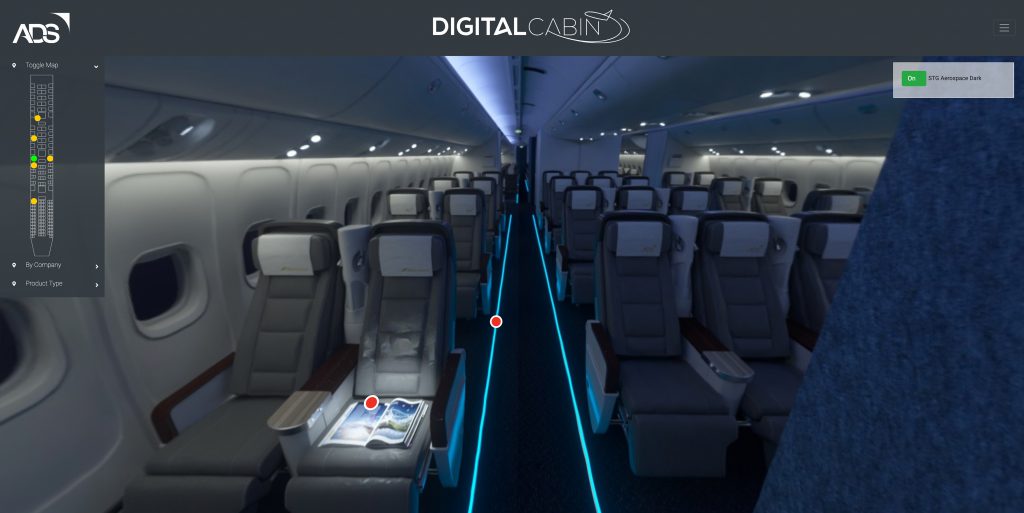 STG Aerospace – is best known for its saf-Tglo photo-luminescent signage and emergency floor path marking system and has expanded into LED cabin lighting with liTeMood ®. In showing their range of lighting solutions virtually they can demonstrate how lighting combines paramount safety with state-of-the-art design, to enhance the passenger experience.
"It's critical now more than ever that we continue to support our customers and the wider aerospace industry. We want to ensure our customers know that whatever the lighting requirements, our in-house expertise will manage the whole process, from initial design through to certification and reducing maintenance. STG are excited to add the ADS Digital Cabin to our customer experience and are delighted to showcase this at AIX Virtual". Grant Bennett – STG Aerospace CEO
Other companies include:
IPC – SC21 Gold Award Winner, IPC, use the 'X-ray' view feature in the cabin to showcase their injection moulding capability with a screen bezel and latch assembly on a premium economy seat, whilst externally the armrest and tray assembly will be on display.
Flitetec specialise in the approved repair, manufacture and distribution of spare parts for all types of aircraft interior products, helicopter interiors, cabin windows and transparencies.
Future Plastics is the leading supplier in Theromoforming and CNC machining
Cecence is an award winning sustainable composites innovator showcasing their novel seat back structure
Bradfor – have chosen the Digital Cabin's surface rendering tools to help buyers visualise their high-quality premium fabric and upholstering capability
Digital Cabin – enhancing the 'Brand UK' sales proposition
The ADS Digital Cabin offers an immersive space that gives a visual summary of what the UK has to offer. As more companies get involved, it will deliver an increasingly richer way to express the broad and deep capability of the sector.
Omar Kadhim – ADS Head of Aerospace Business Development says: "We're excited to finally launch this new tool for cabin and MRO buyers to explore the market. 3D web technology brings the cabin to life and allows SMEs to market themselves in a way that's cost effective, fresh and engaging."
At an individual exhibitor level, the digital cabin has been created to support the existing sales process rather than replace it. Each exhibitor has their own information page. Users can interact with products in 3D and link to technical specifications, videos and sales contacts 24/7 – greatly enhancing the bandwidth of exhibiting companies. The pages can also sit within an iframe on the individual exhibitor's website.
How can companies get involved?
UK companies looking to exhibit should contact Omar Kadhim: omar.kadhim@adsgroup.org.uk
---
Product Showcase listings are a paid-for opportunity for cabin interior manufacturers to share their products, services and solutions. If you'd like to showcase your product, get in touch with the AIX Sales team.