Industry reports have suggested that the growth of narrow-body jets will lead the post-pandemic recovery in the next 10 years. With clear environmental advantages and technological developments making it possible to fly longer distances, what impact does this have on the design of the cabin and how are seating manufacturers adapting for narrow-body airplanes?
Narrow-body aircraft to lead the recovery
Recent industry reports, published by Cirium, suggest that the European aviation industry has hit its highest level of flight hours since the pandemic began in March 2020. While early green shoots indicate the road to recovery is now underway, there is a suggestion that airlines will need fewer wide-body aircraft post-pandemic. The demand for narrow-body aircraft outpaced that of twin aisles even before the pandemic, but with changes in passenger numbers and airlines downscaling their fleets to survive, more narrow-bodies are set to take off.
In fact, recent research from Oliver Wyman reveals the popularity of narrow-body aircraft will continue as more airlines align fleets to the demand realities of 2021 and beyond.
Speaking to AIX, Jamie Moreno, Founder and CEO, Mormedi, said: "There is little doubt that airlines will be shifting to narrow-body aircraft. Just as we have seen airlines putting an end to their leases for aircraft like the A380 and Boeing 747. The longest commercial single-aisle flight to date was in an A321neoLR and clocked in at 8h 32m. A passenger-less A321LR test flight has proven that even an 11h flight is possible."
Long haul switching to narrow-body
While most passengers still associate long-haul flights with wide-body aircraft, technological developments mean narrow-body aircraft can fly even longer distances with higher operation and fuel efficiencies. More recently, the popularity of the Airbus A321XLR has helped propel this trend. When it was launched at the Paris Air Show in 2019, orders were placed by a number of airlines including American Airlines, Qantas, IAG – the owner of British Airways and Iberia – and Middle East Airlines.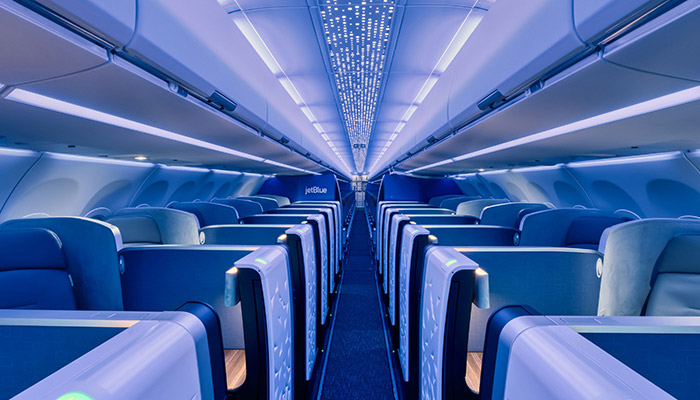 In April 2021, Airbus also announced exciting developments for its cutting-edge narrow-body 'Airspace' design. Joining its A320 family, the Visionary Concepts Crystal Cabin Award Winner, sports all new design features and offers a high level of passenger comfort consistent with its wide-body cabin products. The new interior, set to debut on JetBlue Airways 13 A321LR models, delivers "true long-haul comfort in the widest single-aisle cabin" including full-flat business seats and wider economy seats.
Elsewhere, United Airlines announced in June 2021 it had placed an order for 200 Boeing 737 Maxs and 70 Airbus A321neos – the largest single airplane order for a US airline since American ordered 200 Max planes in July 2011.
Delivering a superior passenger experience
Narrow-body aircraft naturally offer a reduced passenger capacity, but thanks to innovative new designs from seating manufacturers, it does not mean the PaxEx is sacrificed. Cabin designers have been quick to create unique offerings that ensure the same comfort and quality is delivered in a cabin. Take JetBlue's transatlantic A321LR, which features a modified Thompson Aero Solo seat. Described as a 'revolution in single-aisle seating', the VantageSolo seat was developed and designed specifically for narrow-body aircraft. It offers a fully lie-flat bed with direct aisle access for every seat.
Related article: Hear from Jonny McGreevy, Head of Design, Thompson Aero Seating.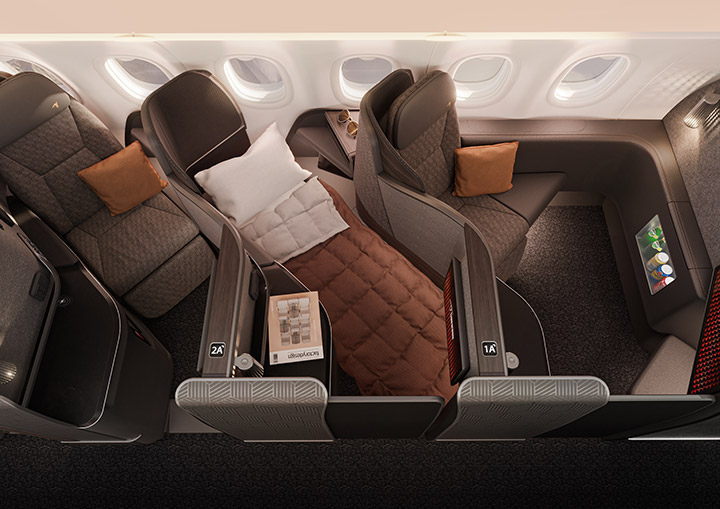 STELIA Aerospace's 'OPERA' full-flat bed is also designed with narrow-body, single-aisle aircraft in mind. This 'full flat, full access and full privacy' business class seat is reported to offer the widest full-flat bed, with ample foot space, extra-large 20" monitor screen and increased privacy with a fully integrated door; extra storage capacity and a large meal table, stowed under the cocktail table. Adjustable armrests and ambient light coupled with close attention to interior trimmings complete the design, help to combine design and efficiency to deliver an outstanding level of comfort.
UK-based Factorydesign has also introduced a new business class seat concept intended for long-haul, narrow-body aircraft. ACCESS is a lazy-Z, fixed back lounger that offers direct aisle access for passengers. Unlike other models launched to market, it prioritises aisle access over a lie-flat seat. With limited space onboard, it offers a higher cabin density, with privacy screens for enhanced privacy bridging the gap between a standard 2-2 configuration and lie-flat bed product.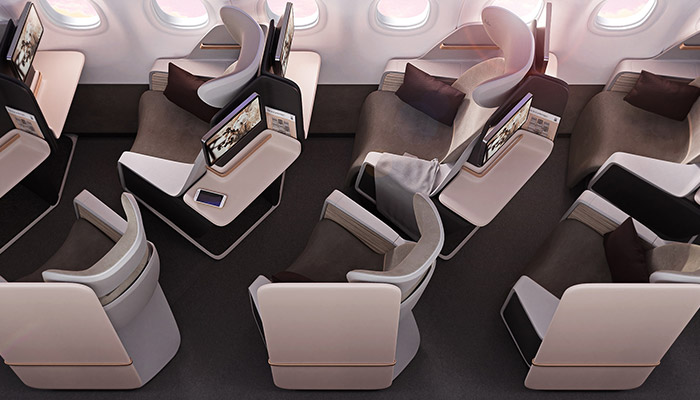 Delivering a new concept of seating for both business and economy, Paperclip's Butterfly design is one of the most flexible modular seating options on the market. Its ability to transform between premium economy class and business class provides airlines with the flexibility to adjust cabin configuration in response to real time demand. Recognised in the Crystal Cabin Awards and IATA's Passenger Innovation Award, it ensures airlines can maximise profitability and customer satisfaction at the same time.
Innovation in every class
While there are ever-increasing options for business class seating configurations on narrow-body aircraft, the good news is that the innovation includes economy options. Italian seat maker Optimares supplied its Quadra economy class seats for Qatar Airways, providing ample passenger space, similar to that found in premium economy, with a lightweight, durable structure.
Acro Aircraft Seating's Series 6 Economy Class Seat was selected by Etihad Airways. The seats, which were retrofitted on 23 of the airline's A320 and A321 fleet, incorporates the company's innovative extra-spatial design.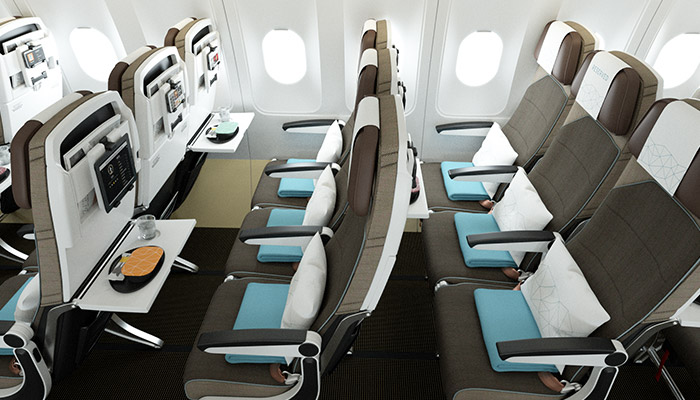 Speaking about the design, Alan McInnes, Acro's SVP Sales, said: "Etihad came to Acro with an exacting brief which challenged us to come up with a range of bespoke features and the result is a seat which provides a variety of functionality that will enhance the passenger experience. For example, the seat has been cleverly designed around the passenger's digital devices with the fast-charging USB ports and a PED holder which adjusts to hold a phone or tablet device. Furthermore, the seats feel significantly more spacious due to the unique curved seatback design that Acro's seats are renowned for."
As airlines shift their focus towards narrow-body fleets, the need for innovation throughout the cabin and designs that utilise space and prioritise comfort is still a top priority. While there are ample choices for new seating concepts, elsewhere in the cabin, suppliers are hard to work to meet new and emerging challenges. It is an exciting time for airline suppliers as they ensure new products meet the needs of this growing aviation sector and help airlines to tackle new challenges.
See more seating innovations at AIX Virtual
The world renowned Aircraft Interiors Expo will take place remotely this year, while still offering the same range of new ideas from the global cabin interiors industry. Sign up to be there and see the latest seating innovations.
---
Related article: Read thoughts from Jaime Moreno, Mormedi on how narrow-body aircraft will lead the recovery.
---