With commercial aviation still struggling to take off, one area of opportunity is in business jets. A promising rebound within business aviation (Bizav) began in late 2020, according to Global Data, with an influx of leisure and business passengers looking to reduce the risk of contracting COVID-19.
Business aviation services continue to soar
Bizav services were down by just 1% in 2020, according to WingX, a data research and consulting company that provides actionable market intelligence. In contrast, the number of regularly scheduled passenger flights fell by 45% over the same period. These figures, announced in WingX's weekly Global Market Tracker, demonstrate the resilience of the private aviation sector.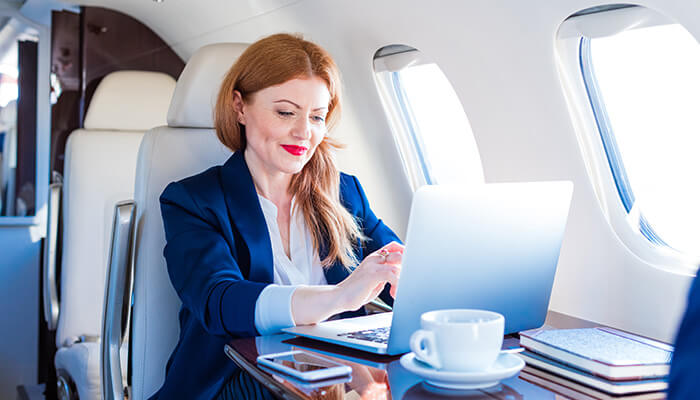 Speaking to The Guardian, Richard Koe, managing director of WingX, said Bizav offered "an on-call and convenient means of connectivity, essential as gaps appear in the scheduled networks". He added that the UK's private jet business had declined more than those of any other country in Europe.
Trends show a resilient industry
This outlook is mirrored in Honeywell's 29th annual Global Business Aviation Outlook, which saw four out of five business jet operators indicate that purchase plans had not been affected by the COVID-19 pandemic, with business jet deliveries anticipated to be up 13% in 2021.
In fact, reports revealed that for some private jet companies, 2020 was more profitable than 2019. Europe's leading private jet charter, LunaJets, reported a sharp rise in demands for business jet charters in early 2020 – an increase of 45% YOY. It was also reported to have sold 15% more flights than in 2019, while the private jet industry in Dubai saw a 21% growth compared to the previous year.
While the industry is perceived to only be accessible by those with the resources to enjoy private travel, the growth in this sector demonstrates the untapped opportunities for suppliers within the aircraft interiors market. So, how can the industry respond to this rapid growth in private travel?
Bizav refurbishments are on the rise
A new trend toward purchasing older aircraft and completely refurbishing them has also been revealed by Pascal Bachmann, EMEA senior vice president of sales for Jetcraft, in an interview with Business Jet Interiors Magazine. He outlined the interior equipment and configuration trends growing in popularity, highlighting how technology and connectivity are becoming increasingly important factor for buyers.
Passengers on private jets, just like those travelling on commercial airlines, increasingly expect to be able to stay connected to the ground below them. High-speed data, Wi-Fi and onboard communications have become an important part of the modern air travel experience. Gogo Business Aviation, a provider of in-flight broadband internet and other connectivity services, believes that customers are using inflight Wi-Fi in vastly different ways than they did a year ago. The inflight connection is now being used to host virtual meetings, work on the aircraft upon landing and flying more mid-level employees to and from company meetings.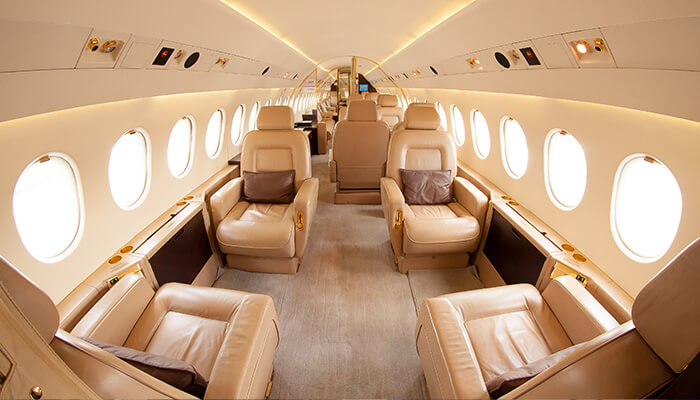 As a result, the overall customer satisfaction in both business and commercial aviation has become increasingly tied with Wi-Fi connections and capabilities, meaning it is no longer a luxury but a requirement for passenger satisfaction. The onboard Wi-Fi capabilities are considered one of the top three things needed by passengers for a satisfactory flight, according to Gogo.
Demonstrating the demand for connectivity and in-flight entertainment (IFE) services within the Bizav sector, FTS, based in China, announced in January 2021 that it had been tasked with providing IFE services to Minsheng Financial Leasing's (MFL) fleet of more than 300 aircraft. As the largest aircraft lessor for business jets in Asia, MFL currently holds more than 90% of the country's corporate aircraft market share. The agreement will see FTS collaborate on IFE systems, smart cabin management, inflight 'Internet of Things' and a grounds operations platform.
Creating a luxurious environment onboard
Simply providing good connectivity may be enough for some passengers, but the Bizav sector is renowned for creating luxurious cabin environments that help provide a unique flying experience.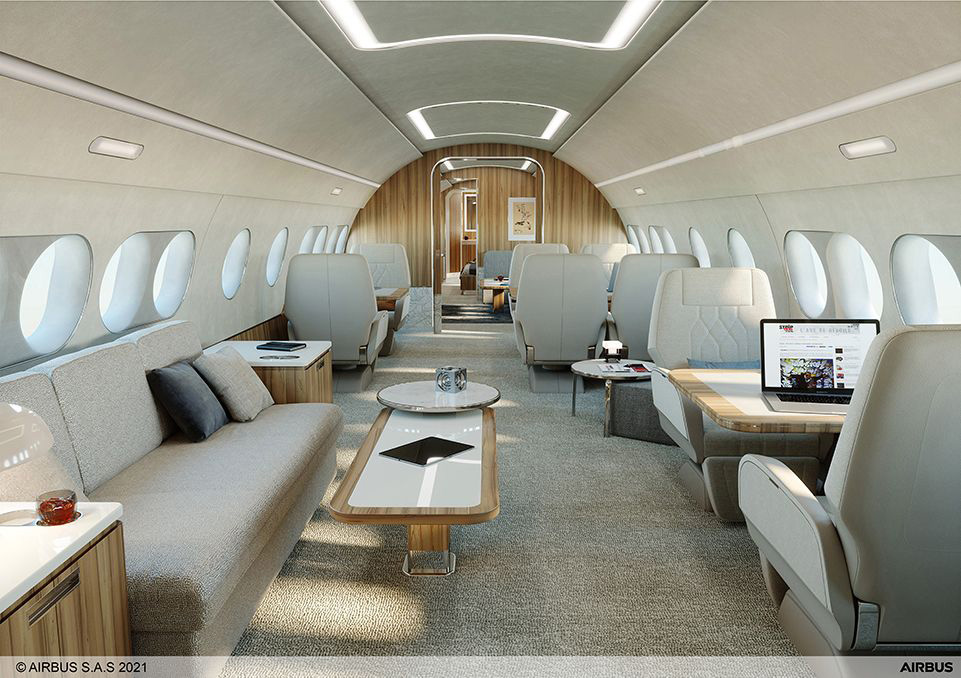 Concept images of the Airbus A220 corporate jet, dubbed the ACJ TwoTwenty business jet, demonstrate the importance of coupling state-of-the-art technologies and high concept design. The aircraft boasts 73m² of floor space, divided into six individual living areas that offer more than 100+ cabin configurations. Dedicated areas for relaxing, sleeping and dining reflect a growing trend for flexible zoning that help to replicate the home environment.
In 2018, Bombardier's Global 7000 business jet won the Red Dot Design Award, recognised for its 'rich and satisfying experience, from its class-leading and largest kitchen in the industry and forward-thinking lighting to the first-ever dedicated stateroom with a fixed bed'.
The use of zoning onboard can also be seen in the interior mock-up of the Gulfstream G700, expected to enter service in 2022. It features up to five zones, including an entertainment area, galley seating, dining area, forward seating, and stateroom featuring an en-suite bathroom. While the Dassault Falcon 6X is the first ultra-widebody business jet and provides three distinct living zones, including a club suite, dining and conference zone, and lounge area.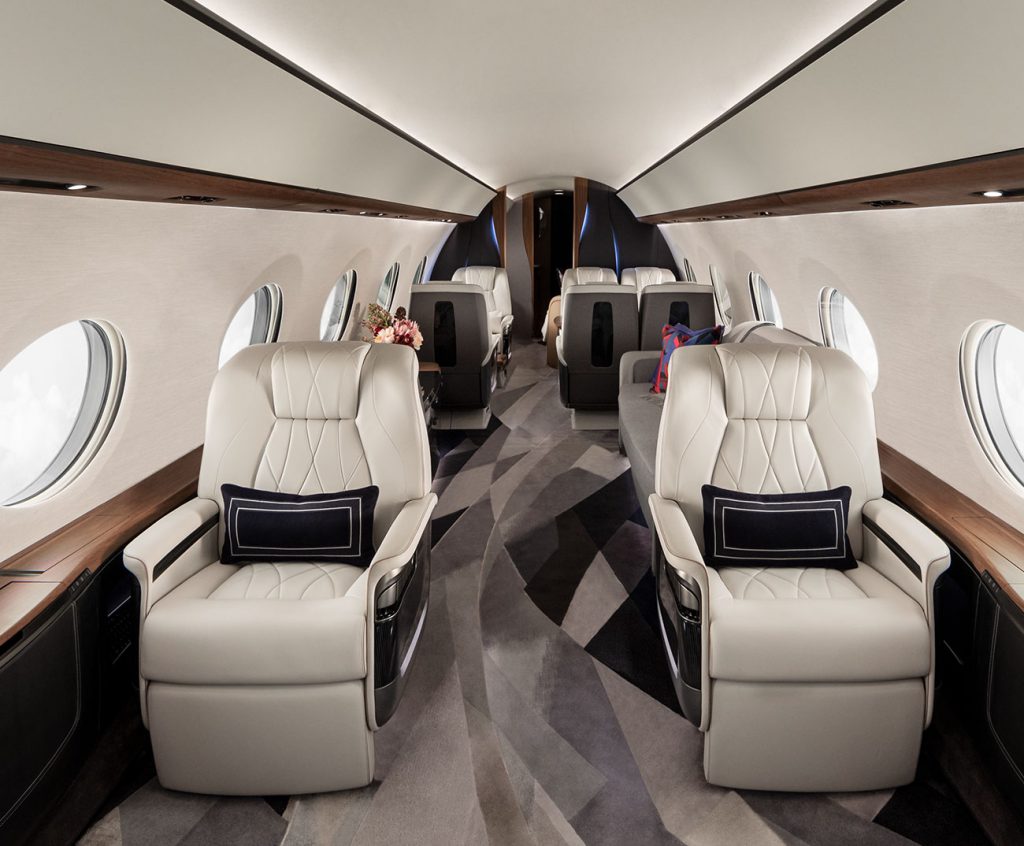 While the use of zoning helps to mirror the home environment and provides private spaces for passengers to relax and conduct work onboard, creating a spacious cabin space is one of the most sought-after commodities in private jet design. With seating, baggage holds and tables all essential elements of the cabin, clever choices on the use of lighting, materials and colour schemes are helping to bring a greater sensation of space.
Embraer's enhanced Bossa Nova interior design uses subtle choices to maximise cabin space, such as moving the control panels to the centre ceiling of the aircraft and the use of clear materials and colour-tone combinations.
The next step in Business Jets
The Bizav sector continues to be remarkably buoyant, and with continued growth anticipated for the future, the sector is ripe for fresh business opportunities. Over the last year, the commercial aviation sector has undergone significant setbacks, and while the Bizav sector has not escaped these challenges, what is clear is that an unexpected pace of transformation has resulted in a raft of new customers and capital.
---