It's clear that one of the main trends for 2021 will be needing to reassure passengers of cleanliness and hygiene onboard.
Before COVID-19, cabin innovation took inspiration from domestic environments, hotels and cars to create familiarity in the interior space.

However, since early 2020 aggressive cleaning and evidenced hygiene has been essential to continue flying, exacting a toll on cabin interiors never intended to withstand these treatments.

As consumers now have heightened expectations of cleanliness and hygiene, new ideas are needed to design the cabin interiors of the future.
Designing for clean
Put simply, in future it will have to be easier for airlines to sanitise cabins while maintaining finishes and ensuring fast aircraft turn-around. Passengers will want the reassurance that their environment is safe and they can easily identify that it is hygienic. Clean will be the catalysing imperative for upcoming design reviews which means some new approaches to aircraft interiors will ultimately be required.
Admittedly, with fewer people flying, revenues at all-time lows and airlines cash flows taking a beating, this is a hard ask right now. As Anthony Harcup, Senior Director at TEAGUE, puts it: "Opinion is very divided on what the market needs because we haven't settled on a period of normal that is long enough to have identified real commercial trends…I think we will see a much bigger response to cleanliness and sanitation…when revenues start to return and airlines have money, data and passenger opinion."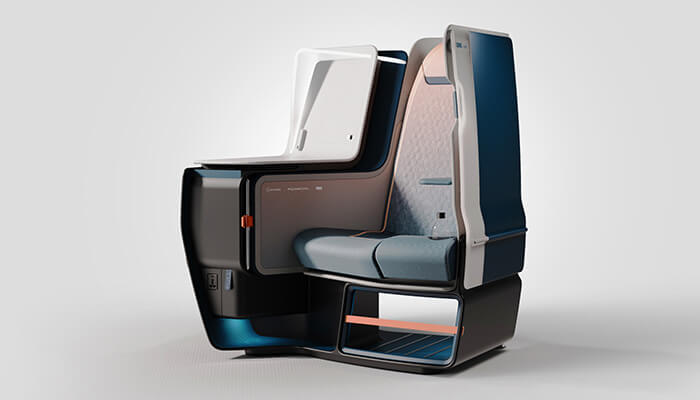 Nonetheless, designers and interiors OEMs are already innovating seats and cabin monuments with clean in mind. For example, an open storage structure – big enough for a trolley bag – features underneath the Project AIRTEK lightweight business class seat concept. The consortium behind AIRTEK, JPA Design, Williams Advanced Engineering and SWS Certification Services, says this space is easy to clean and improves cabin airflow.
Another response to COVID-19 concerns is OPERA, a business seat for single-aisle aircraft launched in autumn 2020. Designed by STELIA Aerospace to protect passengers' space and limit their exposure to other travellers and crew, it features a fully-integrated door and direct aisle access in a reverse herringbone layout with users facing the windows. Passenger contact with the seat in high-touch areas is minimised as it is operated via a smartphone or Bluetooth audio jack.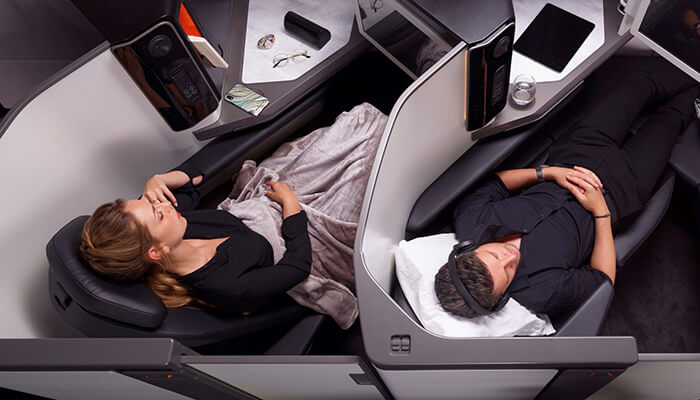 Emmanuel Regnier, STELIA's Vice President of Sales and Marketing for Cabin Interiors, notes: "Globally, we can observe that the COVID-19 outbreak has reinforced the market trends of the last years – increased privacy, independence and distancing…and motivated new ones, such as touchless features and easy-to-clean surfaces. Post-COVID, these will not only be considered as comfort and tech features but as must-haves, required to assure passengers of their safety onboard."
Making clean easy
Demand for products that are easier to maintain cleanliness and reassure passengers that surfaces are sanitary is also predicted by Jamco America. Their Venture reverse herringbone business class seat, which debuted in 2019, eliminates potential dirt traps to minimise operational costs and in 2021 it unveiled a Venture Pristine solution incorporating surface finishes that inhibit the growth of pathogens.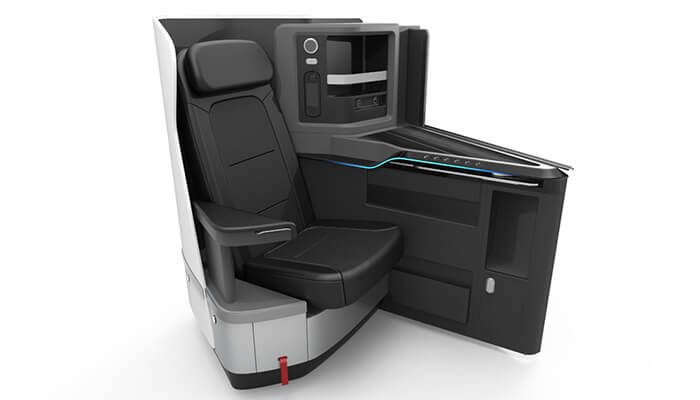 "Airlines are balancing the need for items like doors and compartments, which are convenient for passengers, against the need to ensure the seat can be effectively cleaned," says Jeremy Hunter, Senior Sales & Marketing Manager. "We have noticed that airlines are including cleanliness as a desired 'feature' similar to past product features for their passengers."
Pristine comes under Project Blue Sky, Jamco's initiative to alleviate travellers' anxiety about cabin cleanliness. In the lavatory, this has included developing a hands-free lavatory door handle and lock, as well as investigating a foot pedal mechanism to lift toilet seats and lids hands-free.
A new design language
However, designing for clean will require more than just new interior hardware. It will necessitate reconsidering the visual design language and reviewing the cabin as a part of the greater travel journey ecosystem. Harcup observes that as people have changed their behaviour to risk assess their environments like never before, so passengers will be looking for visual cues that things have changed in the cabin.
It will be even more complex to implement mechanisms to control human congestion, such as the scramble to retrieve belongings and deplane. "I think the only way to solve those issues would be to have a second look at the entire end-to-end journey so that processes are prioritised over scheduling, which is a really tough call to make," says Harcup.
A three-year process
Knowing it will take at least three years to develop and certify future cabin products, PriestmanGoode is already pushing ahead with reimagining business and economy travel in terms of personal space, hygiene and a touch-free journey.
The premium cabin in its Pure Skies concept features 'rooms' enclosed by full-height curtains, elimination of all but essential seat breaks and use of photochromic and thermochromic inks on surface materials to react to UVC light and heat cleaning and send a message of reassurance of cleanliness to passengers as they board. The economy cabin is zoned with clear dividing screens every other row for greater separation and staggered seating to enhance the sense of personal space. Radically, the seat-back tray is replaced by a clip-on meal tray direct from the trolley.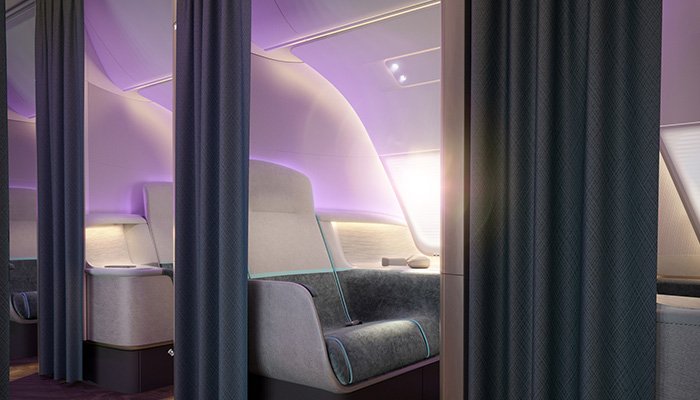 PriestmanGoode Founding Director, Nigel Goode, acknowledges that the industry may need to design things it has not thought about yet, including new passenger behaviours, which may mean, for example, shielding people more when they are in the aisle rather than the seat.
While the clean design imperative will not be instant, Goode expects it to start appearing in briefs and PriestmanGoode is already working with material and dress cover manufacturers to try to implement some elements of Pure Skies. He notes: "I think we should be doing our utmost to try and alleviate some of this problem for next time."
Design changes now will protect from future problems
We accept aviation as a vital linchpin in our world, opening up economies and supporting societal advancement. However, picking up where we left off in 2019 is no longer an option. Change, including new approaches to the process of rolling out cabin interiors, must be embraced.
The interiors sector also needs to be part of a bigger conversation about how the cabin fits within a new end-to-end travel journey environment. Coronavirus can be seen as a comparative warning shot across our bows. Aviation will get back on its feet quicker once it accepts the need to solve these problems, not just for this pandemic, but also the inevitable health crises of the future.