AirFi is a global leader in portable IFE and inflight retail technology for airlines. Having joined us before for our exhibitor interview series, AIX sat down with founder and CEO, Job Heimerikx to discuss how AirFi's inflight connectivity solutions can contribute to ancillary revenue, passenger experience personalisation and even a greener future for the airline industry.
How have airlines' IFEC offerings changed in the past 5 to 10 years?
"If you look at how the industry has evolved over the last decade, you'll notice at first there were only expensive in-seat solutions that were exclusively accessible to bigger, wealthier airlines.
Back in 2014, we (AirFi) launched a portable inflight entertainment (IFE) solution. It got a lot of traction because it made it possible for competitors — smaller airlines with less aircraft and less buying power — to provide IFE to passengers.
At the same time, low-cost carriers (LCCs) were becoming more and more prevalent, so the focus on ancillary sales was magnified. As a result, we've seen portable IFE systems being used to boost ancillary revenues. This is a trend that has been rapidly accelerated by the COVID-19 pandemic.
"Those on longer flights really want to stay connected, which is something that airlines are increasingly trying to cater to."

Job Heimerikx, CEO and Founder, AirFi
We've brought these two things together in one cabin innovation that allows passengers to purchase goods and services and to enjoy IFE content, all while relieving crew from unnecessary adminstrative tasks.
Finally, in the past few years, enabling third parties to bring more eCommerce-like offerings to the aircraft via seatback or portable solutions has been a big trend. We've captured that in one phrase, which emphasizes the experience AirFi hopes to deliver, that of the 'Mall in the Sky'."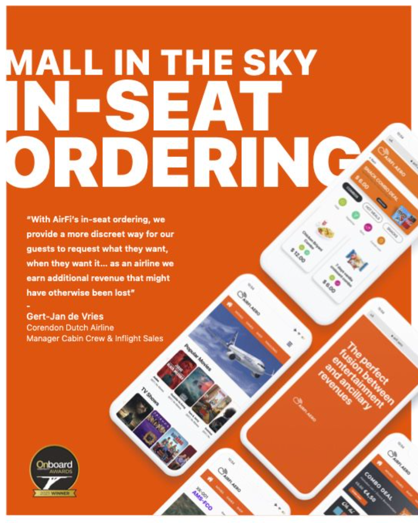 How have we seen passengers' expectations for connectivity and entertainment offerings on board change in that same time period?
"During the same period, we've seen passengers come to expect to communicate with their peers and loved ones, wherever and whenever. We've seen the rise of WhatsApp and iMessaging and all these things that have exploded in the last 5 to 10 years, and now it feels like they've been there forever. They're almost a basic human need.
"Simply offering connectivity as a paid service is not a compelling business case for an airline."

Job Heimerikx, CEO and Founder, AirFi
Now if we translate that to the aircraft, into the cabin, then having IFE content is a great benefit for short-haul passengers, but those on longer flights really want to stay connected, which is something that airlines are increasingly trying to cater to.
We're trying to do the same thing with our AirFi LEO product. Airlines have been giving away free messaging for the first half hour or first hour of a flight to incentivise people to buy a connectivity package that allows them to browse the web and send emails.
But actually the messaging itself is primarily what passengers want to do, the same as they would at home. That's the biggest change we've seen in the last 10 years."
How can connectivity on board play a role in supporting airline efforts to deliver ancillary revenue and more efficient onboard service operations?
"There are big GEO satellite providers as well as operators like Air Canada that openly claim simply offering connectivityas a paid service is not a compelling business case for an airline.
Additional functions are required in order to have a positive business case. The connectivity needs to boost or support cabin services and even flight deck services to really generate profit from installing an antenna on top of the aircraft.

At AiFi, we see connectivity supporting cabin operations from a commercial standpoint by providing payment validations and eliminating fraud, as well as enabling third parties to have eCommerce services running on the onboard server platform.
From an operational standpoint, we see an enormous demand for ACARS over IP (AoIP) synchronisation of electronic flight bags. Connectivity also enables crew to report inventory information for the replenishment of food and duty-free stock; provide passengers with updates on connecting flights; and log unruly passenger behaviour or maintenance issues such as broken seats.
These things shorten turnaround times, and every five minutes that an airline gains saves a significant amount of cash."
Will we see a complete IFEC paradigm shift in the next 10-20 years?
"Yes. I hope these functionalities and this kind of technology will contribute to a greener future for airlines.
It's not very fuel efficient to have a big antenna on top of an aircraft, because it increases drag by about 4%. This issue is negated by our LEO solution, which is located in the aircraft windows. It's also more efficient to opt for air to ground solutions, which only require a very small tip antenna on the bottom of the aircraft.
In my opinion, we should very much aim for technology that contributes not only to the passenger experience, but that significantly reduces weight in the cabin and, most importantly for antenna systems and technology, seriously reduces drag."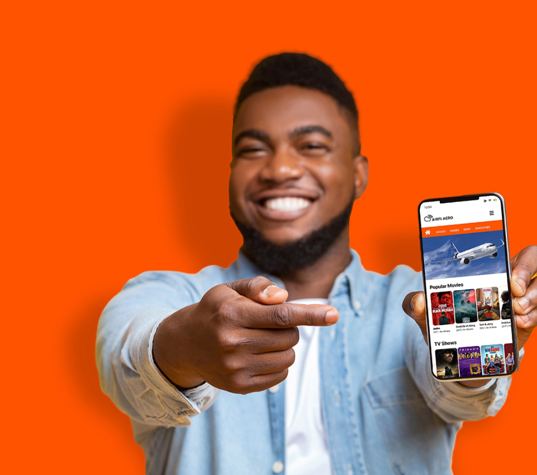 Besides thinking green and lightweighting, do you see any other IFEC trends in the industry?
Yes – there's a huge amount of waste going on within the industry. If you have buy-on-board catering, the perishable items at the end of the day contribute to a significant amount of food waste, which can be reduced quite easily.
The solutions we're now bringing to the market, again with our 'Mall in the Sky' approach, include a system that takes note of the fact it's the last flight of the day, for example. It looks at both inventory and passenger demand to see whether to reduce the price of, say, a sandwich.
"Connectivity needs to boost or support cabin services and even flight deck services to really generate profit from installing an antenna on top of the aircraft."

Job Heimerikx, CEO and Founder, AirFi
It's cheaper to sell a $10 sandwich for $1.00 on the last flight than to dispose of it in a proper manner. Waste reduction is a trend within catering that's been around for a while, and it helps with reducing the aircraft weight too.
During the pandemic, there was some legislation that said paper menus weren't allowed anymore, they had to be digital. That's gone again now, but at least by digitising inflight magazines, our technology has eliminated "bring on board" newspapers.
All these little functionalities significantly reduce the use (and waste of) paper within the cabin space."
How do you see IFEC offerings differing classes and across airlines?
"Going from business class to economy class; that kind of split is quite simple. AirFi, and also others, can provide different offerings to different travel classes. We have apps to do that, where we provide voucher codes if economy class passengers need to pay for certain goods.
We can also bypass the paywall for business class passengers. That's all existing technology.
"We should very much aim for technology that really contributes, not only to passenger experience, but that really reduces weight significantly."

Job Heimerikx, CEO and Founder, AirFi
One of the bigger trends we're looking at is not so much how to differentiate between classes, but how to differentiate between every single passenger. To make sure that, both from a commercial standpoint as well as from an entertainment and product offering standpoint, you create an environment that is relevant to the traveller.
A very simple explanation example would be:
Are you a leisure or business flyer?
Are you going to a meeting or returning from a meeting?
Are you embarking onyour holiday or coming back from your holiday?
These are all different mindsets that require different offers and different content. With the filter of business class versus economy class on top, you can get much more relevant information to an individual or group of individuals.
Then you can share that information between individuals, like, "Other people of similar interests are looking at this movie , would you be interested in watching it?' Or, "You're looking at this product, can we also interest you in this product?" That kind of technology is now evolving very rapidly."
Take your place at AIX, the latest world's leading marketplace for airlines and the supply chain to meet exhibitors like AirFi with solutions to enable the cabin concepts of the future.
---
---