The AIX team sat down with aerospace thought-leaders, market disruptors and established companies to discuss how Inflight Entertainment and Connectivity (IFEC) can keep up with changing passenger expectations.
The team spoke with Matt Landel, Director of Applied Technology, Astronics.
What are your predictions for connectivity in the cabin in 2023?
"Customer desires and expectations will continue to drive installation and upgrade of cabin connectivity systems. The move towards ubiquitous connectivity and various forms of complimentary service are following the same evolutions seen in the ground hospitality industry over the last decade.
Increased bandwidth to more seats in combination with streaming IFE will drive transition to the newer Wi-Fi technologies already incorporated into recent personal electronics devices. More aircraft will have IFC capabilities added and commercial airline passengers will seek consistent, easy access across the entirety of airline fleets."
How do you see in-flight connectivity evolving in the next five years?
"There is and will continue to be a roll-out of new technologies into the in-flight connectivity space. Airlines and OEMs will continue to focus on long-term return-on-investment given that installed connectivity equipment will remain on the aircraft for a significant length of time.
Both factory installations and retrofit installations will move further towards implementation of industry standards that can help future-proof the investment as the landscape of technology and network service providers evolves.
As new technologies enter the market, the performance, size, cost and ease of installation and servicing are all improving. Advances in electronics and RF components are allowing for more compact installations and improved performance, limited only by the physics of capturing and transmitting the energy required to move data at the desired speeds. These advances are happening in all three domains: ground, satellite, and aircraft.
Network architectures are leveraging these advances to provide dynamic allocation of bandwidth. Traditionally, bandwidth from a satellite was distributed to and shared by users on a continental basis, now GEO/HTS and LEO/MEO beams can distribute bandwidth into much smaller geographic areas.
Advances in modulation and satellite capabilities have dramatically increased the bandwidth that can be passed through an individual satellite, with modern satellites now supporting tens, hundreds, and even thousands of individual beams down to the earth.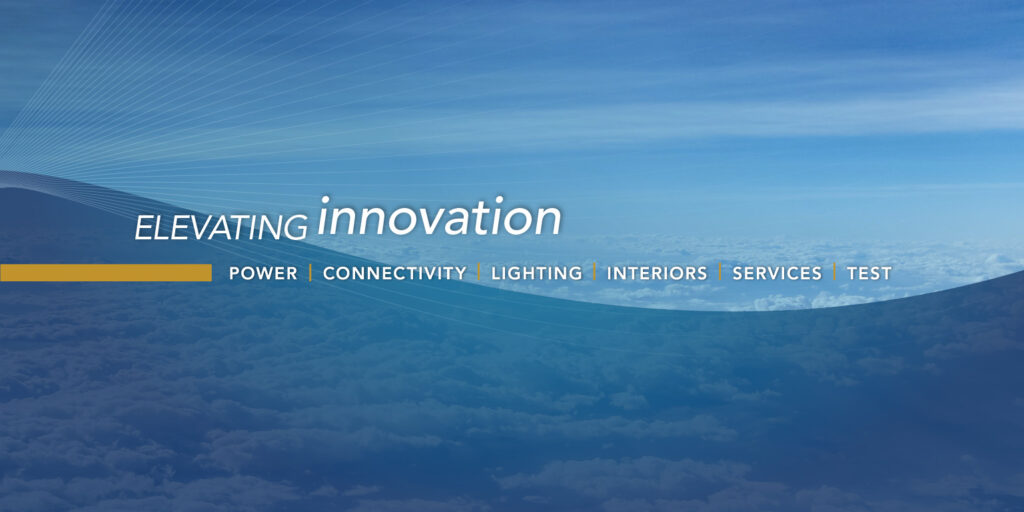 ARINC-791 and 792 standards are being updated and advanced to increase commonality, especially in the area of provisioning commercial aircraft for IFC from the factory."
Some estimations have put the "take-rate" for on-board Wi-Fi at just 6%, with some lamenting the poor connection and inability to stream content.
How do you see the role of WiFi changing in the cabin going forward?
"The application of technology on multiple fronts is improving the reliability and bandwidth available to the aircraft. Astronics is fielding systems that consistently provide better than 96% in-flight availability including regulatory and beam-switch outages. Increased bandwidth, reliability, and lower usage costs will all increase take-rates and improve airline customer satisfaction scores.
Wi-Fi 6E will allow increased capability and reliability of the Wi-Fi distribution of both connectivity and high-definition streaming entertainment within the aircraft.
New and existing technologies are being developed, specified, and deployed to aircraft that reduce the friction required to access and pay for services. Existing airline loyalty applications will be upgraded to support and facilitate connections through automated authentication authorisation, and accounting."
The demand to stream content including on short and medium flights has proliferated.
How will airlines ensure they continue to meet this demand?
"Wi-Fi 6E (and beyond) will allow increased capability and reliability of the Wi-Fi distribution of both connectivity and high-definition streaming entertainment within the aircraft. The added capabilities and new bandwidth provided by Wi-Fi 6E is supported by a large percentage of personal electronics devices allowing for highly reliable content streaming.
Both installed and carry-on equipment is now available to support roll-out of streaming IFE to smaller regional jets flying sort and medium flights. This allows airlines to field common IFE content across all equipment fleets. Loyalty apps on personal electronics devices will track entertainment choices and allow seamless continuation of content viewing as passengers transition from leg to leg of their journey."
The EU commission has unveiled plans for airlines to implement 5G technologies onboard for passengers.
Do you see this revolutionising onboard connectivity?
"Different cultures have different approaches to public telephony, which may limit acceptance and deployment of some elements of 5G technologies within aircraft. The standardisation available with 5G technologies provides an additional framework for establishing frictionless connection through automated authentication authorisation, and accounting and can facilitate teaming between the airlines and connectivity sponsors.
5G technologies also provide an alternative radio connection framework that is already built into most personal electronics devices. Sharing and managing of both connectivity resources can provide new capabilities and features for passengers and airline operations including IOT and smart components within the aircraft."
Any other comments or insight you would like to share around the topics of digitalisation and connectivity?
"There are a variety of new satellite, network, and technology promises being offered, all with various time frames and different levels of maturity. Establishing approaches for IFC equipment that provides for agnostic network operation, commonality, and future-proof abilities to grow are required. Astronics has established and demonstrated solutions to the various problems of emerging technologies over the past 5 years.
Leveraging our extensive experience with existing technologies and all of the major satellite networks, these solutions address all of the hot-points of commercial operators while allowing a future-proof path to deploying these emerging technologies.
As a developer, integrator, provider, and servicer of multiple SATCOM IFC solutions around the world on a wide variety of aircraft, Astronics has the experience to understand the trade-offs offered by the various existent and emerging technologies. By leveraging this experience, we can address all the issues that each technology brings and provide the optimal solution for our customer's requirements.
Astronics expects continued growth in the application of emerging technologies and products and we work with our partners to provide agnostic and future-proof solutions to the commercial, business, and government customers that are looking to add or increase the IFC footprint of their aircraft fleets.
Whether it be size, thermal, cost, performance, or ease of installation, Astronics' proven ability to provide the best solution to our customers will support this growth over the next 5-10 years."
---
---