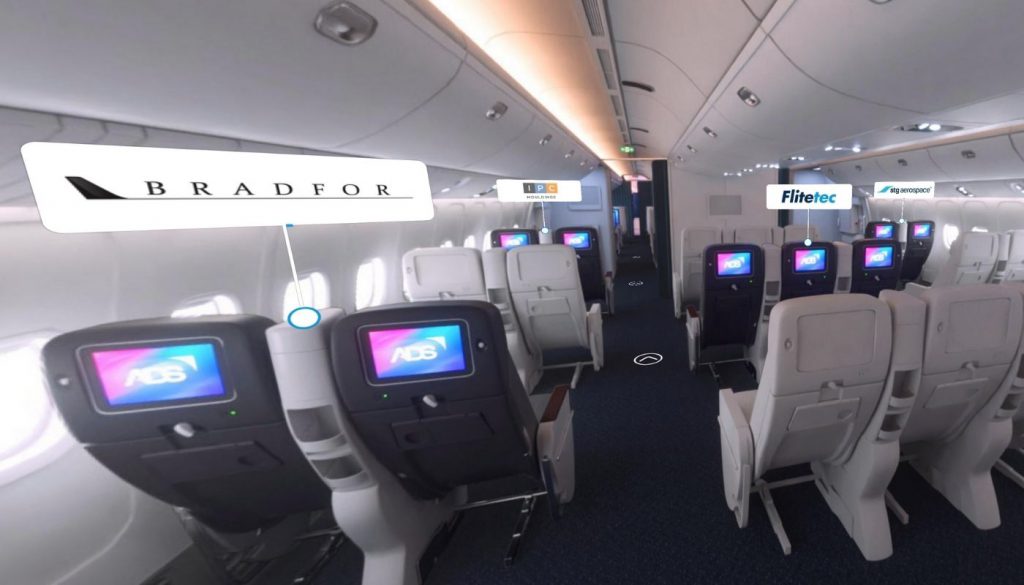 The UK has delivered ground-breaking and influential aircraft interiors designs over the years. It's this innovative spirit and capability that motivated UK aerospace trade association, ADS, to create its Digital Cabin: a virtual interiors capability showcase. Reuben Gomez, from ADS will be at AIX 2022 this year.
"We are thrilled to be meeting face to face at AIX Hamburg this June", says Reuben Gomez, ADS aerospace business development lead. We welcome the opportunity to showcase UK innovation at its best from our cabin exhibitors, including some sustainable new technology. The 3D visualisations are incredibly realistic and I can quickly show a number of products from the single cabin geometry, which can be tricky at a physical trade show".
Digital Cabin – a one-stop global shop
From pioneering seat concepts to advanced electronics, lighting, and expert contract manufacturers, view UK interior excellence in our digital cabin.
Exhibitors include Cecence, an award-winning composite solutions development and manufacturing company, developing lightweight aero interiors using recycled carbon, natural fibres and bio-based resin systems and Airtek, a government-funded consortium between Williams Advanced Engineering (WAE), JPA and SWS Aircraft Certification and was the first entity to sign up.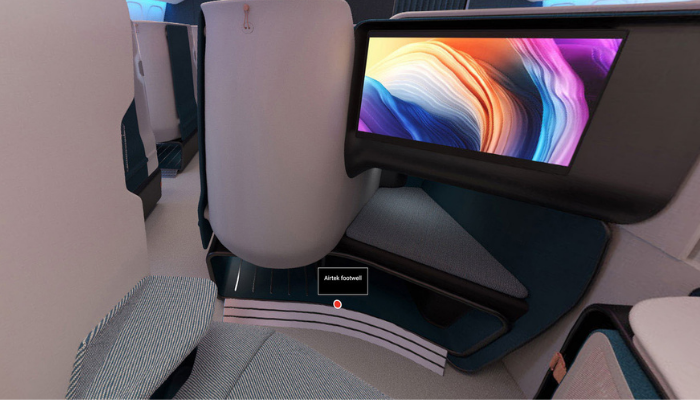 "When ADS told me about the Digital Cabin concept I thought it was a great idea", notes WAE's senior commercial manager, Stuart Olden. "The Airtek seat is a pioneering, premium-class, totally lie-flat configuration and in the virtual cabin environment, people can interact with the seat and its functionality. Airtek's all-composite construction reduces weight dramatically and so cuts all-important fuel burn and CO2 production. Our individual web page incorporates 3D renders, fact sheets and video enabling us to get this message across in a number of different ways."
Other exhibitors include TT Electronics, STG Aerospace, IPC Mouldings, Flitetec, Future Plastics, Cecence and Bradfor with a new exhibitor due to be unveiled at AIX 2022.
"3D visualisation helps build customer confidence and is playing an increasingly important role in the B2B sales process. Buyers can see the products in situ, at scale and from all angles, something that helps for more complex products", comments ADS Marketing & Engagement Manager Nicola Green. "The UK is world-leading in its innovative aerospace products and I'm delighted that we are able to leverage 3D technology to help UK SMEs reach a global marketplace."
Book an appointment with Reuben Gomez to find out more about our cabin exhibitors: reuben.gomez@adsgroup.org.uk.
Meet five of our exhibitors who are also exhibiting at the show:
1. Flitetec – Stand 6A13. Click to see the Exhibitor profile
Flitetec source, make and integrate and are your unique supply chain services partner. Showcasing at AIX the acquisition of an aerospace screen printing company and their range of manufacturing and distribution expertise as well as MX14, a safe aerospace approved water-based cabin solution for Sanitizing, Cleaning & Stain Removal.
2. STG Aerospace – Stand 5A17. Click to see the Exhibitor profile
There are fantastic reasons to visit the STG Aerospace AIX stand this year:
· Exciting Emergency Exit Marking Innovation: Be the first to see their brand new saf-Tglo® emergency floor path marking product development. It's a world first. Your passenger experience, design house and cabin design teams will want to see this!
· Universal Lighting: Grab the first opportunity to experience their new suite of smart, modular universal LED lighting solutions that provide truly flexible systems for your aircraft.
· Business Jets: Learn about their new emergency exit system package for VIP interiors with full customisation options to make your interiors unique.
· Plus visit their stand for a chance to win a pair of Ray-Ban Sunglasses!
3. Bradfor Ltd – Stand Hall B7 D10. Click to see the Exhibitor profile
Northern Ireland based Bradfor Ltd are really looking forward to attending. AIX Expo is always an excellent opportunity to meet with their customers, build on existing relationships and develop new ones within the aircraft interiors sector.
4. IPC Mouldings – Stand Hall B7 D10. Click to see the Exhibitor profile
Also from Northern Ireland, IPC Mouldings are delighted to be back exhibiting at the AIX Expo this year after a short hiatus. It is one of the 'must attend' events for the aircraft interiors sector and they are looking forward to seeing the new trends, innovations and technologies in the industry.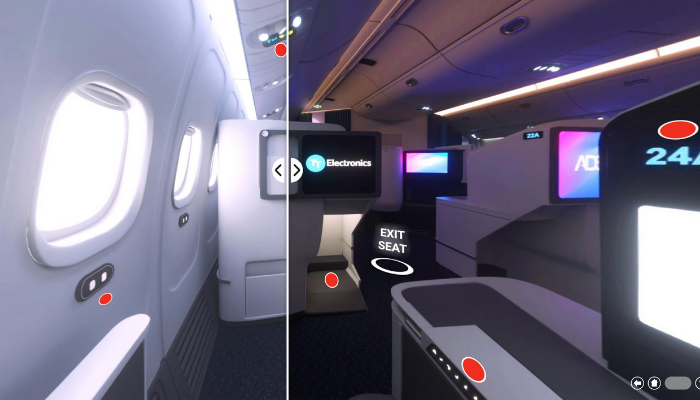 5. TT Electronics – Stand 2E29. Click to see the Exhibitor profile
Airlines are constantly challenged to enhance the passenger experience through technology, especially in seat controls, signage and ambience.
TT Electronics develops customised interface and lighting solutions using materials certified for flight; passenger control units (PCUs), cabin signage, mood lighting, seat identification and suite information panels will be featured at the show.
With considerable expertise in thin-film backlighting, the company will also demonstrate its latest mood light solutions – lightweight, homogenous, and power efficient alternatives to current competitive offerings.
At Aircraft Interiors Expo 2022 they will showcase their innovative and power-efficient products that improve the passenger experience through lighting technology including SIP panels, seat number illumination, stowage and accent light solutions.
They are also excited to featuring our cutting-edge low-profile lighting at the show, developed in partnership with global airline seating customers for exclusive installation in First and Business class cabins.
TT Electronics' patented light guide system provides package modules with a depth of less than 10mm while still retaining high quality intensity and an even distribution of light without problematic hotspots. The lights are available in RGB-W aligned to airline branding guidelines and feature functional features such as DND indicators.
TT Electronics interface and lighting solutions can be certified to all Airbus and Boeing In-Seat requirements.
www.digitalcabin.aero
---
---