Moves to reduce emissions are currently concentrated on airframe and operational innovations, plus new energy sources, while the interiors community's focus is on materials and systems that underpin cabin function.
The transformation of the cabin will be largely incremental and almost invisible, but nonetheless vital in supporting aviation's environmental goals. And when we look back from the future, these will all add up to a quiet revolution.
The route to carbon neutrality
Lukas Kaestner is the Co-Founder & Chief Operating Officer of the Sustainable Aviation Lab, the organisation behind the Sustainable Aero Lab accelerator programme for start-ups aiming to move aviation to a sustainable future.
Kaestner observes: "For aviation to reach carbon neutrality, there will be no single method to get us there, but instead we will have to look at a combination of many factors – and this includes interiors." He adds: "We still see weight as one of the key components to lowering emissions, and we believe interiors can play an important role here."
The requirement for low maintenance lightweight interiors can only increase in importance as carriers position themselves for the post-coronavirus recovery and turn to addressing environmental goals.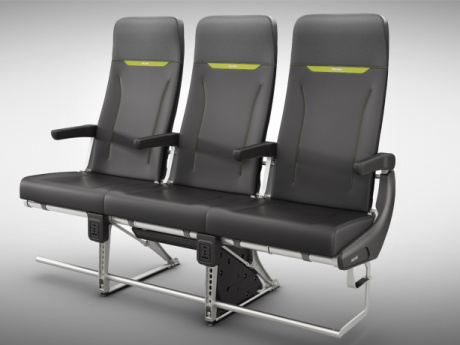 Innovative changes to the seat cushion, pan and structure, lightweight materials and recycled leather covers, plus optimised components all helped Recaro Aircraft Seating deliver an 8kg seat that requires 50% less maintenance. In March 2021, the SL3710 economy seat made its North American debut on Frontier Airlines' A320neo aircraft to support the low-cost carrier's (LCC) quest of being 'America's Greenest Airline'.
The Recaro seats will also be rolled out to fellow carriers in the Indigo Partners portfolio of airlines, including Wizz Air. The European LCC aims to reduce its carbon footprint via a combination of utilising efficient Airbus aircraft and prioritising lightweight cabin products.
Sustainable composite materials
Similarly, Cecence, whose mission is to bring the benefits of lightweight sustainable composites to the industry, has collaborated with Doy Design to utilise bio-resin in a compression moulding process to develop a seat weighing just over 7kg. The team state the Ultra Slim concept can reduce the overall cabin weight of a short-haul A320 by over 500kg compared to existing lightweight seats on the market.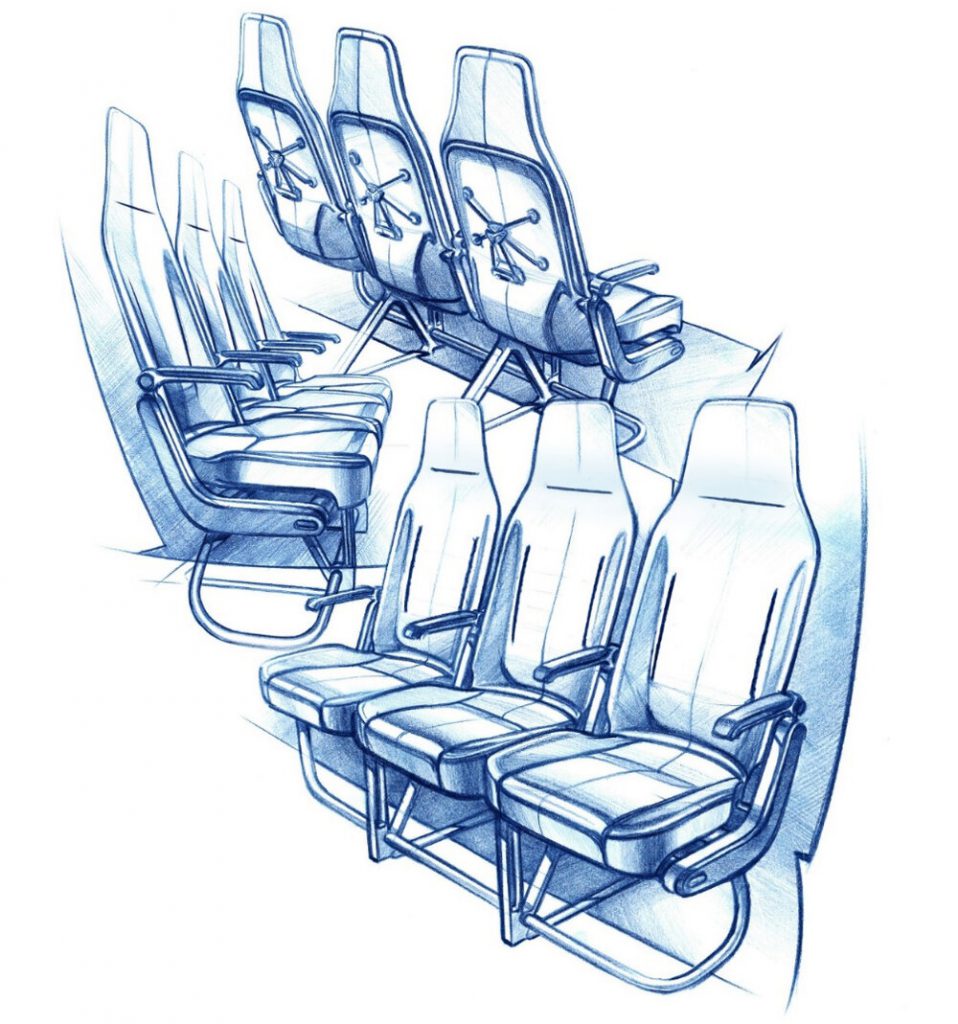 Speaking with Samantha Bunyan, Cecence Co-Founder & Head of Industry Engagement, she explains that bio resins are manufactured from agricultural waste and provide comparative strength with more traditional phenolic resins. She adds: "Integrating recycled carbon fibre and where possible natural fibres to replace or work alongside more typical reinforcements such as virgin carbon and glass fibre can contribute a great deal to reducing the carbon footprint of the cabin interior and in the case of natural plant fibres in particular, through their ability to sequester CO2 through their growth, prior to transformation into an end product."
Cecence is working closely with the UK's National Composites Centre on a life cycle analysis that has been built into its sustainable seat back development programme. Bunyan says: "We have collected wide ranging data from where the materials originate, how they are transported, how waste can be eliminated and where energy savings can be made. This enables a greater awareness of which elements within the supply chain and within the manufacturing process can be adjusted to deliver an end product where the carbon footprint is significantly reduced."
Focus on the full life cycle
Incorporating the ability to recycle, re-use and repurpose into design processes is challenging. Boom Supersonic, which is developing the next-gen Overture supersonic commercial aircraft, is planning for a decommissioning and recycling process that may not begin for 40 years. In a Boom blog post published in March 2021, Raymond Russell, Head of Sustainability and Environment, acknowledges that today an international recycling standard is not in place for many of the materials that will be used to build Overture.
"Our team is focused on selecting materials that have the highest probability for safe recycling, in addition to weighing critical aspects such as safety and performance," he says. "Looking closely at recycling, we're examining the likelihood of whether a market will exist for those recycled materials in several decades. If we were to recycle Overture today, the supply chain may not support the effort. But in 30 to 40 years from now, that same supply chain should be thriving."
Kaestner agrees that sustainable aviation needs a mindset that covers all aspects of the value chain, including end-of-life. The Sustainable Aero Lab is currently focused on lowering all emissions of flights, however, it is also open to supporting end-of-life solutions. "Separately, for aircraft interiors, I see the end-of-life discussion as one of the most pressing. The current status here is not satisfying enough," Kaestner says.
A different approach to sustainability
Another approach to lightweight cabins is to innovate around reducing the amount of water that has to be carried onboard. Diehl Aviation's Grey Water Re-use concept, winning entry at the 2020-21 Crystal Cabin Awards, treats greywater from the wash hand basin for re-use in flushing the lavatory. The cabin equipment and systems OEM claims that reducing water consumption onboard offers cost savings and can make a significant contribution to reducing the environmental impact of air traffic.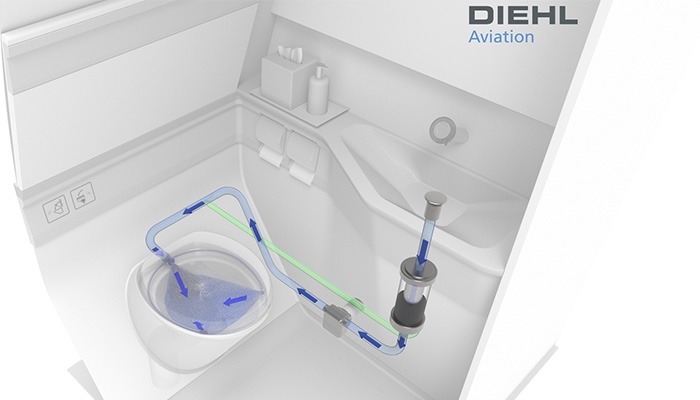 It's not just lightweight material in traditional aircraft that could lead to more sustainable flight, but also the raft of small hybrid- and electric-powered aircraft in development. If the ambitions of the organisations involved come to fruition, some could be in service before the end of the decade.
For example, Rolls-Royce, Italian airframer Tecnam and Widerøe, Scandinavia's largest regional airline, are aiming to introduce a small all-electric commuter plane into service in 2026. The Electric Aviation Group also expects that its 70+ seat HERA or Hybrid Electrical Regional Aircraft will be ready for delivery in 2028. EAG also views HERA as a blueprint for larger, long range aircraft concepts as propulsion and energy storage technologies develop.
New digital tools will also be key to building more sustainability into 'start-of-life' product development and iteration processes. The autonomous sustainable cabin project, ANKA, launched last autumn by technological research and development platform ZAL alongside Airbus is working to create simulation and measurement methods that will reduce the number of test flights usually required to assess the real potential of new technologies to increase cabin comfort. ANKA is applying this approach to simulating and testing the performance of new advanced materials to reduce noise and vibration in the aircraft cabin.
Sustainability the number one priority for airlines
More than 100 years before the Wright brothers took to the air, Sir George Cayley defined the principals of aerodynamics, and it immediately occurred to him that new technologies to make planes lighter would be a critical issue. Cayley's desire to reduce weight is no less relevant today as the aviation industry focuses on reducing its carbon footprint and improving sustainability
Climate change demands disruptive thinking from the entire aviation industry. The challenges – and opportunities – facing the cabin interiors community may not be as eye catching as new aircraft designs and low-emission propulsion, but they are vital to effect the necessary paradigm shift of the future. To all intents and purposes, for airlines and passengers, the cabin may pretty much look the same, and may perhaps be all the better for its familiarity, but it will function smarter and better in every way possible.