A majority of travelers are looking for the best service when choosing a flight. As the airline industry goes through an uncertain period, now is the time to focus on improving the passenger experience. In this four-part series, we will look at how new technology will help to create a great onboard experience for all passengers.
Passengers make decisions based on good experiences
Of 73% of those surveyed for the 2018 IATA Global Passenger Survey, a good experience was the major factor when deciding who to fly with. The survey also found that customers would pay more for what they perceive as a great experience. That includes greater efficiency, more convenience, friendly service and easy payment ranked as the most important attributes.
The IATA Global Passenger Survey also revealed that passengers would be happy to pay 10% more for their ticket in return for outstanding customer experience. In the US, 63% of customers say they'd even share more personal information with a company that provided better service.
Conversely, just one bad experience could be enough to drive customers elsewhere. Of all respondents, 32% say they'd stop interacting with an airline or operator after one bad experience, even one they loved. This figure rises to 50% of Latin-American passengers.
When asked about the importance of the passenger experience when flying, 73% of respondents said it was important, but less than 40% are satisfied with their journey. This is an experience-expectation gap of some 33% and clearly shows the aviation industry still has some way to go.
That means there are plenty of opportunities for improvement. We've been examining how technology can enhance the passenger experience onboard and deliver value, efficiency and customer satisfaction for the future. Read on for the findings and what you can start planning now.
Part one: The value of in-flight connectivity
As technology advances, today's passengers are looking for more digital control and information throughout their journey. Modern expectations of seamless connectivity and personalised experiences on-the-ground and in-the-air are creating an opportunity for airlines.
The demand for inflight Wi-Fi is driving airline loyalty. The fourth annual global Inflight Connectivity Survey from Inmarsat found that nearly two-thirds are likely to rebook with an airline if high-quality inflight Wi-Fi is offered. The research revealed that inflight Wi-Fi is the fourth most important factor when choosing an airline, behind an airline's reputation, free checked baggage and extra legroom.
Inmarsat leads the way in connectivity
At the forefront of this innovation is Inmarsat. While exhibiting at Aircraft Interiors Expo (AIX) 2019, they showed off their GXAviation solution and involvement with the European Aviation Network (EAN). The network combines high capacity satellite coverage along with a 4G LTE ground network to provide high-speed coverage across 30 European nations. Designed specifically for high traffic flight paths and busy airport hubs, the network delivers more than 50bps capacity. This delivers 'a reliable in-the-air as on-the-ground broadband service', supporting streaming and other high bandwidth requirements.

The service is already available to more than 30,000 passengers every day on more than 100 routes across the European continent. This equates to almost two million passengers travelling on flights with access to the inflight broadband solution since its launch.
Gogo picking up speed
Another company that is rolling out onboard connectivity is Gogo. They revealed that 78% of the global travellers polled in its 2018 Global Traveler Research Study wanted inflight internet. At least 30% were looking for inflight internet availability when booking their flight as well. The report also reveals that 55% of passengers consider inflight internet a necessity on all flights. However, only 33% of those surveyed used inflight internet services in the 12 months prior to the survey. This could be due to technical errors, perceived slow speeds, or prohibitive costs for the customer. The next generation of connectivity services will solve all three problems though.
Gogo's own inflight connectivity services are now available on more than 3,000 aircraft, including 1,100 with its 2Ku next-generation satellite technology. A further 300 aircraft currently use its Ku satellite data and voice network and around 1,700 its ATG cellular radio network.

Speaking at AIX 2019, Blane Boynton, Senior Vice President Product Management at Gogo said: "From a passenger experience perspective, Gogo's 2ku next-generation satellite technology opens up a whole bunch of applications and new onboard experiences. One of the items that have gained a lot of airtime is the ability to stream content to the seat."
A recent partnership with Netflix unveiled new possibilities for in-flight entertainment options. Boynton added, "Now, we're starting to see onboard services evolve as passengers try to connect with their own content, or that offered through Netflix or Hulu or other providers."
"One of the items that have gained a lot of airtime is the ability to stream content to the seat."
Passengers also want to keep in touch with their loved ones on the ground and provide updates on their flight. Boynton stated: "One of the products we've seen a lot of uptake for this year at Gogo is a free messaging product. 2ku can enable a spectrum of experiences from a lower bandwidth messaging pass that allows passengers to use iMessage or WhatsApp in the back of a plane, sponsored by an airline or a credit card."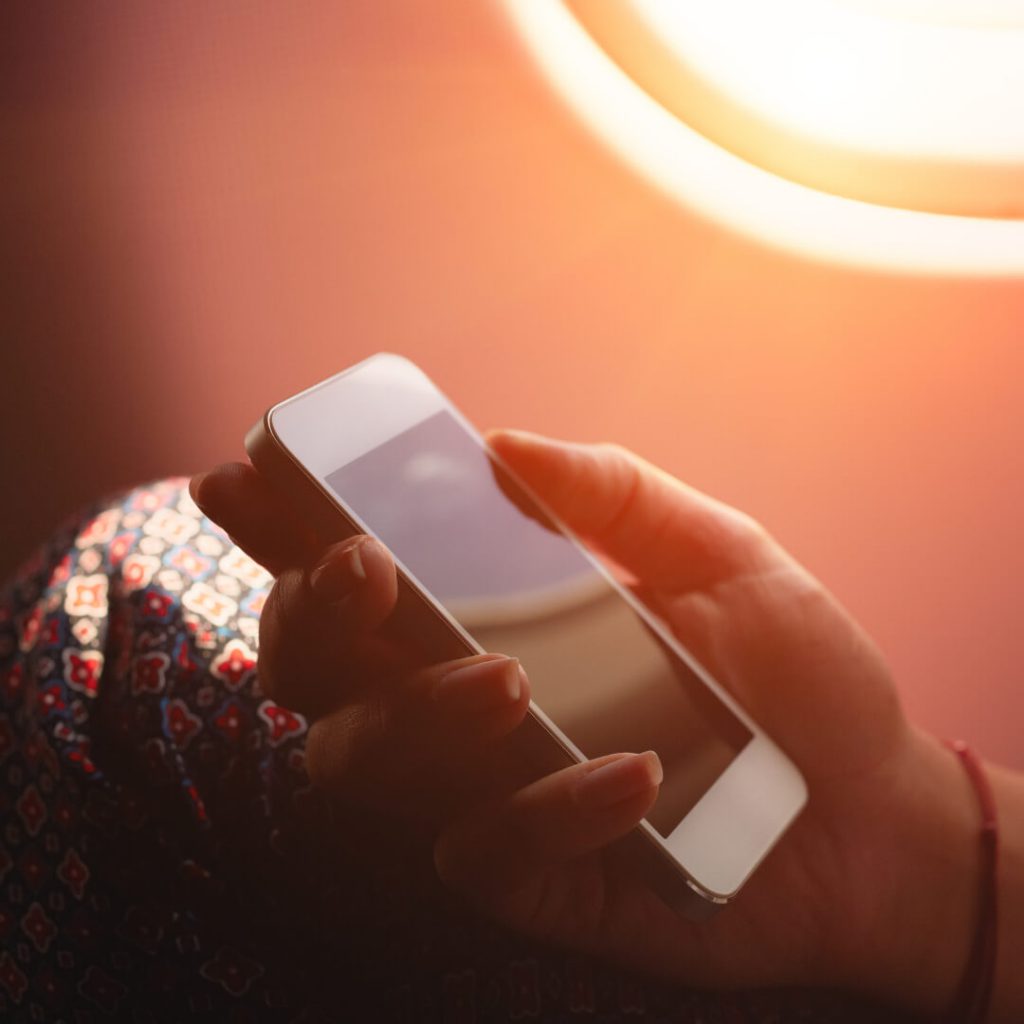 The good news for passengers who value onboard connectivity is the service is fast becoming a reality. British Airways had 90% of its aircraft connected to its high-speed, onboard Wi-Fi service by the end of 2019.
Passengers on Norwegian long-haul flights will also be able to browse the internet and send emails on more than half of its fleet of 747 Dreamliners by the end of 2020. Norwegian, which has offered Wi-Fi on its European short-haul flights since 2011, claims to be the first budget carrier to introduce the service free-of-charge on intercontinental flights.
Widespread adoption is not that far behind as analysis by travel comparison site, Traveloka, which revealed that only 10 of the world's 50 best airlines, as ranked by Skytrax, have yet to introduce Wi-Fi on any of its planes.
Passengers prefer Wi-Fi over refreshments
The potential for in-flight connectivity (IFC) is clear. The bandwidth costs are falling which enables airlines to offer a more affordable and improved internet service that will enhance the passenger experience. The onboard connectivity also offers airlines significant ancillary revenue streams, with the sector anticipated to reach $30 billion by 2035, according to research from LSE.
IFC is holding its position as a key factor of the passenger experience, with research from Inmarsat finding passengers would rather have access to inflight Wi-Fi than food or a complimentary beverage. Many airlines are opting to provide free-of-charge services in response to growing passenger demands. Whether onboard services are paid for or offered for free, the airline industry must reap the benefits of happy, loyal and connected passengers on every flight.
Join us next week for Part Two, as we look at the transformative power of technology.
Sign up for the latest exhibition updates and industry insights here.