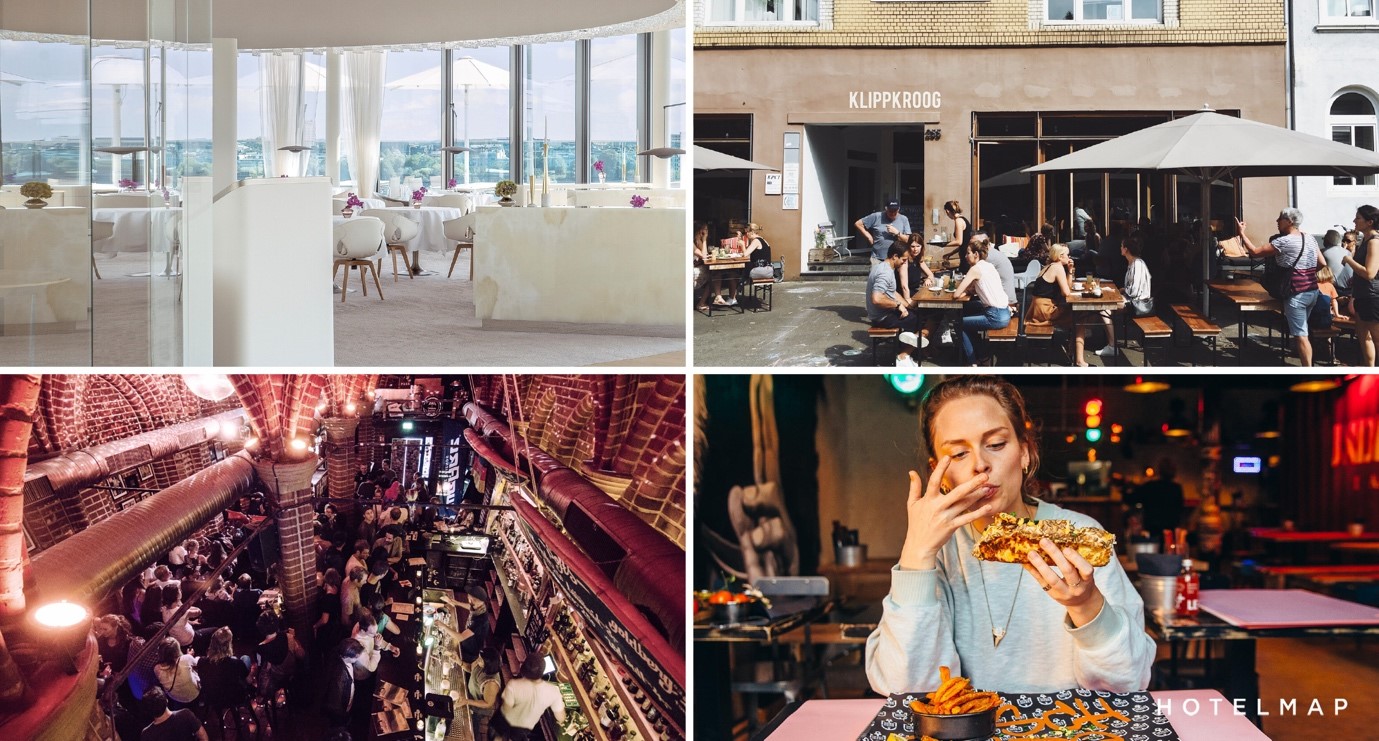 The Official Hotels Partner of Aircraft Interiors Expo, HotelMap™, has put together a guide to the city. Discover the top restaurants, bars and cafes in Schanzenviertel, Karolinenviertel and St. Pauli – three of Hamburg's most exciting neighbourhoods renowned for their food and drink scene – as well as post-event activities including foosball championships and beer pairing dinners. Plus, the chance to visit the world's largest miniature airport. Read on to discover how to make the most of your time in Hamburg during Aircraft Interiors Expo 2020.
Where to eat in Hamburg
Lakeside Restaurant at The Fontenay
A five-minute walk from Hamburg Messe, in the hipster Karolinenviertel district, XeÔm Vietnamese transports diners to the streets of Hanoi through both its décor and menu. Plastic stalls and metal tables give it an authentic appearance while classic dishes like glass noodle salads, Pho and fresh spring rolls make up the bulk of the menu alongside Vietnamese beer and coffee. A few doors down, Lesser Panda Ramen is another trendy spot that's ideal for a casual lunch or dinner. Here homemade noodles sit in flavoursome bowls of broth that have simmered for 12 to 18 hours while in-house fermented miso paste, punchy pickled vegetables and locally sourced organic meat complete the hearty bowls. Vegan options are also available along with grilled cheese sandwiches and craft cocktails created with house-made syrups.
In neighbouring Schanzenviertel ­­– arguably the coolest district in Hamburg thanks to its boutique cafes, cheap eats and casual vibe – Otto's Burger is just a fifteen-minute walk from Hamburg Messe. Run by former investment bankers who spent years living in London, the eatery takes inspiration from the English capital and was one of the first in Hamburg to serve contemporary brioche bun burgers. Alongside the classics, diners can choose from indulgent toppings such as pulled beef and waffle fries while sides include chipotle cheese fries, poutine and spicy slaw. Nearby, Bistro Carmagnole is a more refined affair serving French classics – think moules frites, steak tartare and whole artichokes – against a charming backdrop of rustic wood furnishings, retro floor tiles and large chalkboard menus.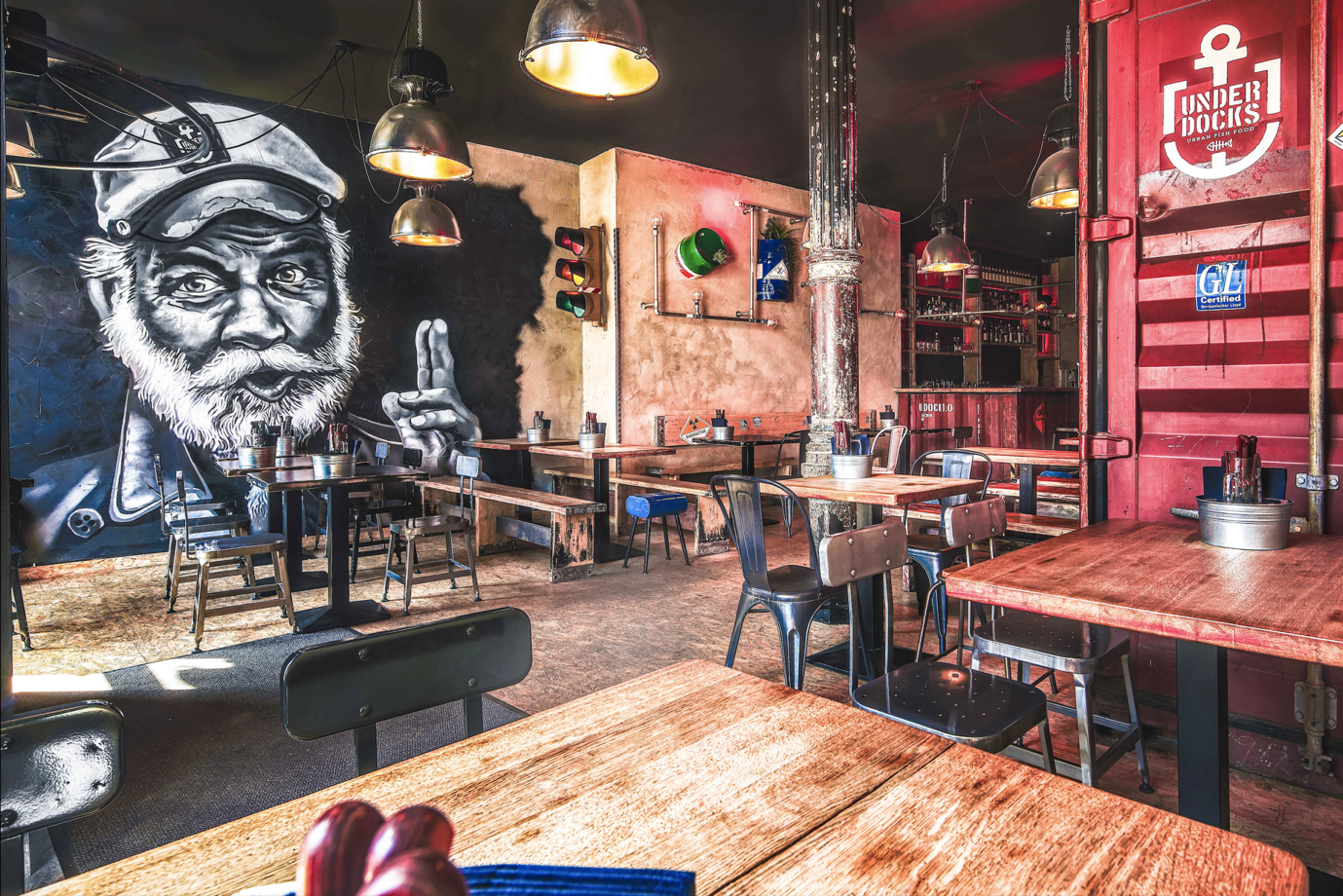 Underdocks / Photo credit Philipp Burkart
With historic links to Hamburg's blue-collar and artistic communities, the St. Pauli neighbourhood has successfully retained its gritty, bohemian edge while also transforming into one of Hamburg's best foodie hubs renowned for its low-key neighbourhood restaurants. One such restaurant is Krug, a charming candlelit tavern where locals gather all throughout the week. The short menu changes regularly with regional dishes such as mussels and fennel in white wine sauce served alongside a selection of fine wines. Dinner at Krug will also place you near to Clockers and Standard – two of Hamburg's best bars. Another lovely candlelit venue in St. Pauli is Restaurant Nil where a seasonal menu is created through the use of produce sourced from local organic farms. Wohlers, meanwhile, is set within a former 19th century pub and serves hearty German and French classics such as veal schnitzel and moules frites against a low-key backdrop of wood furnishings, exposed brickwork and striking blue walls.
Nearby, Underdocks offers a contemporary take on a traditional fish stall. Rustic wooden benches, industrial corrugated metal and bright neon lights along with an oversized mural of a sea captain create the perfect urban backdrop for feasting on fresh lobster rolls, pulled salmon tacos and crispy fish and chips. This is fast food at its gourmet finest.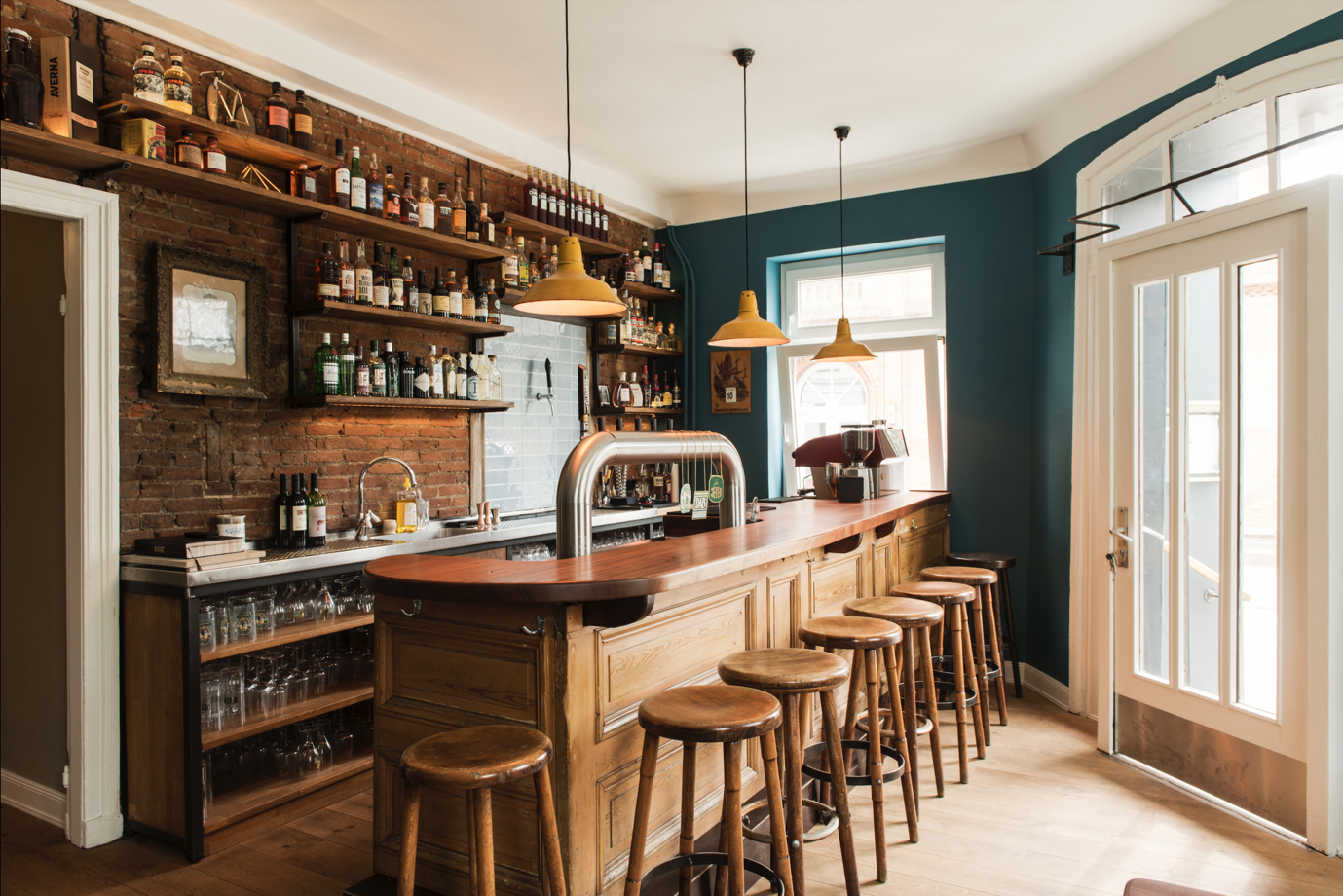 Wohlers / Photo credit Katrin Saalfrank
For a fine dining experience, travel to the scenic shores of the nearby Alster lake where you'll find high-end hotels The Fontenay and Hotel Vier Jahreszeiten. Both properties boast Michelin-starred in-house eateries with the latter laying claim to Restaurant Haerlin – one of only three two-Michelin-starred restaurants in the city. Here Executive Chef Christoph Rüffer serves refined Mediterranean cuisine against an elegant backdrop of silk wallpaper, gold accents and lakeside views. Begin your evening with an aperitif in the cosy Jahreszeiten Bar – billed as the smallest bar in Hamburg. At The Fontenay, the one-Michelin-starred Lakeside Restaurant pairs contemporary cuisine with panoramic views across the lake and the city while The Fontenay Bar offers unrivalled 360-degree views along with carefully crafted classic and experimental cocktails.
Best places to drink in Hamburg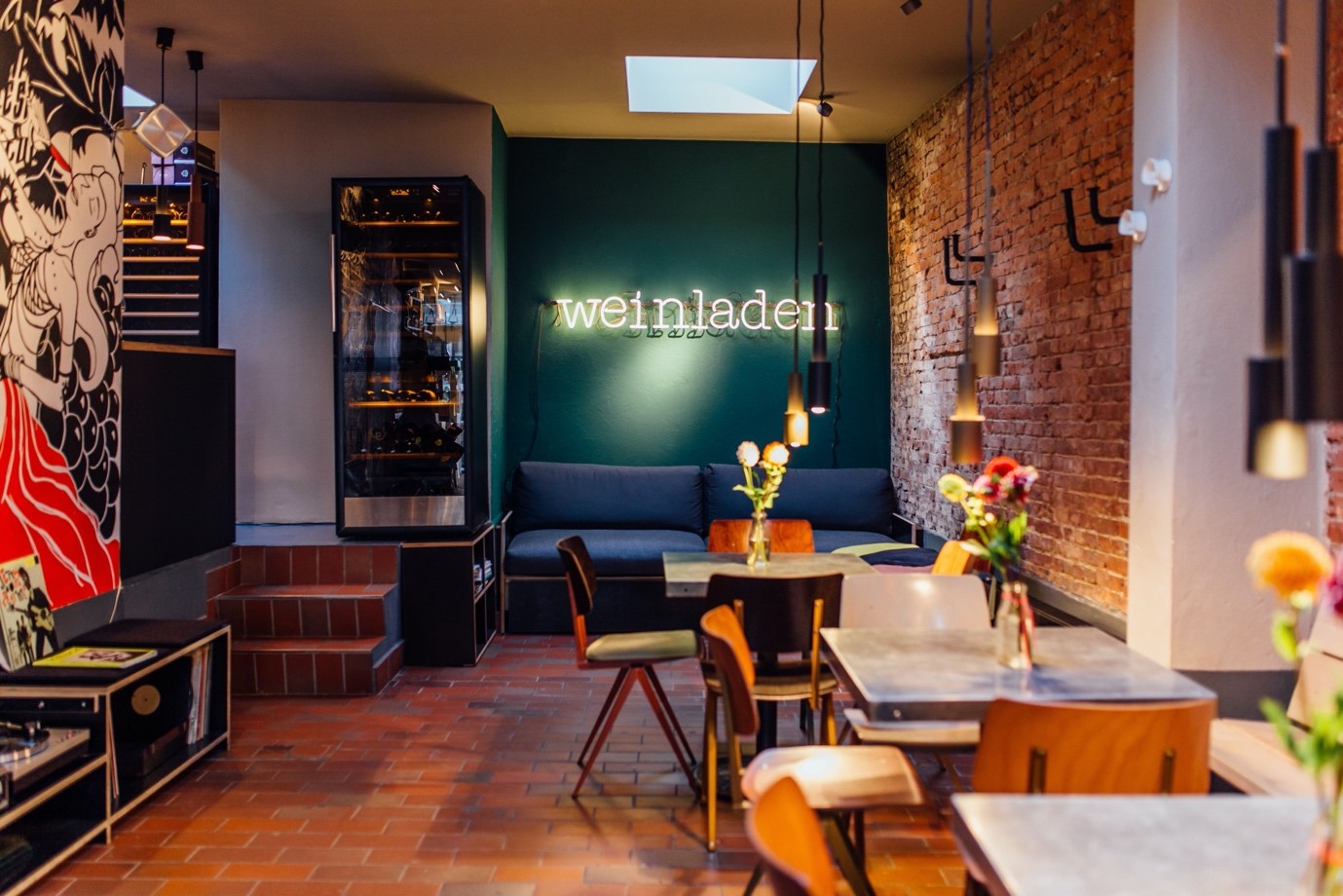 Weinladen / Photo credit Weinladen
Bringing a taste of the Amalfi Coast to Hamburg, Standard is the city's first authentic aperitivo bar. Taking inspiration from the Italian tradition of stuzzichini – the southern Italian equivalent of antipasti – the venue serves a selection of daily changing small plates alongside Italian negronis, spritzes and Prosecco. With delicious plates of cheese, chutney and olives served to groups on long, convivial tables it's a welcoming spot to begin or end an evening. A few doors down, Clockers is an intimate cocktail bar with a fairy tale quality. Vibrant green moss and chunks of wood line the walls, fairy-lit tree branches stretch across the ceiling and rustic wood details make up the bar.
In the southern end of St. Pauli, The Chug Club and Drip Bar are two more of the city's best cocktail bars. The latter is a tiny speakeasy that specialises in molecular concoctions created by dripping spirits through a filter filled with flavoursome ingredients for up to 24 hours. Everything from tequila dripped beetroot and bourbon dripped juniper to rum dripped salty peanuts and gin dripped chamomile feature in the unique, flavoursome cocktails. At The Chug Club, tequila is the headline act with experimental creations served in moody gothic surroundings.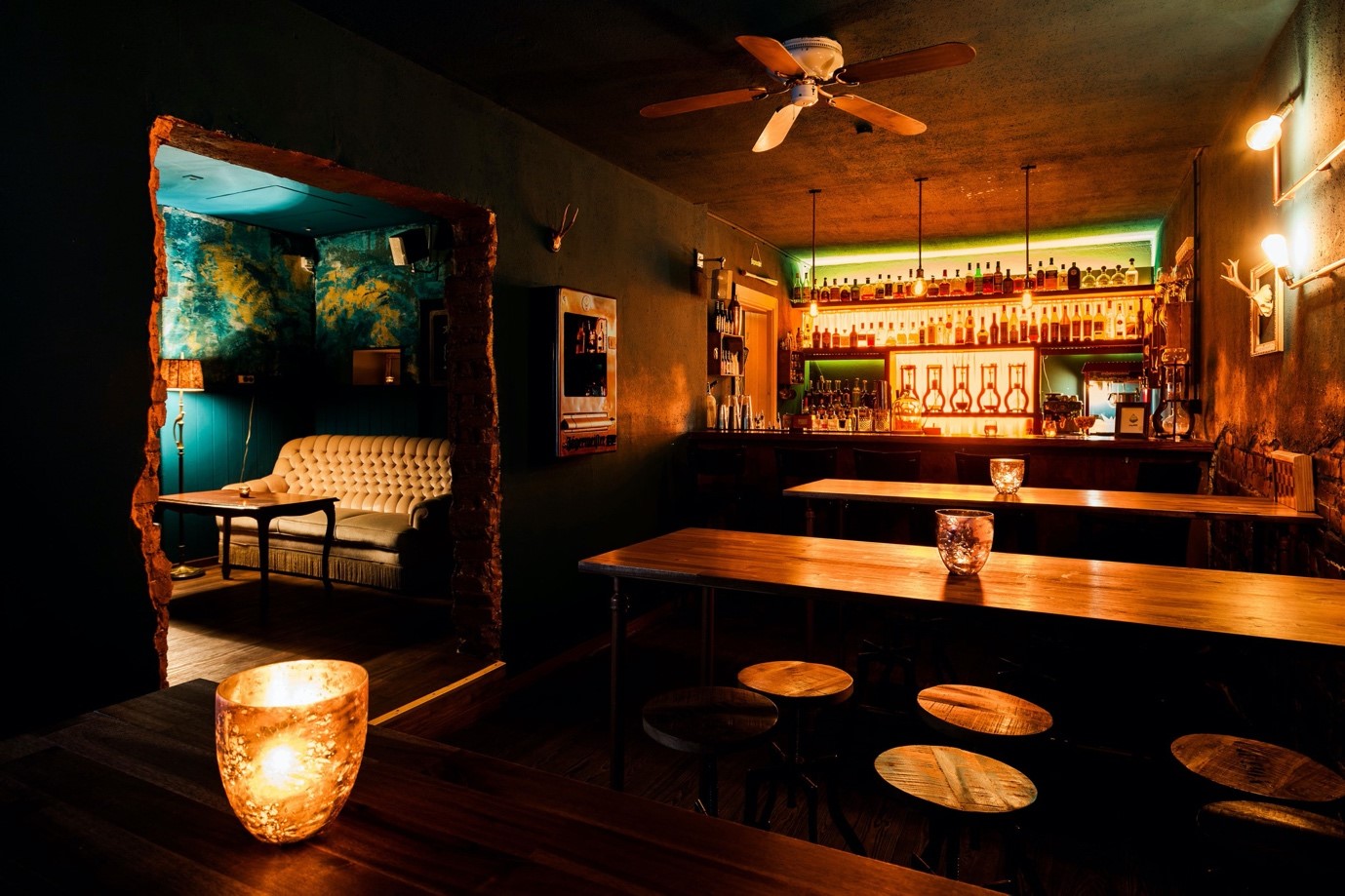 Drip Bar
If wine is your preferred tipple, be sure to pay a visit to Weinladen wine shop and bar. Here more than 200 varieties are stocked in the shop with a different selection available each night in the bar alongside platters of cheese, bread and charcuterie. The stripped back setting brings together exposed brick walls and flooring, metal tables, and classroom style chairs, creating a laid-back spot for serious wine drinking.
In Schanzenviertel, close to Hamburg Messe, Braugasthaus Altes Mädchen is a beer hall, restaurant and brewery in one. A line-up of beers brewed on site are available alongside a selection from all around the world with everything from pilsner and pale ale to IPA and red beer on offer. Tasting trays are available as well as a hearty menu of sandwiches and daily specials. A large open fire and armchairs make it a cosy spot for winter while the expansive patio is ideal for summer drinking. Long wooden tables also make it well-suited to group drinking and dining.
The coffee hotspots of Hamburg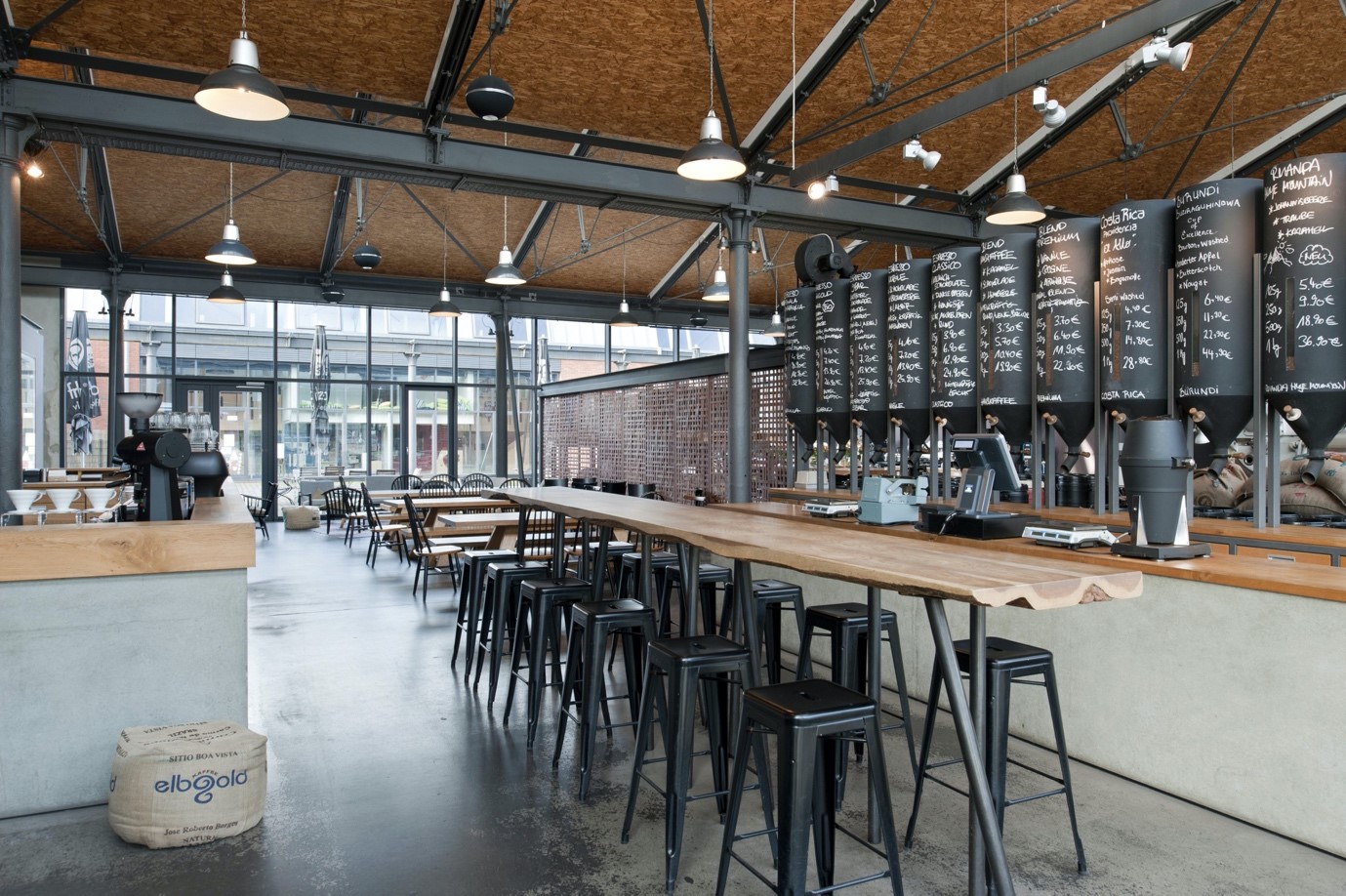 Elbgold Schanze / Photo credit Elbgold 
You don't need to travel far from Hamburg Messe to find a decent cup of coffee with Elbgold just a short walk away. Specialising in direct trade coffee with a rotation of seven filter and seven espresso roasts, the artisan coffee roasters have five cafes across Hamburg and the Schanze branch is the biggest. Here silky flat whites, creamy lattes and well balanced filter coffees are served in an industrial setting next to a large open roastery. Also in Schanzenviertel, Hermetic Coffee Roasters sits within a graffiti covered former industrial building. The café fits well with its hipster surroundings, placing slatted chairs and tables inside and out along with retro accents and a rustic wooden display cabinet showcasing packets of beans and coffee equipment that are available to buy. The café serves hand brewed speciality coffee from its own roasts with everything from cold brew to fresh filter coffee on offer.
Over in Karolinenviertel, HappenPappen is a friendly vegan café serving plant-based food and coffee. Choose from plant-based milks such as almond, soy and oat to have with your coffee and tuck into a daily changing lunch menu during the week – expect dishes such as quiche and curry – and plant-based burgers in the evenings. Klippkroog is another popular spot among locals drawing regular crowds to feast on hearty breakfast and lunch dishes in either the bright and airy dining room or the bustling outdoor area.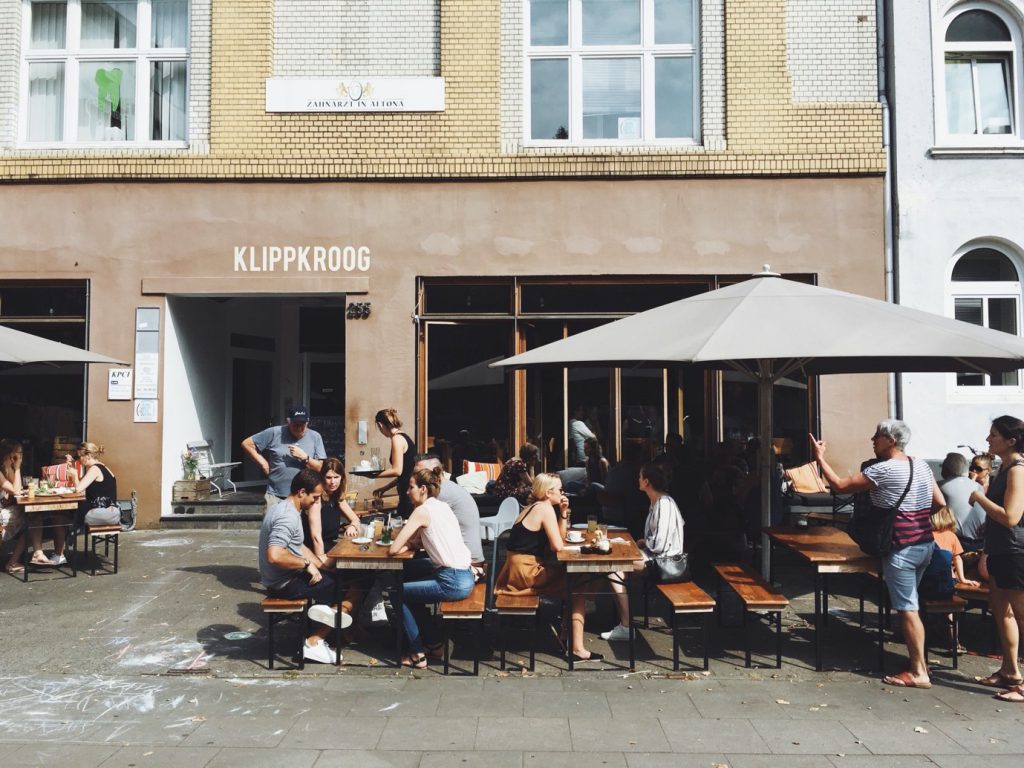 Klippkrook / Photo credit Robert Bye
One for serious coffee aficionados, Tornqvist specialises in filter roasted coffee from leading Scandinavian roasters such as the Coffee Collective in Copenhagen, Drop Coffee in Stockholm and Tim Wendelboe in Oslo – regarded by Tornqvist owner Linus Köster as 'the godfather of coffee'. Only three drinks are on offer – a flat white, hand brew and shot – and there's no sugar. With the equipment cleaned for every cup, this isn't a place for anyone in a rush but rather those who wish to take their time and truly appreciate the coffee.
Putting a more playful spin on proceedings, Playground Coffee serves flat whites, cappuccinos and filter coffee made with in-house blends that have been given names such as Skywalker, King Kongo and Love. The cheery interiors place hanging plants and bespoke artworks ­– created in line with the coffee packaging ­– against bright pastel coloured chairs and walls while bench seating against large floor-to-ceiling windows allows for some excellent people watching.
The best nightlife in Hamburg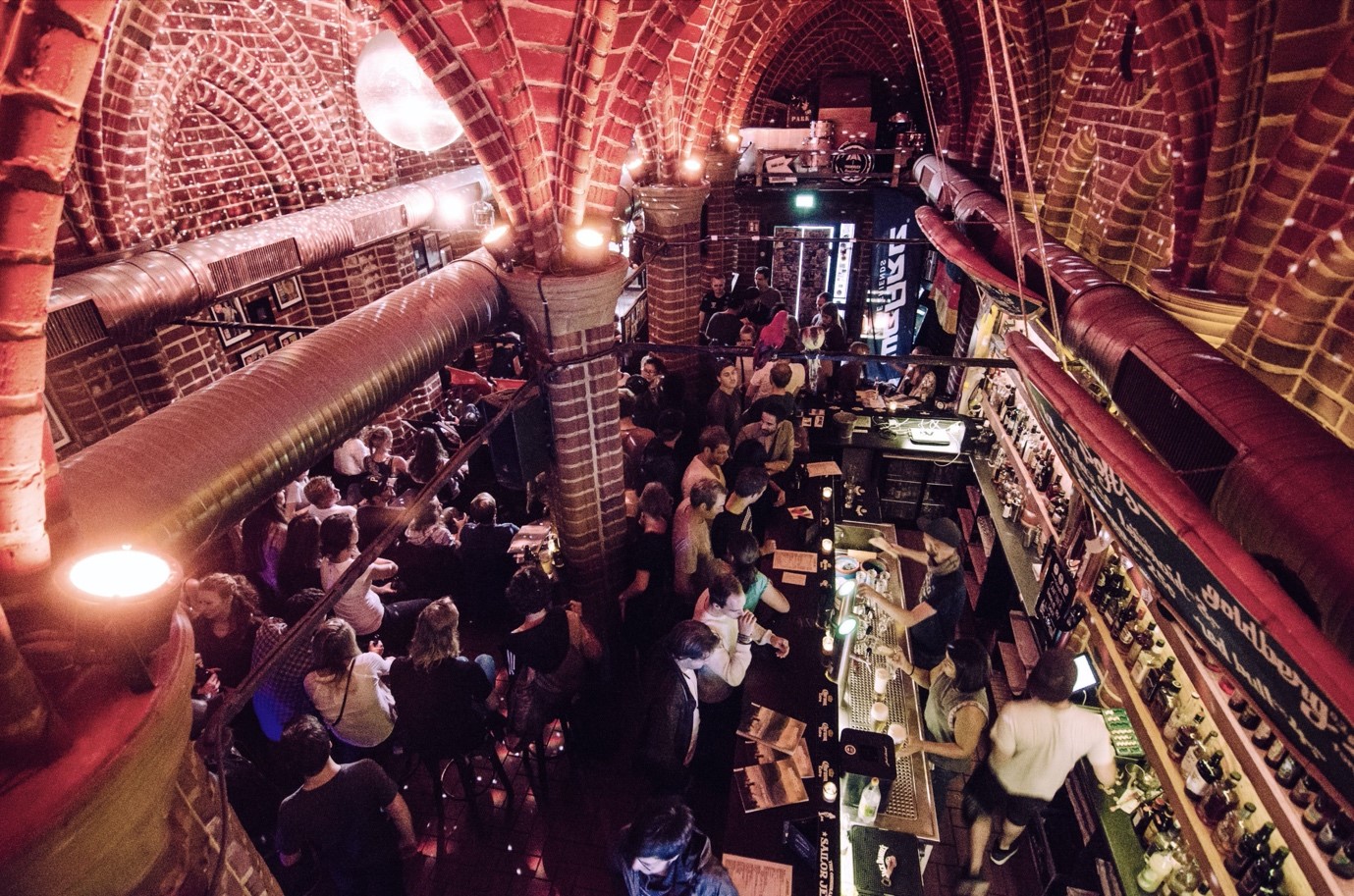 Freundlich und Kompetent / Photo credit Jonas Walzberg
Located just down the road from Hamburg Messe, Braugasthaus Altes Mädchen is a brewery, bar and restaurant that presents a line-up of events and activities such as brewery tours and beer pairing dinners. Learn more about the beer brewing process with tours of the Ratsherrn Brewery or discover how to drink beer at a higher level with the Beerkeeper seminars. The Sitt & Satt dinners, meanwhile, show that it's not just wine that can be served with a fine dinner by presenting a seven-course menu perfectly paired with a line-up of beers. Private pairing dinners can be booked for 10 or more guests at a price of €89 per person.
Occupying a historic landmark building overlooking Hamburg's harbour, ÜberQuell is another brewery, restaurant and event space in one. The original red brick façade and cobblestone flooring along with the harbour views give it an authentic Hamburg vibe and the large terrace and indoor space are ideal for group gatherings. The venue presents a regular programme of events with everything from comedy nights to beer pairing dinners, and the on-site microbrewery is open for group tours with a beer tasting included.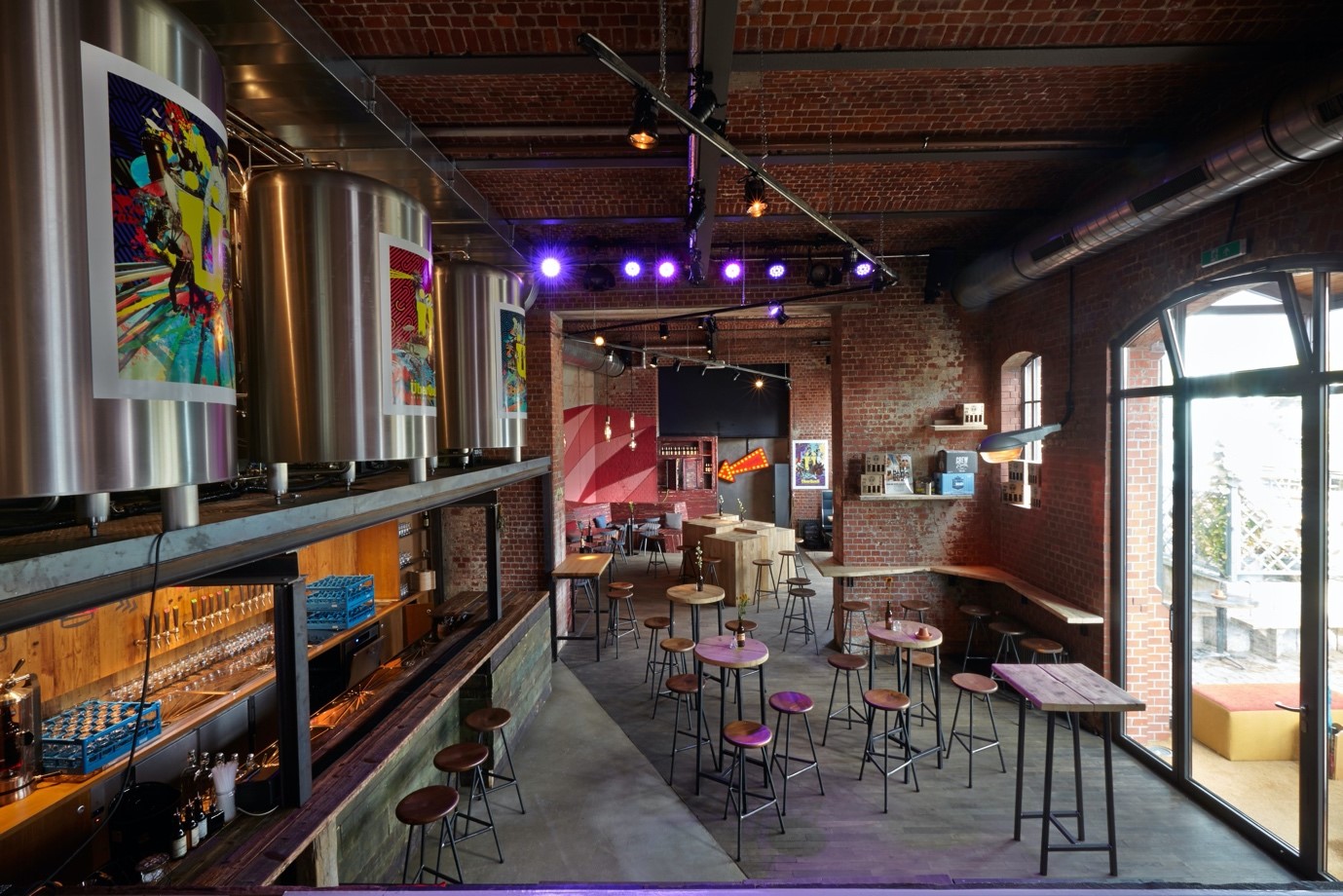 ÜberQuell / Photo credit ÜberQuell
For beer with a side of foosball, head to Kixx for the evening. With 18 foosball tables spread across two rooms as well as a bar serving reasonably priced beer and drinks, it's a fun spot to while away an evening. For €3 you can enjoy unlimited play during your visit and there's also the option to hire the place for private events as well as join in on group training sessions and non-professional tournaments. Freundlich und Kompetent is also home to several foosball tables and on Monday 30th March the venue will play host to its monthly F+K tournament in which up to 36 players can register on the night and compete. The bar is best known, however, for is live music with a line-up of international artists and DJ performing throughout the week. Tuesdays are set aside for an open stage where upcoming artists can perform their original material and on Tuesday 31st March UK singer-songwriter Shea Rafferty will be performing live.
Take a journey from Italy through to Switzerland and onto America, stopping by the Colosseum, Las Vegas and the Grand Canyon along the way, with a visit to Miniatur Wunderland. Spread across more than 1,500 square metres, the vast miniature world presents an intricate illustration of some of the world's best-know sights and even features the world's biggest miniature airport. Here complex flight simulation software is used to control the taking off and landing of more than 40 aircraft every minute. The venue stays open until 9pm and if you're still in Hamburg on Friday 3rd April then you can attend the special Wunderland At Night event, which begins with a complimentary aperitif and provides the chance to see scenes that are not usually open during the day.
A number of special hotel deals have been arranged for registered visitors and exhibitors for Aircraft Interiors Expo 2021. Check back for further updates closer to the exhibition.
If you need to book a hotel in Hamburg, you can access the official hotel deals from HotelMap™ here.
Sign up for the latest exhibition updates and industry insights here.