The majority of a flight is spent in a seat, so it's no surprise that the seating manufacturing sector is set to grow. The impact of COVID-19 on flying will also result in some new innovations finding their way to market.
Research from Markets and Markets shows that the aircraft seating sector is projected to soar from $7 billion in 2019 to $12 billion by 2027. A focus on comfort and rising demand for premium economy class seats are the main driving forces for this growth.
A first class experience
Looking to take advantage of this growth are Aviointeriors. Their Mona Lisa first-class suite provides passengers with privacy, a full flat horizontal bed for superior sleeping comfort, a 21" IFE screen and a super-wide table to fulfil all entertainment and dining needs onboard.
The company also has its Columbus range of seating options, including economy class seats, the narrowbody Columbus 2 range and EASA Class 3 compliant crew rest. This is ideal for single-aisle, high-density layouts that retain full passenger capacity during non-crew-rest operations.
Avioninteriors has also released some concepts for post-COVID-19 seats. The 'Janus', named after the two-faced Roman god, features a reversed middle seat with curved plastic separating the passenger from the window and aisle.
They also have come up with another offering that could fit existing seats. The 'GLASSAFE' would be a protective bubble that surrounds the passenger's head on all sides. Avioninteriors believes this would be a quick way to offer social distancing to existing customers. We expect to see more concepts from other seating manufacturers soon.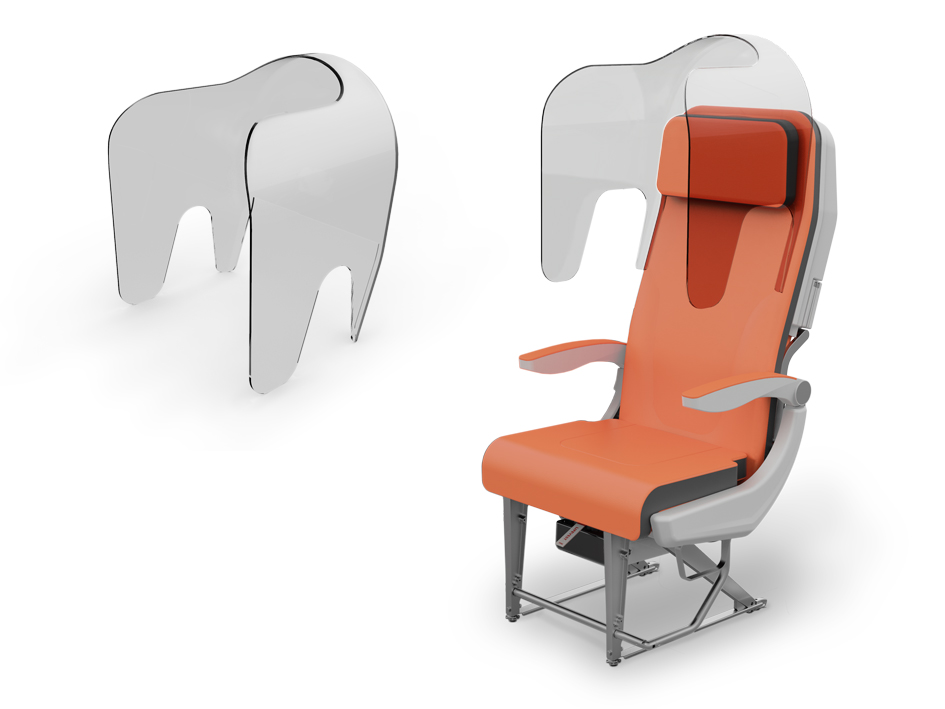 UK based manufacturer Acro Aircraft Seating has a wide range of seating options. Their Series 7 Premium Economy seat was developed to optimise the 'space within a space'. The extra spatial design is aesthetically pleasing and functional. It incorporates personal storage consoles and an elegant single leaf table.
In addition to the Series 7, Acro has its next-generation Series 6 Economy seat. It is built around a fully composite seatback, offering 2" more room at knee level, allowing taller passengers to easily stretch out, even at 28" pitch. Spirit Airlines has implemented the Series 6 seat on some of its planes and has seen comfort scores for middle-seat passengers increase by 50%, according to Fox 32 News.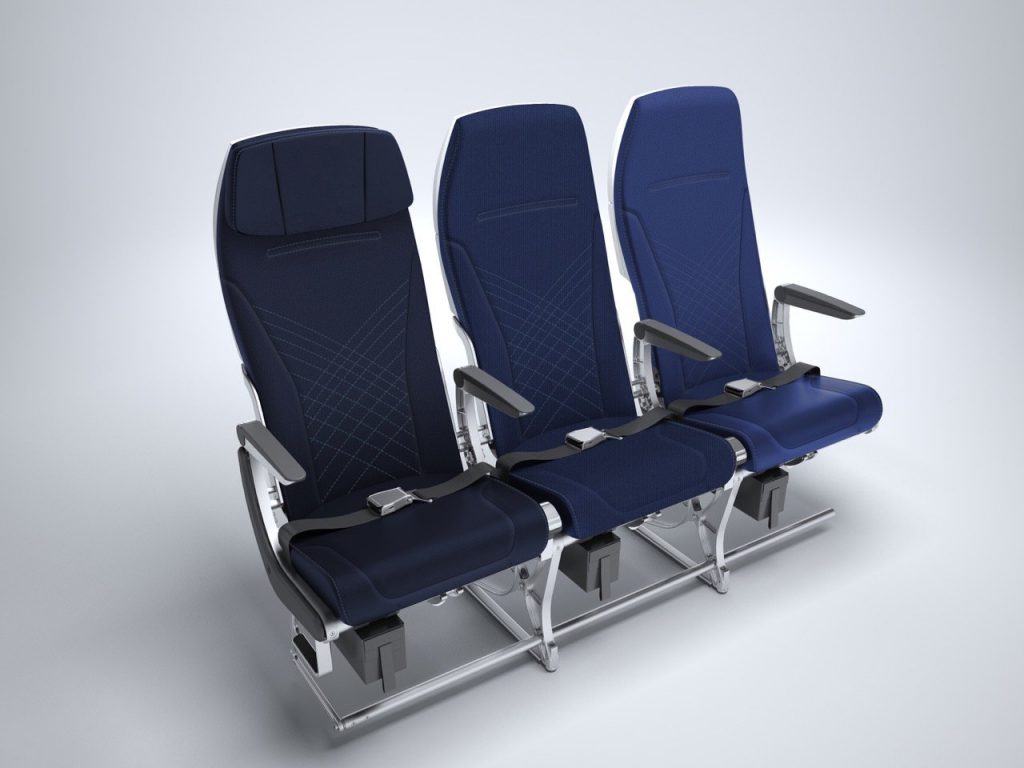 Molon Labe Designs has also been busy updating its popular long-haul economy class 'stagger-seat' design. The new S3 "Side-Slip Seat" is the third version of the original S1 "Space Seat".
The new S3 design doubles the aisle width during boarding by sliding the outside seat over the middle seat. This can reduce boarding time by up to 30%, saving ground cost, emissions and time.
A new dimension
Some pressure is also being applied in the USA to Congress by advocacy group FlyersRights.org for the FAA to set minimum seat dimensions. As reported in Forbes, Senator Chuck Schumer has stated that seat size is the number one complaint he hears from passengers.
Pitch recently unveiled its new "Q Ultra-Slim" concept. They state it is the world's thinnest aircraft seat and was developed alongside design consultancy Design Q. It will also use a range of sustainable bio-resin composite materials to bring the seat weight down to only 7kg.
Another lightweight option comes from Haeco. Their new Vector Light product is set for release in Q4 2020. So far they've only released a teaser video of the new design on Twitter that looks to reduce the seat profile and increase legroom.
The material world
It's not just seat design that informs comfort, but also the materials that cover them. Aircraft Cabin Modification GmbH specialise in refurbishment with a range of specialist seat covers, laminated leather, fabrics and synthetics all available.
AERISTO is also continuing to improve its high-quality leather and sheepskin covers that are FAA approved. Its lightweight Ventimesh solution allows airflow and is available in 2 – 20mm thickness for all seating options.
Driving class and comfort
Aircraft seating is continually evolving and it is a clear way for airlines to improve customer satisfaction. The wide range provides airlines with a way to differentiate and attract customers to its services. Once global flight begins to pick up again in late 2020 and early 2021, we're sure to see more innovation in this area over the next few years.
Sign up for the latest exhibition updates and industry insights here.