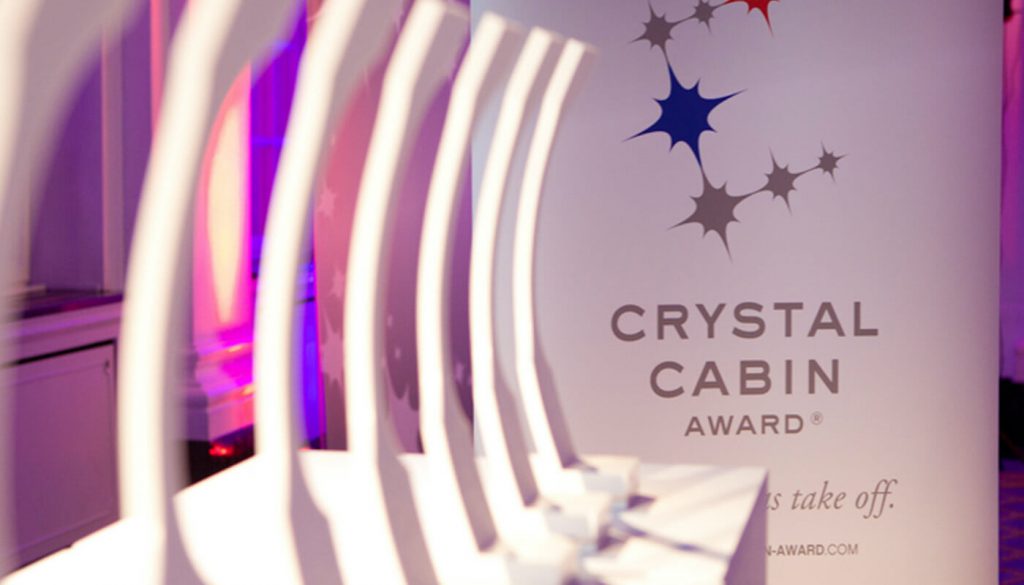 Two new categories for 2021 will highlight ideas for restarting air travel safely.
The 'Clean and Safe Air Travel' category showcases ideas that will create confidence for passengers.
The 'Judges' Choice Award' is set to award the most creative ideas for tackling today's challenges.
With air travel looking to restart safely, the world's leading industry prize for cabin innovations, the Crystal Cabin Awards, will award two special categories in 2021. These new honours will highlight the creativity and innovative thinking that defines the cabin interiors industry.
The two new categories will be awarded at AIX Virtual in September 2021 with a special online ceremony. Below you can find some of the exciting entries in each category, with the full shortlist available from the Crystal Cabin Awards website.
Clean and Safe Air Travel
ION Technology – SEKISUI KYDEX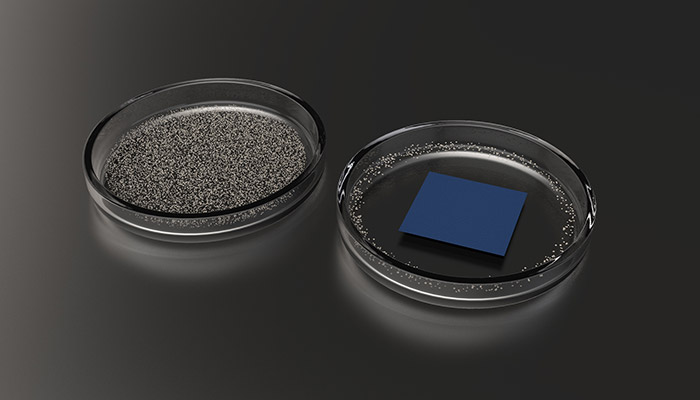 The ION Technology can be applied to all plastic and sanitary surfaces. The treatment is directly incorporated into the thermoplastic and enables the surface withstand daily cleaning regimes
UV Disinfection Wand – The Boeing Company, in collaboration with Etihad Airways, Healthe® Inc., and FarUV Technologies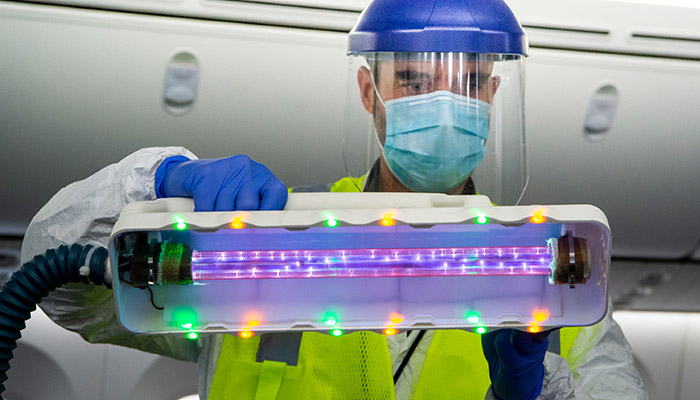 A portable "magic wand" that eliminates up to 99.9% of viruses and bacteria on cabin surfaces. Using a 222-nanometer UV light, this approach to cleaning is significantly quicker and also gentler.
CleanAir™ – Villinger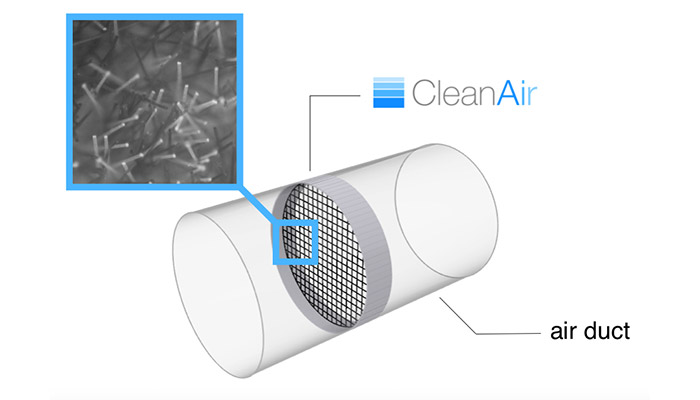 This cabin air purification system uses ionised micro-electrodes in place of standard filters to capture unwanted airborne pathogens when air is recycled within the cabin.
Pure Skies – PriestmanGoode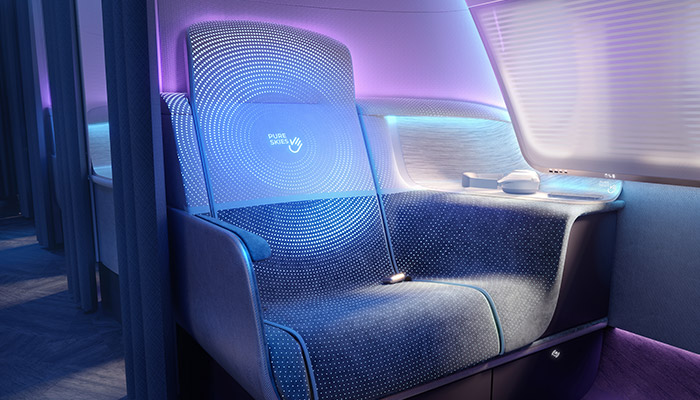 Clean doesn't have to lead to any sacrifice in quality with this concept. Staggered seating, personal space for cabin baggage and 'clip on' folding tables are just some of the ideas in the Pure Skies concept from PriestmanGoode.
CareStandard – Delta Air Lines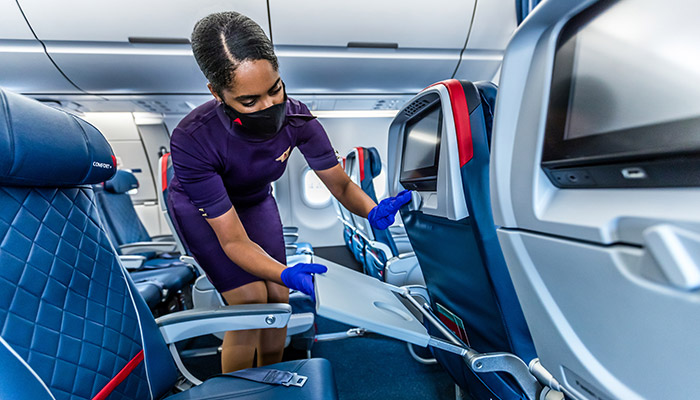 As one of the world's largest airlines, Delta quickly defined their CareStandard protocols for hygienic travel. The rulebook covers everything from check-in to baggage reclaim and implements a comprehensive test strategy for staff and extensive cleaning ideas.
Smart Cabin – FTI Engineering Network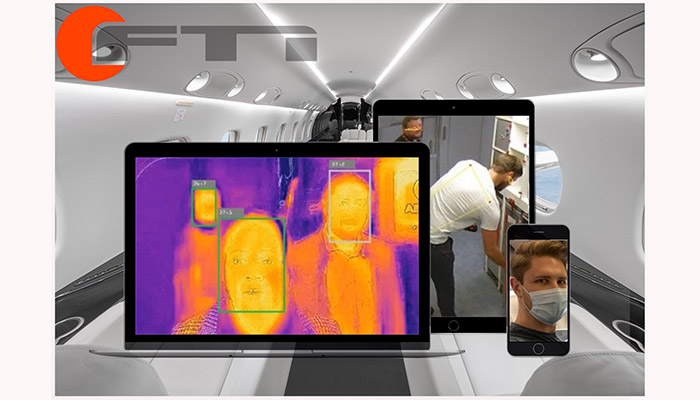 The Smart Cabin concept includes an expansion of camera-based support for flight attendants and AI could be implemented in future to automatically recognise masks and to check passenger health.
ZAL Clean Fun – Gamified Handwash Hygienics – ZAL Center for Applied Aeronautical Research
Using AI to analyse a passenger's handwashing routine, the system would then report a 'hygiene score' in an attempt to use gamification to improve cleanliness.
AURORA – HID Human Interface Design GmbH and VeCtor GmbH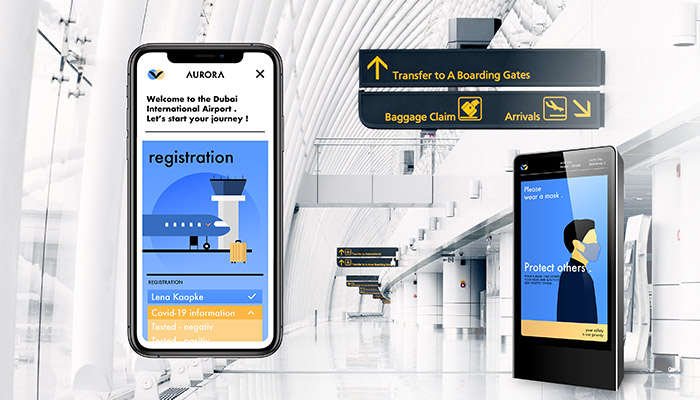 The AURORA app would provide the passenger with a digital travel assistant, with real-time data on queues, current health condition and cleanliness of the seat.
Be Safe – Build Trust – AerQ GmbH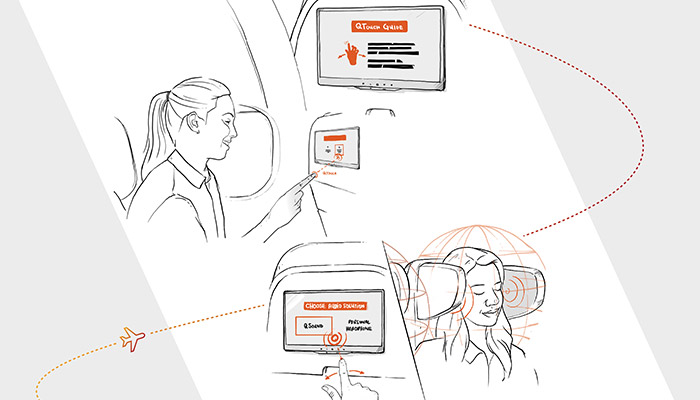 A combination of features aims to keep travel as touchfree as possible. "QTouch" would enable seat controls through gestures, while "QSound" creates a personalised sound bubble around a passenger's head.
Judges' Choice Award
POSITIVELY ECONOMY – Toyota Boshoku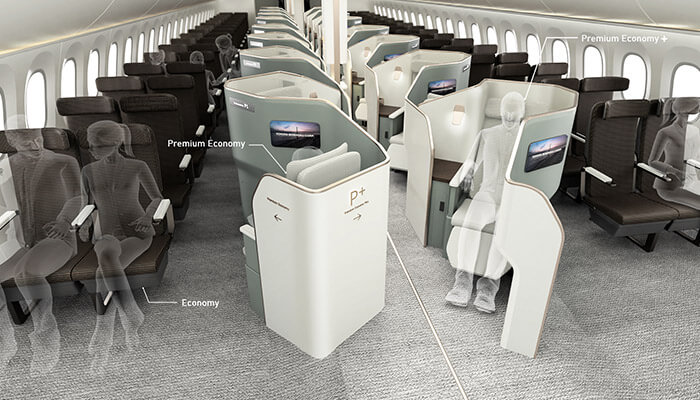 This concept from Toyota Boshoku combines three distinct seating areas into one design. Standard economy on the outside, with Premium Economy, and Premium Economy+ located down the centre with more space and privacy.
Horizon Premier – Collins Aerospace and PriestmanGoode for Aeroflot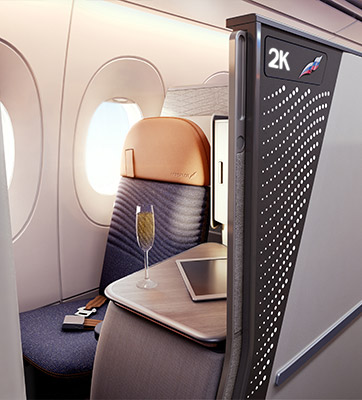 Designed for the A350, the Horizon Premier provides business-class passengers with privacy through a sliding door, and storage space with a small closet.
Economy Sky Dream – ADSE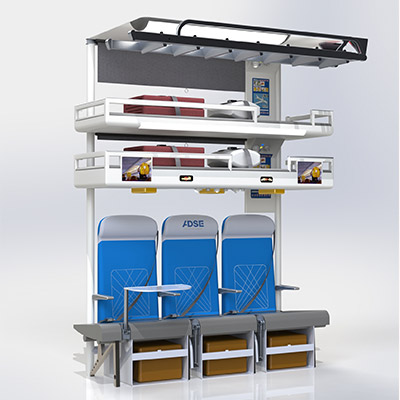 Taking ideas from interrail travel, overhead lockers would make way for loft beds, while baggage is stowed beneath each seat,
Airportainer – Airbus Operations GmbH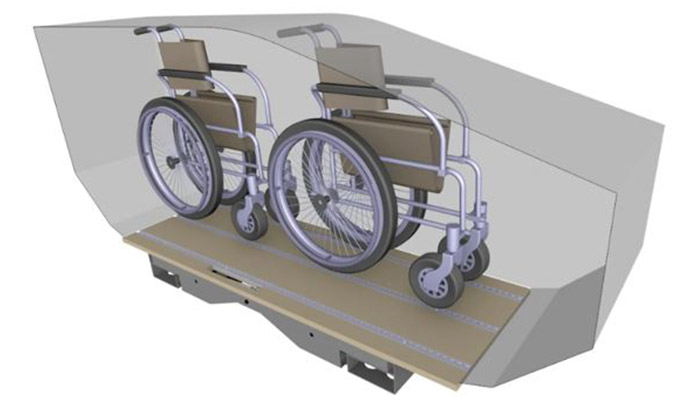 This specialised cargo unit would allow for the safe transportation of private wheelchairs without them taking up space within the cabin.
LAV4ALL – FACC AG and cooperating partners FH Joanneum, Netwiss, Raltec research group, Rodlauer Consulting, TU Vienna, FFG, and BMVIT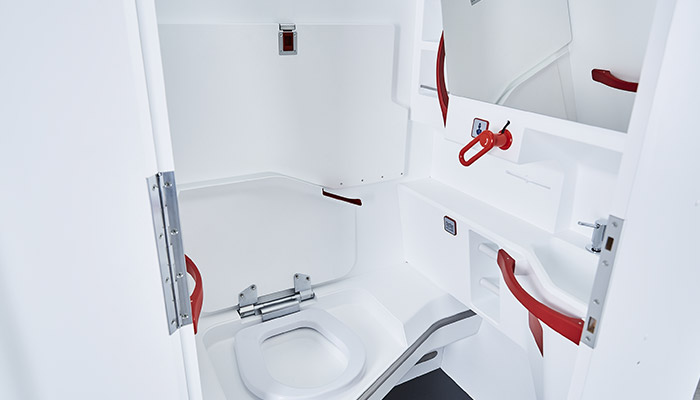 Another accessibility idea would retrofit lavatories onboard single-aisle aircraft with new features to provide functionality for all.
SPACE concept – AirGo Design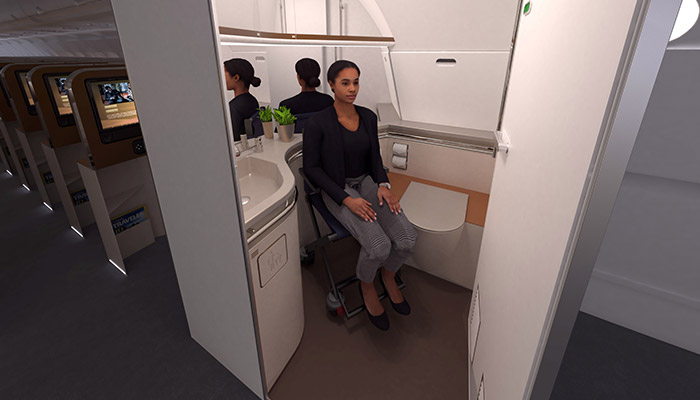 The SPACE concept would also aim to increase accessibility to lavatories for wheelchair users. The design would deliver 43% more space and dispense with the need for the flight crew to help the passenger get in and out of the wheelchair.
Chaise Lounge Economy seat concept – Alejandro Nuñez Vicente, Delft University of Technology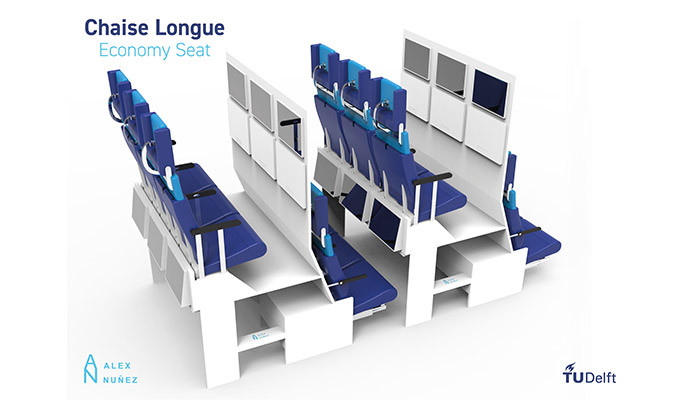 With space a premium on single-aisle aircraft, the Chaise Lounge Economy concept aims to use some of the headroom within the cabin.
INTERSPACE – Safran Seats with Universal Movement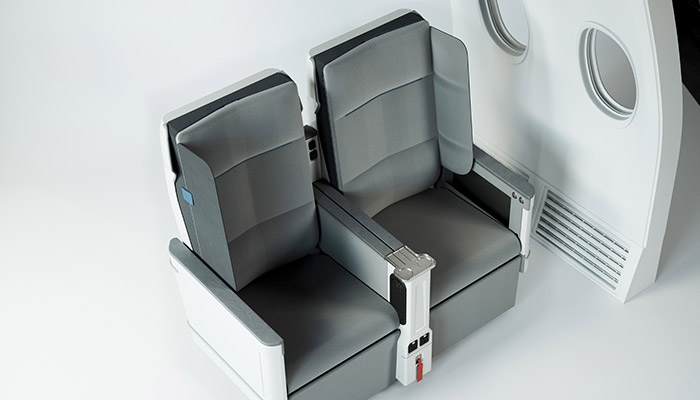 A simple solution to increase passenger comfort from Safran seats and Universal Movement. The seats would feature padded wings that can be folded in a variety of ways, either for comfort or privacy, and can be retrofitted on current seats.
VantageSOLO – Thompson Aero Seating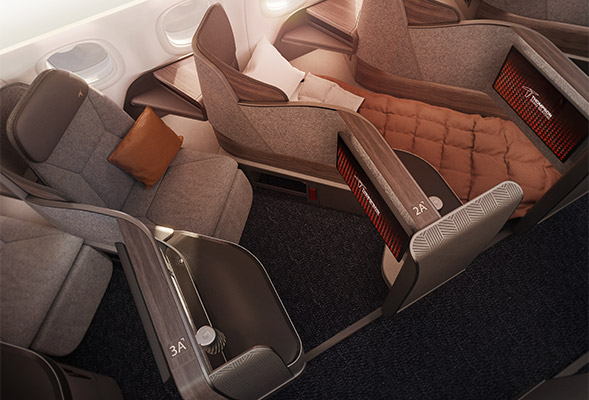 Designed for single-aisle aircraft, the VantageSOLO is the first fully lie-flat bed and offers increased privacy alongside comfort.
Hear more about VantageSOLO in our recent Cabin Catch Up with Jonny McGreevy, Head of Design.
Previous Crystal Cabin Awards winners
Earlier in 2021, the Crystal Cabin Awards hosted a virtual ceremony to unveil the winners of eight specialist categories, and included products from Airbus, Diehl Aviation, Safran Seats and more. Find all the winning products on the AIX Hub here.